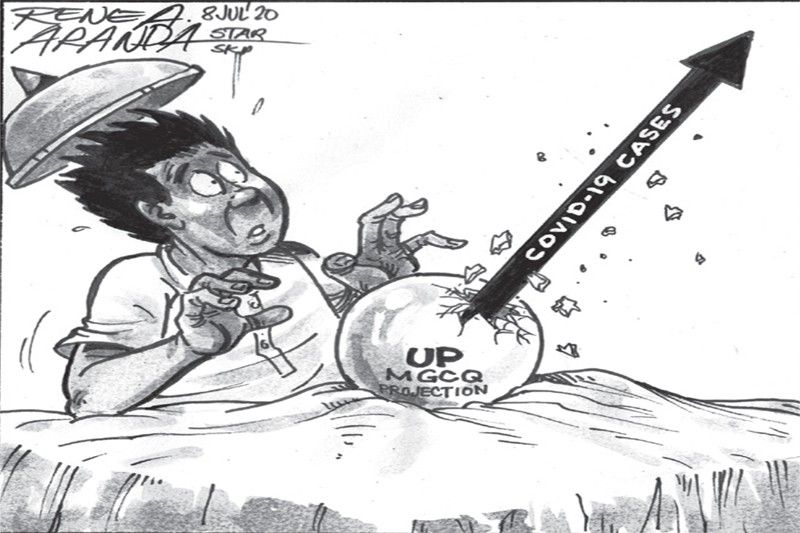 EDITORIAL - 95,590 by August
(The Philippine Star) - July 8, 2020 - 12:00am
By the end of August, cases of coronavirus disease 2019 in the country could hit from 61,332 to 95,590. This is the warning of experts from the University of the Philippines, who have been conducting mathematical projections of the COVID-19 contagion in the country.
There was some controversy after the UP COVID-19 Pandemic Response Team predicted 40,000 cases by the end of June, with Malacañang claiming victory after the projection did not materialize. In fact the projection was just a few days off. As of yesterday afternoon, total COVID cases in the country stood at 47,873 with 1,309 deaths.
The 95,590 by the end of August is possible if quarantine restrictions are further eased in the coming weeks, according to the UP experts, who had earlier also warned about a likely surge in COVID cases in Cebu City. The government has reverted the city to the strictest enhanced community quarantine.
Government officials have stressed that the country can no longer afford to retain quarantine restrictions particularly in Metro Manila and the Calabarzon provinces of Cavite, Laguna, Batangas, Rizal and Quezon where manufacturing and special economic zones are concentrated.
Reopening businesses requires mass transportation for those who are returning to work. Mass transport operators and drivers themselves need to resume their livelihoods. The resumption of mass transportation is seen to be one of the reasons for the increase in COVID cases. Allowing people stranded in Metro Manila to return to their home provinces has also been cited as one of the reasons for the rise in infections across the country.
Fears of the impact of economic reopening on public health appear to be borne out by the spike in COVID-19 cases in recent days. Global tracking conducted by the Johns Hopkins Coronavirus Resource Center indicated that as of Monday night, the Philippines had the second highest number of COVID-19 cases in Southeast Asia, behind only Indonesia.
The UP team stressed the need for COVID testing and contact tracing especially in mass transport facilities. The team also cited the importance of better testing for locally stranded individuals and repatriated overseas Filipino workers before they are allowed to go home to the provinces.
While the researchers understand that the government may no longer want to revert to tighter restrictions especially in Metro Manila, they are also recommending measures to prevent a further spike. They will undoubtedly be glad if their projections fail to materialize.