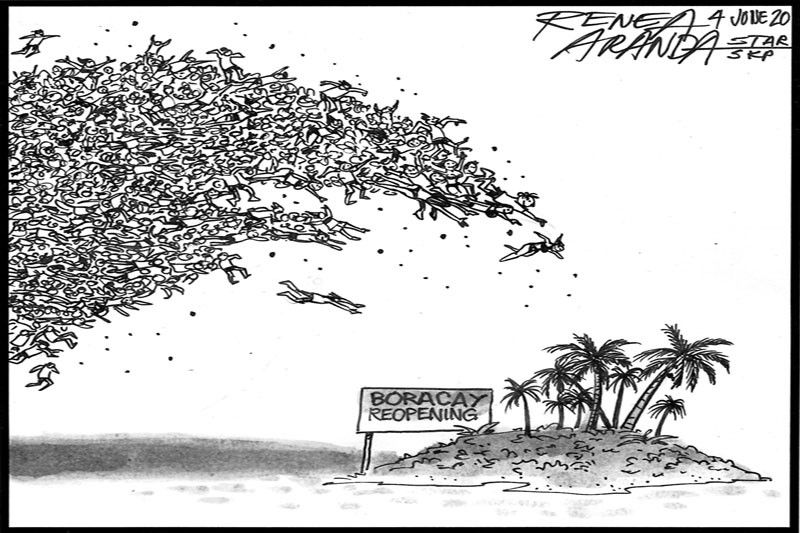 EDITORIAL - Opportunities in a crisis
(The Philippine Star) - June 4, 2020 - 12:00am
In many areas outside Metro Manila where quarantine restrictions are most relaxed, domestic tourism is being allowed to gradually resume. Swimming is back in many of the top beach destinations led by Boracay.
Thanks to the need for physical distancing, local government units and private operators are now left with no choice but to impose caps on the carrying capacity of travel destinations. The coronavirus pandemic gave travel destinations a breathing spell, which has been used to clean up and upgrade the sites. Such initiatives should be sustained under the new normal in the travel industry.
Across the country, hotels, inns and other accommodation establishments are moving to comply with guidelines on health standards set by the Department of Tourism amid the continuing threat to public health posed by the coronavirus disease 2019. Although not required, many are seeking DOT accreditation for full compliance with the COVID-19 health standards.
These include practices that have become widespread amid the pandemic, such as the provision of sanitation stations for handwashing and dispensing of alcohol. Housekeeping staff must be provided with sufficient personal protective equipment, especially when cleaning rooms after guests have checked out. Turning down the bed by housekeeping is discouraged. As in other dining establishments, buffets and self-serve food services are also discouraged in accommodation facilities.
Some of these measures will inevitably have to be lifted as the COVID threat eases. But others deserve to be sustained. This is important particularly with the government making up for lost tourism revenue arising from distancing protocols by aiming for higher-spending travelers. Such clients are typically more demanding, wanting eco-friendly destinations with clean accommodations, and environments that are safe in terms of public health and peace and order. They will expect efficient services and adequate facilities for comfort and a memorable experience.
In this pandemic, a reminder that is frequently repeated is for people not to waste a good crisis. Many of the changes and upgrades now being undertaken throughout the travel and tourism industry can be sustained to make the sector stronger and more competitive.