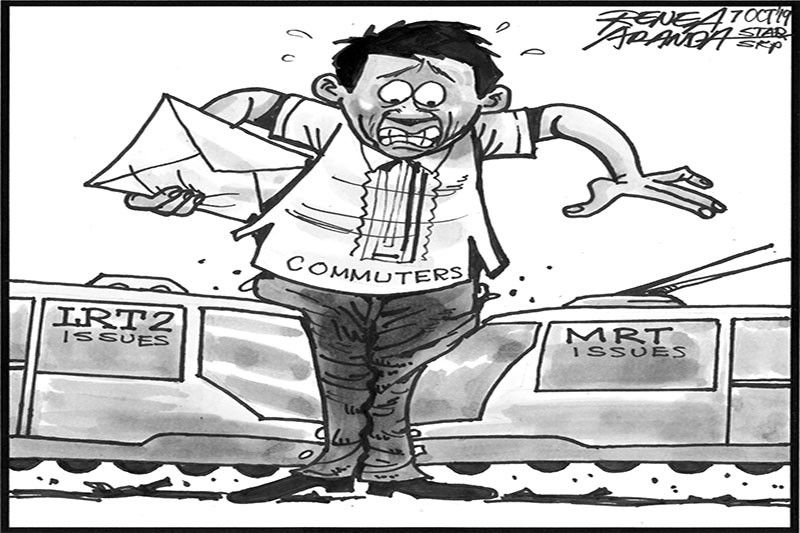 EDITORIAL – Light rail disaster
(The Philippine Star) - October 7, 2019 - 12:00am
The problematic train system has always been the scandal-plagued and glitch-prone Metro Rail Transit 3. Now it's the turn of the Light Rail Transit 2. And the LRT 2 disruption is not just for a matter of hours, but from six to nine months.
That means thousands of regular LRT 2 commuters must look for alternative modes of transportation. Three stations of the LRT 2, which runs from Recto Avenue in Manila to Santolan in Quezon City, will be shut down for rehabilitation after fire damaged two of its power rectifiers or transformers last week. The fire followed a lightning strike last Wednesday on the rail line's Gilmore station, which tripped two transformers.
Transport authorities say about 200,000 people use the LRT 2 daily. Even if the affected stations are not their stops, the shutdown will still cause serious disruptions along all routes. Affected riders will be forced to use ground transportation, which can aggravate traffic.
To make up for the critical loss of passenger capacity, the government is issuing special permits for 89 buses and modernized jeepneys to ply the affected routes, with fares ranging from P12 to P15. The Metropolitan Manila Development Authority and Philippine Coast Guard are also fielding four buses each.
The disruption should bring home to policy makers the urgency of upgrading the mass transportation system in Metro Manila. In advanced economies, even government VIPs and wealthy individuals take the subway and commuter train because of the efficiency of the service. There's no need to urge people to leave their cars at home, because it makes perfect sense to take mass transportation.
Several of our Asian neighbors moved a long time ago to provide modern, efficient mass transportation – not just in terms of upgrading vehicles, but also in improving the transport infrastructure, developing intermodal passenger transport hubs and providing a strong regulatory environment.
In the same dire straits as the LRT 2 is the Metro Rail Transit 3. The disaster in the LRT 2 should also prod the judiciary to speed up the prosecution of those accused of turning the MRT 3 into a milking cow and leaving it in its current sorry state. Corruption has been one of the biggest hindrances to the modernization of the country's transport system. The judiciary should do its part in putting an end to this.