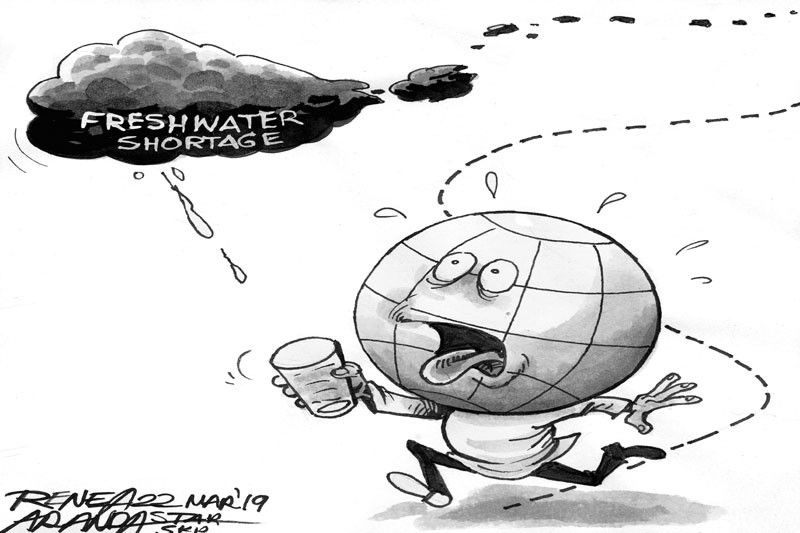 EDITORIAL - 'Leaving no one behind'
(The Philippine Star) - March 22, 2019 - 12:00am
The country joins the international community in observing World Water Day today as the east sector of Metro Manila is just emerging from an unprecedented weeklong water shortage.
While the government is blaming the shortage on mismanagement rather than an actual lack of water in the reservoirs used by Metro Manila, the metropolis and the rest of the country are bracing for a longer dry season this year and a mild El Niño. Drought arrived early in certain areas, where farms have dried out from lack of irrigation even before the official start of summer.
Access to safe and clean drinking water has been recognized by the United Nations as a human right that is essential for the full enjoyment of life and all human rights. The UN stresses that the right to water must be enjoyed by all, without discrimination, but this is not the case. The UN reports that billions of people around the world still live without safe water in their households, schools, workplaces, farms and factories. Marginalized groups, including refugees, indigenous peoples, women, children and the differently abled are among those deprived of this right.
For this year's World Water Day, the UN is focusing on the theme of "Leaving no one behind." The theme adapts the core objective of the 2030 Agenda for Sustainable Development, which is to have everyone benefit from the UN development goals, among them the availability and sustainable management of water for all by 2030.
Attaining this goal becomes more challenging because of global warming.
As the recent water crisis in Metro Manila has shown, the Philippines has much work ahead in providing safe water. The crisis is not yet over, and it gives urgency to the need for measures to improve water security for all.