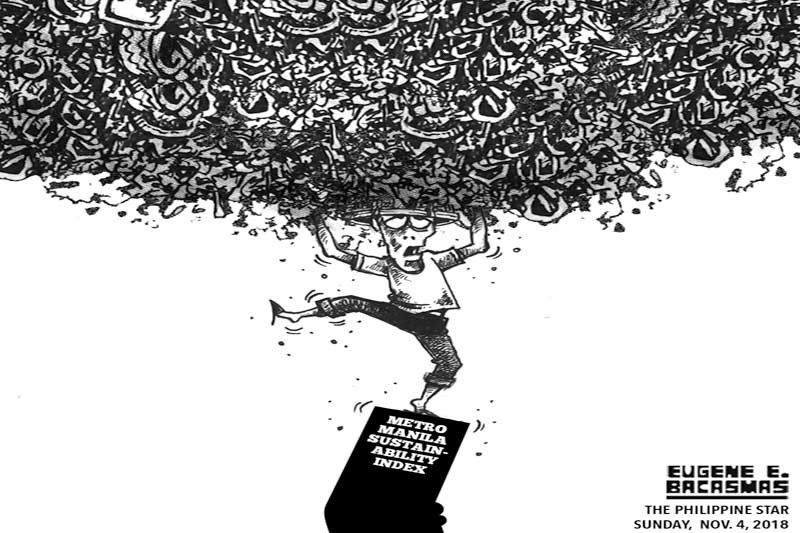 EDITORIAL - Unsustainable
(The Philippine Star) - November 4, 2018 - 12:00am
Despite appeals from environment groups, truckloads of trash were collected from the different cemeteries in Metro Manila as the holidays for remembering the dead ended on Friday. Garbage, however, litters the National Capital Region even on ordinary days, clogging drainage, aggravating flooding, and providing breeding grounds for disease-causing mosquitoes and vermin.
The piles of garbage are just among the indicators of the unsustainable state of Metro Manila. In the 2018 Sustainable Cities Index, which is drawn up by Arcadis NV, an Amsterdam-based global design and consultancy firm for natural and built assets, Manila ranked 95th out of 100 mega cities worldwide, and 21st out of 23 Asian cities included in the list.
The latest index, released this week, ranked cities based on three factors: people, which includes quality of life and social sustainability; planet, which covers pollution and sanitation; and profit, which is measured in terms of productivity based on economic growth, innovation and infrastructure. The Philippines ranked 93rd in the people sub-index, 91st in the planet and 98th in the profit pillar.
London was ranked as the world's most sustainable city. Swedish capital Stockholm followed; Scotland's capital Edinburgh came in third. In Asia, city-state Singapore was rated the most sustainable. It also placed fourth globally, ahead of Austrian capital Vienna. Hong Kong and Seoul also ranked high among Asian cities.
The Arcadis report, however, categorized Manila as one of the "evolutionary cities" where there are "opportunities" for improving sustainability. These are cities that change rapidly as new circumstances arise, according to the report.
Although Metro Manila remains mired in urban blight, there have been positive developments recently, such as the rehabilitation of the Pasig River – a successful program that has received international recognition. Energy and water efficiency together with other sustainable elements are being designed into new property developments. Manila may rank low in the sustainability index, but there is hope for dramatic improvements.