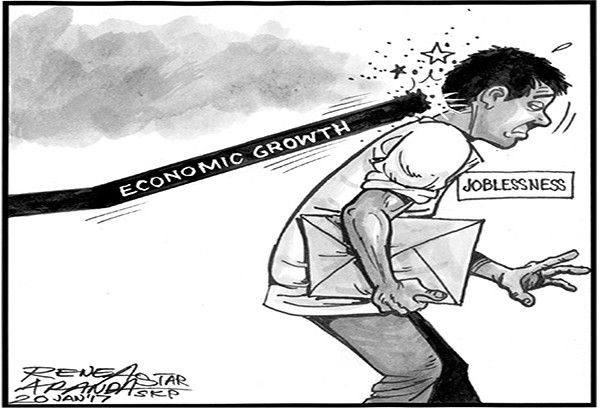 EDITORIAL - High growth, low employment
(The Philippine Star) - January 20, 2017 - 12:24am
The Philippine economy continues to grow, but it is not making a sufficient dent against unemployment. This is the essence of a United Nations report on the world economy and growth prospects for 2017.
While the report saw the Philippines among the fastest growing economies in Asia, it also warned that the country is among those with the highest unemployment rates among 18 economies comprising "developing Asia." Some of the other economies are China, India, Indonesia, Malaysia, Sri Lanka, Thailand and Vietnam.
The UN report saw the Philippines outpacing its major Asian economic peers in terms of growth this year, with the exception of China, India and Vietnam. This is good news for those concerned about the sustainability of economic gains achieved in the Aquino administration, during which the Philippines earned its first ever investment grade from all major credit rating agencies.
While growth has been sustained in the past years, however, economic inclusion has remained elusive. Filipinos are still waiting for the investment grade to translate into sufficient job-generating investments. The lack of meaningful jobs is manifested in the continuing exodus of Filipinos for better employment opportunities overseas. The results of the UN study tracked this employment trend in the Philippines.
Economic growth, no matter how fast or high, is meaningless if its benefits are not felt at the grassroots. Decent jobs and livelihood opportunities must be generated if the new administration is to make a dent in the high poverty rate. This requires creating a better environment for investments and other economic activities that create regular, meaningful employment.
Creating this environment is the challenge facing President Duterte. He has promised to give Filipinos a "comfortable" if not "very great" life under his watch. Providing decent employment should be among the priorities.