Hazing deaths in the Philippines: A recent history
MANILA, Philippines — De La Salle-College of Saint Benilde student Guillo Servando's death from alleged hazing resurrected the clamor for more stringent measures against violence in fraternities and schools.
The enactment of Republic Act 8049 Anti-Hazing Law in 1995 under President Fidel Ramos did not stop the brutal rites usually to admit new members into a brotherhood, organization or profession.
Many of the reported deaths due to hazing since 2000 cited below did not lead to justice for the victims' families.
2014
Guillo Servando — An 18-year-old Benilde sophomore believed to have suffered severe beating and died following initiation rites under the Tau Gamma fraternity.
2013
John Mark Dugan — A 19-year-old sophomore marine cadet in the Maritime Academy of Asia and the Pacific whose death was linked to hazing.
2012
Marc Andre Marcos — A 20-year-old San Beda University law student who was allegedly beaten to death by members of Lex Leonum fraternity. The accused were cleared from charges in 2013.
Marvin Reglos — A 25-year-old San Beda law student was reportedly killed during hazing rites held by the Lambda Rho Beta fraternity in Antipolo City.
2011
E.J. Karl Intia — A University of Makati student believed to have aspired to join the Alpha Phi Omega fraternity but ended being killed in initiation rites. His body was recovered near a 30-foot cliff in Laguna.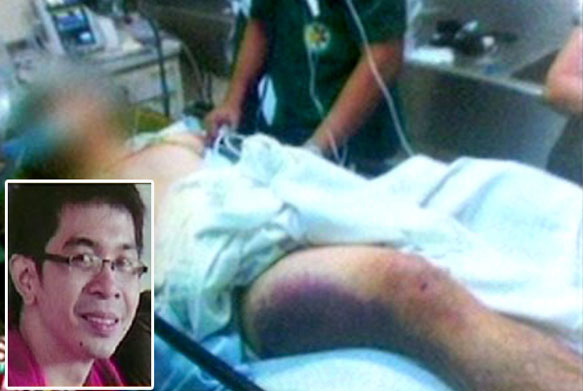 An Aug. 1, 2012 video grab from GMA-7 shows medical workers examining the body of Marc Andrei Marcos (inset).
2010
Noel Borja Jr. — A 15-year-old elementary student and neophyte who reportedly was assaulted to death by members of Tau Gamma Phi fraternity. The brotherhood learned that Borja's parents belong to rival Alpha Kappa Rho fraternity.
2009
Glacy Monique Dimaranan — A 15-year-old girl who died of a single gunshot wound in the head during initiation rites. A member of Scout Royal Brotherhood in Laguna accidentally pulled the trigger of the gun he was pointing at the victim.
John Daniel Samparanda — An 18-year-old Lyceum of the Philippines student in General Trias, Cavite believed to have died in Tau Gamma Phi fraternity rites.
Elvin Sinaluan — A 21-year-old Scout Royal Brotherhood entrant whose life was reportedly ended in brutal admission rites. Sinaluan and fellow victims "were hit by paddle every 30 seconds for two hours," authorities said.
Karl Anthony Gaudicos — A 18-year-old engineering student of the Holy Cross of Davao College who died in hazing activities under the Tau Gamma Phi and Tau Gamma Sigma.
2007
Cris Anthony Mendez — A 20-year-old University of the Philippines student and allegedly a Sigma Rho fraternity neophyte died of mauling during initiation rites.
Jan Angelo Dollete — A 21-year-old engineering student suspected to be killed in Sapian, Capiz by members of the Alpha Phi Omega.
2006
Clark Anson Silverio — A Technological University of the Philippines mechanical engineering student was dead upon arrival at the Manila Sanitarium Hospital in Pasay City after cruel initiation rites believed to be by Tau Gamma Phi fraternity.
Marlon Villanueva — A 21-year-old agriculture economics from the University of the Philippines Los Baños died in fraternity rites held in a resort in Calamba, Laguna.
Dan Robert Talibutab — A criminology student from St. Therese College in Iloilo was believed to be a victim of hazing by members of the non-accredited school organization Kapatiran ng Kabataan sa Kriminolohiya.
2004
Mark Welson Chua — The University of Santo Tomas student exposed corruption among Reserve Officers' Training Corps officials was killed by fellow student. Defendants during trial claimed that Chua died in fraternity hazing rites.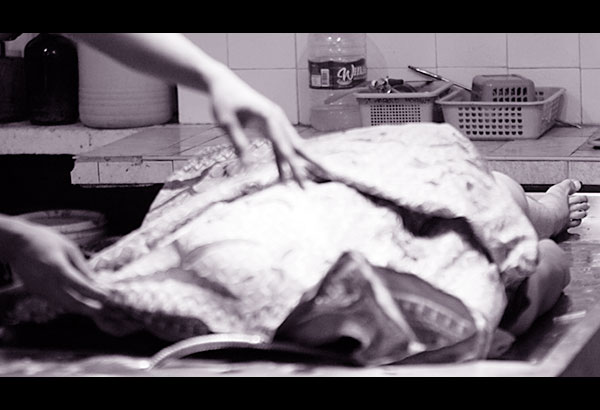 The remains of DLSU-CSB student Guillo Cesar Cervando. STAR/Edd Gumban
2003
Emerson Berry Jr. — A 16-year-old fourth year student from the Casanayan National High School was beaten up and died in initiation rites by members of the Beta Sigma Rho brotherhood in Pilar, Capiz.
2001
Rafael Root Albano III — The aspiring doctor was believed to be killed by members of the Sigma Mu fraternity of medicine students based in the Far Eastern University Laguna campus.
Fernando Balidoy — An 18-year-old probationary midshipman died as he was undergoing initiation conducted by upperclassmen of the Philippine Merchant Marine Academy.
Monico de Guzman — A Philippine Military Academy plebe whose death was attributed to illness by academy officials. His father, however, believes Monico Jr died of the notorious "beat attack" against entrants in boot camp.
Edward Domingo — The 23-year-old Camiling, Tarlac native and Philippine Military cadet reportedly died of cardio-respiratory attack due to injuries he suffered from hard blows to the lower part of the rib cage. Two cadets were convicted for homicide.
2000
Ace Bernabe Ekid — The 21-year-old was said to have died from stroke due to rigorous training exercises at the Philippine Military Academy. His family and friends, however, insisted Ace was a victim of hazing and foul play.