63 foreigners rescued from 2 POGOs
October 1, 2022 | 12:00am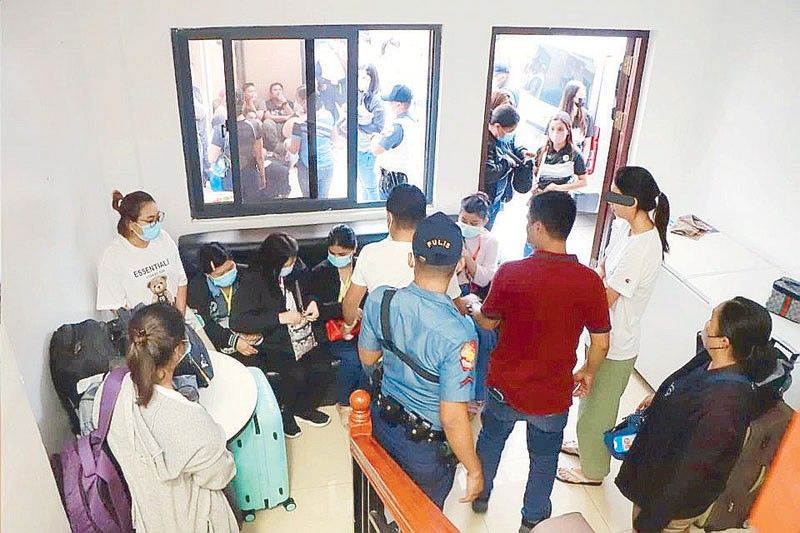 MANILA, Philippines — Sixty-three foreigners who are alleged victims of human trafficking and forced labor were rescued from two Philippine offshore gaming operators (POGOs) since Wednesday, police reported yesterday.
In Parañaque, operatives of the Philippine National Police-Women and Children Protection Center (PNP-WCPC) found 23 Myanmar nationals and six Chinese during a raid on a house in Concorde Village, Tambo at around 5:30 p.m. on Thursday.
They are employees of the MOA Cloudzone Corp., a POGO based in Pasay City.
Maj. Gen. Eliseo Cruz, PNP Directorate for Investigation and Detective Management director, said in a press briefing at Camp Crame that the rescue operation was based on information provided by two Myanmar nationals who escaped from the POGO company.
They told police that several foreigners were being held against their will and forced to work as online scammers of a POGO firm.
Cruz said the victims were recruited in Dubai in January via Telegram by a certain Christine, a Myanmar citizen.
The suspect told the victims she needed customer service representatives for her two companies, promising them a monthly salary of P60,000.
The victims arrived in the country on March 28 and were surprised when their passports were confiscated. They began working as online scammers at the Oriental Group of Co. in Pasay, police said.
According to the victims, they were required to work 14 hours a day without holiday breaks. They only started receiving their salaries in May.
Fed up with their situation, the victims tried to resign in June but were transferred to MOA Cloudzone Corp. with the same job. Christine also told them they have to pay her P550,000 each before they are allowed to return to their countries.
Cruz said the victims were locked up in a room and regularly beaten and electrocuted with a taser. They were also not given food and water.
They were transferred to a condominium building in Pasay in August and were later sold to another POGO firm, Shuang Ma Co. based in Cavite, for P3.49 million.
Cruz said the victims are undergoing debriefing at the WCPC before they are turned over to the embassies of their countries.
In Muntinlupa, 22 Chinese, six Malaysians, five Vietnamese and an Indonesian were rescued from an illegal POGO on Wednesday, the Southern Police District (SPD) reported yesterday.
The victims' alleged employer, Qian Jing, 35, a Chinese, was arrested during the operation at a building along Montillano street in Barangay Alabang at around 10:30 p.m., SPD director Col. Kirby John Kraft said in a statement.
One of the victims, a Malaysian, had called his mother to tell her of the dire conditions he and the other employees were experiencing.
The victim said their employer had been withholding their salaries and preventing them from leaving the building's premises.
Their employer also threatened to kill them if they would report their situation to the authorities.
Kraft said the suspect, who is being held on charges of serious illegal detention, was not able to present a business permit from the local government for his company.