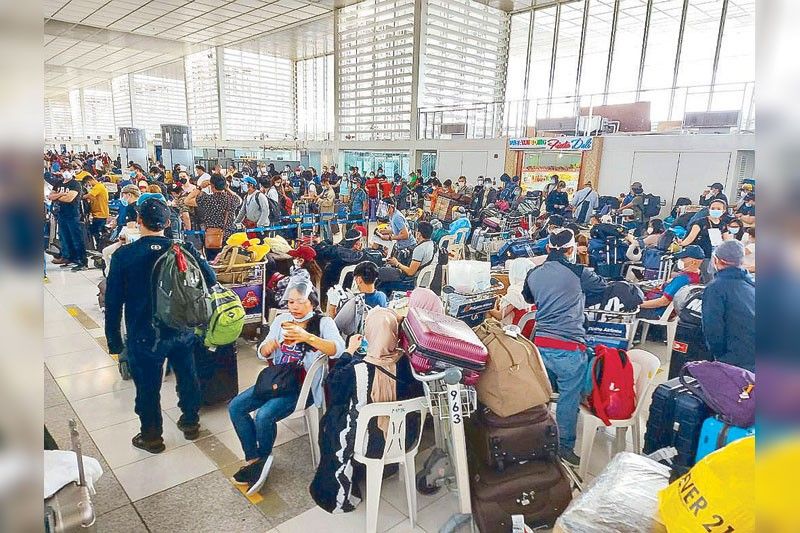 Overseas Filipino workers, locally stranded individuals and passengers with cancelled domestic fl ights wait at the NAIA-2's departure area yesterday.
Rudy Santos
1,000 OFWs, LSIs crowd NAIA-2
Rudy Santos
(The Philippine Star) - August 12, 2020 - 12:00am
MANILA, Philippines — Around 1,000 persons ended up crowding the departure area of the Ninoy Aquino International Airport Terminal 2 (NAIA-2) yesterday.
At least 700 were repatriated overseas Filipino workers (OFWs) brought by the Overseas Workers Welfare Administration (OWWA) from government quarantine facilities to the airport in coordination with the Manila International Airport Authority (MIAA), according to an insider.
Sources said the OWWA has an arrangement with the MIAA to utilize a portion of NAIA-2 as the staging or sign-up area for OFWs and locally stranded individuals (LSIs) who wish to go back to their respective provinces.
The OWWA is supposed to coordinate with local airlines to schedule sweeper flights.
However, passengers who were bound for Iloilo and Bacolod yesterday were added to the LSIs and OFWs at the departure area when two commercial flights were cancelled after the local government units enforced limits on the number of passengers allowed.
"The passengers with cancelled flights were mixed with the LSIs and OFWs who wanted to sign up for possible sweeper flights," the source said.
Around 200 LSIs, insiders said, flocked to the airport after receiving tips through their social media chat groups about sweeper flights.
Some LSIs told The STAR they do not mind if they have no confirmed ticket for the day as they only wanted to go home for free.
Flag carrier Philippine Airlines scheduled three sweeper flights last night.