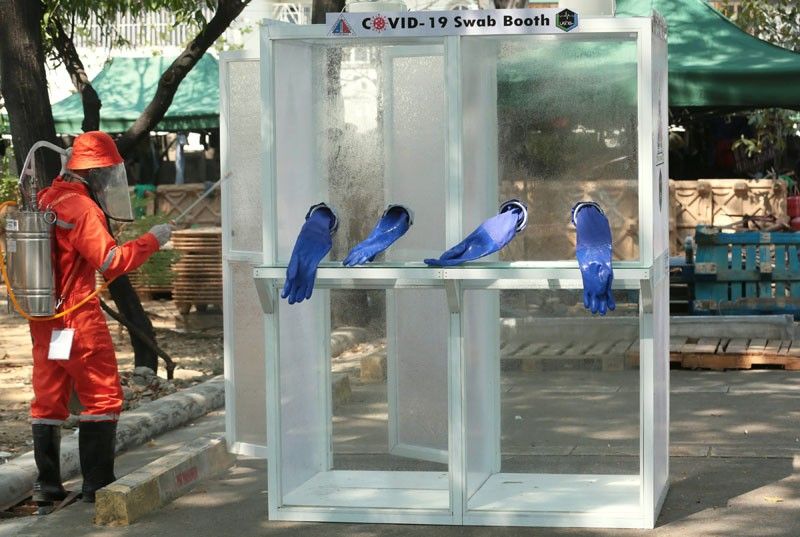 A worker disinfects a COVID-19 swab booth installed at the Quezon City General Hospital on Tuesday.
Michael Varcas
Quezon City General Hospital installs swab booths for COVID testing
Janvic Mateo
(The Philippine Star) - April 9, 2020 - 12:00am
MANILA, Philippines — Prototype swab booths have been installed at the Quezon City General Hospital (QCGH) to minimize possible exposure of healthcare workers to the coronavirus disease 2019 or COVID-19.
The booths would allow health workers to safely extract swabs from patients under investigation or monitoring for the viral respiratory disease.
QCGH director Josephine Sabando said they used the booths to extract swabs from around 40 patients when the project was launched on Tuesday.
The specimens will be forwarded to a testing facility such as the Research Institute for Tropical Medicine.
The city government said it would also install swab booths at the Novaliches District Hospital and Rosario Maclang Bautista General Hospital.
The booths were developed by the Philippine Institute of Civil Engineers, Datem Inc. and USHER Technologies, which also constructed misting stations set up in various locations in Quezon City.
Sabando said nine COVID-19 patients were being treated at the QCGH. Several individuals are waiting for their COVID-19 test results.
She earlier disputed images of supposed hospital personnel wearing improvised personal protective equipment (PPE) on social media.
"We will not use garbage bags because it will expose our frontliners," Sabando said, adding that they have enough supplies from the city government and the Department of Health.
"I always tell our health workers not to enter the ward if they are not wearing a complete set of PPE," she said.
Sabando expressed gratitude to health workers who have committed to fight the COVID-19 crisis.
Four patients, including three elderly, have recovered from the illness and discharged from the QCGH.
Cash aid
Mayor Joy Belmonte has joined other Metro Manila mayors in calling for the increase in the number of beneficiaries allotted for the government's emergency cash aid program.
Belmonte said the Department of Social Welfare and Development granted only about 377,000 slots to Quezon City.
The local government has identified up to 750,000 families needing assistance during the enhanced community quarantine.
These include unregistered families, transients and non-Quezon City residents who were stranded in the city during the quarantine period.
The families were among those included in the latest batch of food packs distributed in the barangays.
Belmonte announced a separate financial assistance of P2,000 for drivers of public utility vehicles, market vendors, solo parents and persons with disabilities.