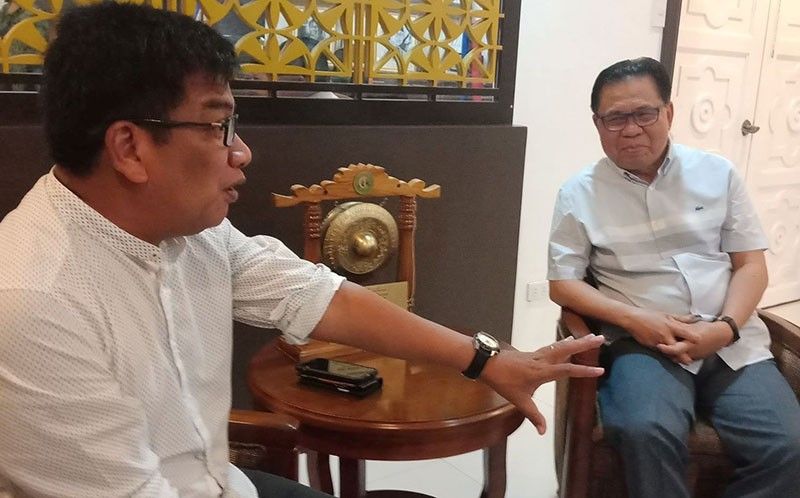 Deputy Speaker Mujiv Hataman and Bangsamoro Chief Minister Ahod Ebrahim met in Cotabato City on Friday.
Philstar.com/John Unson
Local execs push for reconciliation program for Islamic militants
John Unson
(Philstar.com) - August 17, 2019 - 5:00pm
COTABATO CITY, Philippines — Deputy Speaker Mujiv Hataman and Bangsamoro Chief Minister Ahod Ebrahim will jointly formulate an institutional program meant to return Islamist militants into mainstream society.
Hataman, while governor of the now defunct Autonomous Region in Muslim Mindanao from 2012 to February this year, and the provincial government of Basilan together worked out the return to the fold of law in the past three years of more than 200 Abu Sayyaf terrorists in the province.
Ebrahim and Hataman, now congressional representative of Basilan, met at the capitol here of the Bangsamoro Autonomous Region in Muslim Mindanao on Friday and discussed the prospects of forging ahead with a legislation that can help hardcore Islamic extremists fighting the government start life anew as peaceful citizens in their provinces.
Hataman said he and other Moro lawmakers can ventilate in the House of Representatives the need for an institutionalized reconciliation program providing hardcore members of the Abu Sayyaf, the Maute group and the Bangsamoro Islamic Freedom Fighters livelihood and other psycho-social support if they decide to reform for good.
"If the government has a program for members of the New People's Army, why not extend a hand of reconciliation to these religious extremists too? Some officials of our national security organizations also call the NPA a terror group," Hataman told Murad during their hour-long meeting.
The Hataman-Murad engagement was facilitated by Hexsan Mabang, a senior official of the Regional Board of Investments-BARMM, and Bangsamoro parliament member Amir Mawallil.
Hataman pioneered the Program Against Violent Extremism, or PAVE, while at the helm of the ARMM regional government.
His office then used ARMM funds for the rehabilitation, education and livelihood support for the militants in Basilan who came out in batches from 2017 to early this year and denounced over the Qur'an their Abu Sayyaf membership.
"We relied only on local funds and other available fiscal resources subject to state auditing procedures. If we can a have legislated measure, supported by Malacañang, the Philippine National Police and the Armed Forces, we can nip misguided Islamic militancy from the bud," Hataman said.
Hataman said potential beneficiaries of his envisioned expanded anti-extremism reconciliation program can trade their firearms for psycho-social and socio-economic support from the government.
Murad said he will support a House bill meant to foster amity between the government and local militant blocs.
The Abu Sayyaf, the Maute and the BIFF have a common denominator --- that of having leaders circumventing teachings in the Qur'an to radicalize followers and imbue among them extreme hatred for non-Muslims.
All three groups are operating in the fashion of the Islamic State of Iraq and Syria.
Murad said he wants the program to cover all three groups, most particularly the BIFF, which splintered from the Moro Islamic Liberation Front almost a decade ago.
Maguindanao Second District Rep. Esmael Mangudadatu said he is ready to endorse any proposed measure Hataman will submit for congressional imprimatur.
Mangudadatu, who was governor of Maguindanao for three terms that spanned from June 30, 2010 to June 30 this year, had also helped the Army's 6th Infantry Division convince more than 20 BIFF members to lay down their arms one after from 2018 until shortly before his election as congressional representative last May 13.
Mangudadatu said he is certain that Ebrahim, chairman of the MILF, and his followers can help compel the BIFF to refrain from hostile acts while efforts to institutionalize a reform program that they can avail of are still underway.
"These are militants wrongly indoctrinated by extremely radical preachers. They do not have any other option now but fight the government. If they will realize that they can still have a second lease of life, in harmony with all people around them, surely they will come out and reform," Mangudadatu said.