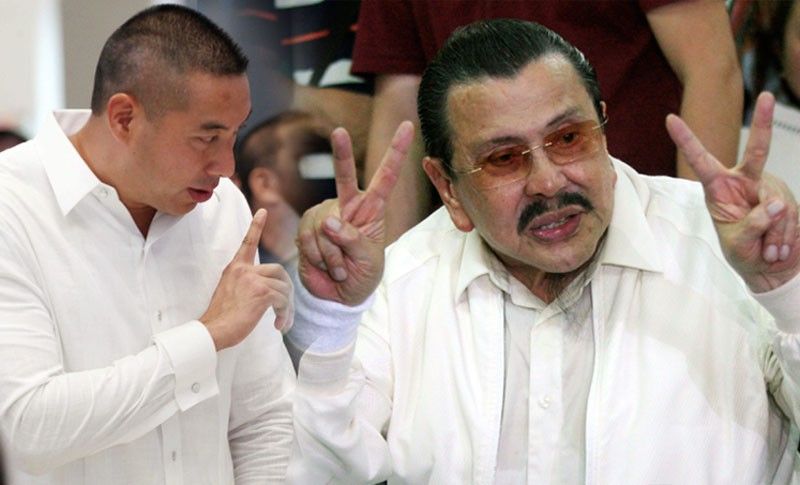 San Juan Mayor Francis Zamora gestures during a press conference on the city government's budget deficit last month. At right, former president Joseph Estrada makes a victory sign after casting his vote at the P. Burgos Elementary School in Manila on May 13.
Boy Santos, Edd Gumban
Erap to Zamora: File charges on property tax 'irregularities'
MANILA, Philippines — Former president and Manila mayor Joseph "Erap" Estrada challenged San Juan Mayor Francis Zamora yesterday to file charges against him if the latter has evidence regarding "irregularities" involving the property tax on his Polk street house.
"He is stupid. I challenge him to file charges against me if he has pieces of evidence. He should stop his publicity stunts at my expense. He is no different from Isko Moreno," Estrada said.
"He is trying to create (issues) to make himself popular," Estrada added.
Estrada was reacting to Zamora's claims that the city assessor's office had been collecting lower taxes from owners of real properties on Polk street in Barangay North Greenhills. The taxes are allegedly 10 to 15 percent lower compared to other areas in the city.
"Former president Joseph Estrada lives on Polk street, where the value of property has lower tax assessment," Zamora said in an interview with "The Chiefs" aired on Cignal TV's One News last Friday.
Zamora said he has uncovered some "irregularities" at city hall since he took over the reins of the city government in June, one of which involves P1.3 billion in obligated funds left by his predecessor, former mayor Guia Gomez.
Gomez is the mother of former senator JV Ejercito, whose father is Estrada.
Zamora refused to engage Estrada in a word war over the latter's challenge to file charges in connection with the alleged irregularities involving property taxes on Polk street.
"Hayaan na lang natin siya (Let's leave him be)," he said over the phone.
Zamora said he has ordered a review of all the property tax assessments in the city, including those situated along Polk street, to get more revenue for the city government's projects.
He had told The Chiefs he would leave it to the Commission on Audit to file appropriate charges for any misuse of city funds. – With Emmanuel Tupas