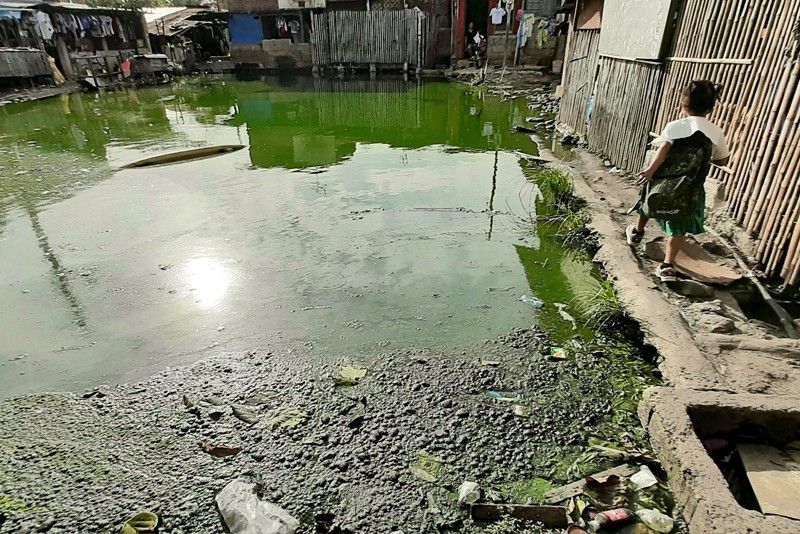 A girl walks past stagnant water in Purok Ube, Barangay Gun-ob, Lapu-Lapu City, Cebu on Wednesday. The DOH said dengue-carrying mosquitoes breed in stagnant water.
Joy Torrejos/The Freeman
227 deaths, 50,385 cases due to dengue reported
MANILA, Philippines — The number of dengue cases has risen to 50,385 cases, with 227 deaths reported in five regions, the National Disaster Risk Reduction and Management Council (NDRRMC) reported yesterday.
In a dengue monitoring report released, the NDRRMC-Office of Civil Defense (OCD) said Western Visayas has the most number of cases at 18,834, with 94 deaths.
A dengue outbreak had been earlier declared in Iloilo, Capiz, Aklan, Antique and Guimaras. Negros Occidental is under heightened dengue alert.
Sixty-two deaths due to dengue were reported in Central Visayas, 50 in Calabarzon and 21 in Soccksargen.
The NDRRMC said Calabarzon reported 13,032 cases; Central Visayas, 9,594; Eastern Visayas, 5,577, and Soccsksargen, 3,348.
DOH figures
Meanwhile, the DOH said 491 deaths were reported from Jan. 1 to July 6 across the country compared to only 336 during the same period last year.
Health officials said 115,986 dengue cases have been reported since January, a 22 percent increase compared to the 4,703 cases last year.
The DOH said Western Visayas reported 15,826 cases; Calabarzon, 12,780; Soccsksargen, 9,572; Northern Mindanao, 9,354, and Central Visayas, 9,259.
Amelita Pangilinan, DOH-Cordillera Administrative Region officer-in-charge, said the region is also nearing a dengue alert status.
The DOH recorded 2,025 cases in the Cordilleras, a 35 percent increase compared to last year.
The NDRRMC said the number of fatalities reported by the DOH is still being validated by the department's Health Emergency Management Bureau and OCD.
The DOH declared a national dengue alert on Monday amid a surge in the number of cases.
Health Secretary Francisco Duque III said code blue alert was raised for the NDRRMC health cluster to ensure heightened surveillance by the DOH's regional offices and implementation of anti-dengue strategies.
Breeding sites
The DOH reiterated its call for the public to intensify activities to eliminate all possible breeding sites of mosquitoes to prevent the outbreak of the disease.
Parents were advised to be extra-mindful if their children manifest symptoms of the mosquito-borne disease.
DOH Undersecretary Eric Domingo said dengue management is "not hard" if the disease is diagnosed and treated early.
"It's more of fluid balance. You don't need antibiotics. Hospitals are equipped, but we have to see the patients early and we have to manage them properly," Domingo said.
He said children with fever for two to three days should be brought to a doctor for dengue testing. – With Artemio Dumlao