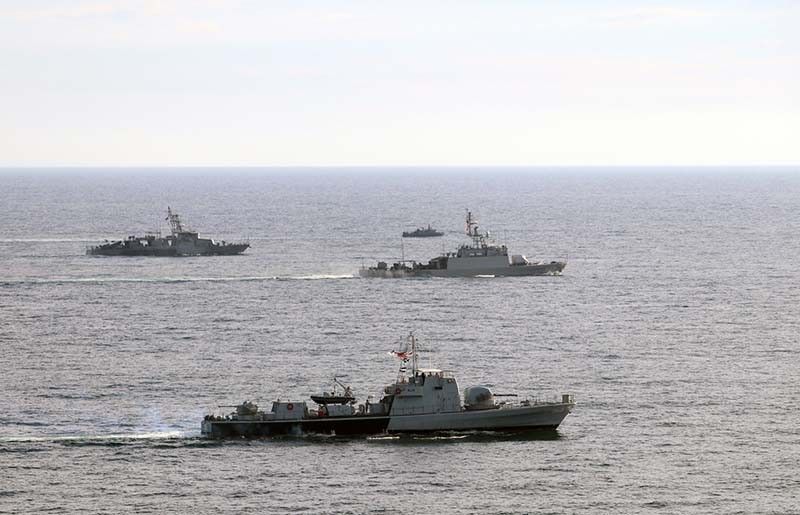 In this handout photo, ships from the navies of the Philippines, Indonesia and Malaysia sail through waters in the southern Philippines. Joint Task Force INDOMALPHI is a joint effort to secure common maritime borders.
Naval Forces Western Mindanao
Naval Forces Western Mindanao gets new commander
ZAMBOANGA CITY, Philippines — Vice Adm. Rene Empedrad, Philippine Navy chief, on Thursday installed a new commander for Naval Forces Western Mindanao to replace Vice Adm. Rene Medina, who now heads the Western Command in Palawan.
Rear Adm. Erick Kagadan replaces Medina at NFWM.
Medina led the NFWM in operations against terror groups, including the tracking and neutralization of Abu Sayyaf leader Isnilon Hapilon, one of the leaders in the siege of Marawi City that started in May 2017 and ended in October of that year.
Hapilon and the Omar and Abdullah Maute of the Maute terror group were killed towards the end of five months of intense operations to recover Marawi City from the Islamic State of Iraq and Syria-linked militants.
Medina's leadership was also credited for stopping the hijacking and kidnapping of foreign sailors conducted by the Abu Sayyaf group near the maritime borders with Indonesia and Malaysia.
His stint at NFWM also saw the Philippine Marine Fleet-Ready Force neutralize several Abu Sayyaf fighters and facilitate the surrender of others in Sulu and Tawi-Tawi areas.
"We have denied the Abu Sayyaf sanctuaries by deploying our Marines in the islands in the border which the terror group used to make as their staging area," Medina said.
Empedrad directed Kagadan to sustain the NFWM's efforts in securing the southern border, a sea passage where 16,000 international carrying around $14 billion in goods passes through each year.

He added the ongoing trilateral security cooperation with Malaysia and Indonesia in securing the southern border against piracy and kidnapping should continue.