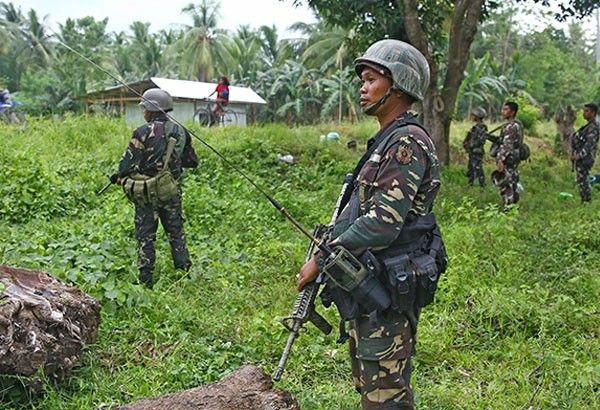 The firefight on Saturday is the third between government forces and the Abu Sayyaf since last Sunday, when IEDs were detonated in the cathedral in Jolo, Sulu.
AFP/File
Army in clash with Abu Sayyaf in Patikul
ZAMBOANGA CITY, Philippines — Fresh fighting erupted in the jungle of Patikul town, Sulu before midday on Saturday when Army rangers engaged a reported 100 members of the Abu Sayyaf in a firefight.
Troops from the 5th Scout Ranger Battalion got into a firefight with the group of Abu Sayyaf leader Hajan Sawadjaan at Sitio Sungkog in Barangay Kabbon Takas, a security official said.
"Intense fighting still ongoing which started 11:30a.m today (Saturday), said Col. Gerry Besana, spokesman of Western Mindanao Command.
Besana said that, based on field reports, the Abu Sayyaf have suffered an undetermined number of casualties. There have been no reported casualties among the rangers, he said.
Security forces have been pursuing the Abu Sayyaf group since Sunday in response to the deadly twin bombings at the Our Lady of Mount Carmel Cathderal in Jolo that left 22 people dead and 101 others injured.
Besana said troops have been mobilized to keep the Abu Sayyaf group from slipping out of the area. He said the clash site is far from civilian areas.
Despite that, some 350 families from nearby villages in Patikul have fled to safer grounds for fear they will be caught in the crossfire.
The provincial government of Sulu and the Autonomous Region in Muslim Mindanao-Humanitarian Emergency Action Response Team have extended relief assistance to the affected families.
The fighting on Saturday was the third between government forces and the Abu Sayyaf since Sunday.