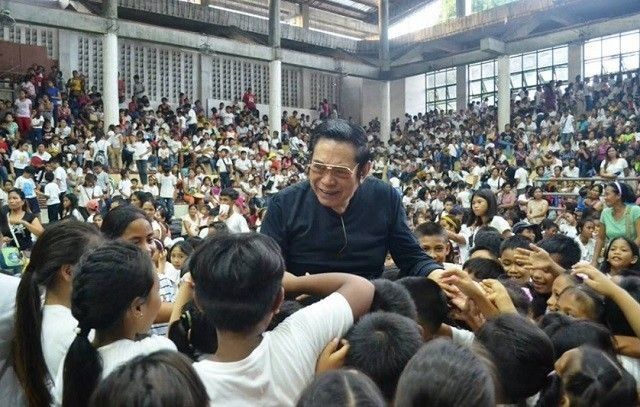 Guimbal, Iloilo Mayor Oscar Garin has been accused of beating up a police officer with his son, Iloilo Rep. Richard Garin
Guimbal Iloilo/Facebook
Napolcom revokes Garin's police deputation over mauling incident
MANILA, Philippines — Due to a mauling incident last December 26, the National Police Commission revoked the deputation — or supervisory powers — of Guimbal, Iloilo Mayor Oscar Garin, state media reported on Monday.
"The withdrawal of Mayor Garin's authority as deputized representative of the Commission is the most prudent action that the Napolcom can take to ensure the credible and unbiased conduct of investigation on the mauling of PO3 Macaya," Rogelio Casurao, Napolcom Vice-Chairman and Executive Officer said in a statement.
Garin and his son Rep. Richard Garin (Iloilo) allegedly beat up a handcuffed PO 3 Frederico Macaya at gunpoint.
Following the incident, the father and son surrendered their firearms, including some high-powered rifles, to authorities who canceled their gun licenses.
Richard issued an apology following the incident. "I reiterate my apologies for my actions, which I take full responsibility for," he said.
READ: Iloilo lawmaker apologizes for attacking cop

He said he and his father were "just frustrated" that Macaya was behind the affidavit of desistance filed against a suspect who hurt a minor at the town plaza on December 22.
"My actions were not directed to the PNP (Philippine National Police) as an institution or against its officers and personnel. My actions were a mere display of extreme frustration," Richard said.
He said he was frustrated when he learned Macaya allegedly asked a minor not to file charges against an adult suspect who allegedly hurt him.
Local government units and provincial governments have supervisory authority over their city or municipality police under the Local Government Code of the Philippines, although this may be revoked by the Napolcom.
Revocation of police deputation was only invoked sparingly prior to the administration of President Rodrigo Duterte, who has revoked the supervisory powers of 186 heads of provincial and local government units so far.
READ: 186 local officials stripped of police powers

Cebu City Mayor Tomas Osmeña was one of the first mayors to have his supervisory powers revoked after a disagreement with local police leadership in 2016, although it was restored later that year by Napolcom.

On December 28, Duterte directed the Department of the Interior and Local Government to file charges against the Garins for the incident.
"If the policeman did something wrong, it's not a reason to beat him up... They will have to file the case... direct assault," the president said.