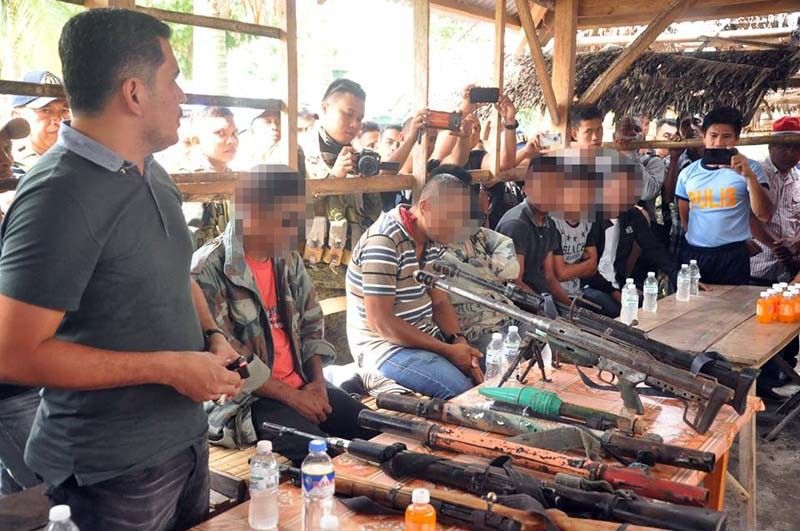 The militants who surrendered Thursday, their faces blurred for security, are now in government custody.
John Unson
6 BIFF militants surrender in Maguindanao
John Unson
(Philstar.com) - August 10, 2018 - 7:53am
MAGUINDANAO, Philippines — A senior leader of an Islamic State-inspired group and five others surrendered to authorities Thursday through local officials.
Dido Malawan and his five followers belong to one of three factions in the Bangsamoro Islamic Freedom Fighters, all operating in the fashion of the Islamic State.
They yielded assorted firearms, including rocket launchers and materials for improvised explosive devices to representatives of the Army's 33rd Infantry Battalion and the provincial police offices in Sultan Kudarat and Maguindanao in a secluded barangay in General S.K. Pendatun, Maguindanao on Thursday.
Brig. Gen. Cirilito Sobejana of the Army's 6th Infantry Division said Friday he is thankful to the provincial government of Maguindanao and leaders in towns along the Liguasan Delta for helping secure the surrender of the six BIFF members through backchannel dialogues supported by religious leaders and traditional community elders.
The 220,000-hectare Liguasan Delta, surrounded by central Mindanao's Maguindanao, Sultan Kudarat and North Cotabato provinces, is a known lair of IS-inspired terrorists and criminal gangs.
More than 30 hardcore BIFF militants, among them bomb-makers trained by the slain Malaysian terrorist Zulkifli bin Hir, most known as Marwan, have surrendered in batches to units of the 6th ID since April.
"Credit has to go to incumbent local executives in Maguindanao for helping convince these once misguided men that the government is sincere indeed in addressing the socio-economic issues, poverty and neglect that they are complaining about," Sobejana said.
Sobejana said the BIFF members who had earlier returned to the fold of law are now being reintegrated into mainstream communities through humanitarian interventions being extended to them by the Maguindanao provincial peace and order council chaired by Gov. Esmael Mangudadatu.
The governor's younger sibling, Zajid, congressman for the second district of Maguindanao, provided Malawan and his men monetary assistance they can use in relocating their families to areas far from reach by BIFF forces.
The BIFF is known for attacking former members and their families.