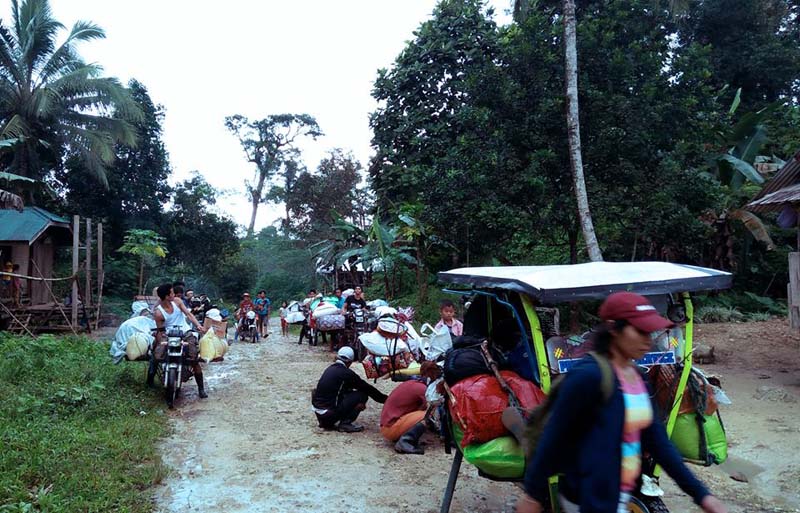 This is the second time that the Lumads have had to evacuate this year and the fourth since martial law was declared in Mindanao in 2017.
Higala Friends of the Lumad in Caraga, file
Troop presence prompts Lumad evacuation in Surigao del Sur town, group says
(Philstar.com) - July 16, 2018 - 2:33pm
MANILA, Philippines — Lumad communities in Barangay Diatagon in Lianga, Surigao del Sur have left their homes in response to military presence in the area, Karapatan-Caraga said in an alert.
The evacuation, which involves 328 families or around 1,607 people, is in response to military presence in the area since June, the group said. It is the second time for the communities to evacuate this year and the fourth since martial law was declared over Mindanao in May 2017.
"Human rights abuses have been committed against the Lumad, including threats, harassment and intimidation and sexual harassment against women and children," Karapatan said. It also said that Lumad leaders had been threatened with charges if they evacuate.
Karapatan-Caraga said among the evacuees are 568 students and 48 teachers from eight community schools run by Alternative Learning Center for Agricultural and Livelihood Development and Tribal Filipino Program of Surigao del Sur.
The 401st Infantry Brigade, which oversees the 75th Infantry Battalion that has established a detachment in areas of Diatagon, confirmed the evacuation but could not give specifics. "The intent of the evacuation is a protest, not because their life is in danger," the brigade's Civil-Military Operations officer said.
In an exchange earlier this month, the brigade said the military presence in the area was requested by the barangay and town governments and is meant "to protect the people in the area from the terrorist Communist Party of the Philippines-New People's Army and other threats." The brigade also said the barangay is a "known CPP-NPA influenced area."
The brigade claimed that the Lumad families "were forced to evacuate by the MAPASU leader," referring to Manobo group Malahutayong Pakigbisog alang sa Sumusunod (MAPASU, or Persevering Struggle for the Next Generation).
A source familiar with the situation on the ground said that the military is trying to make it seem like MAPASU is an outside influence on the Lumad communities "when in fact, MAPASU is composed of Lumad communities."
The brigade's CMO unit could not say how many families had evacuated and where they are going, but said the Local Government Unit takes the lead in managing evacuees. "We provide security. We will assist the LGU in providing assistance," it said.
In December, displaced residents claimed that the military had restricted the flow of aid into an evacuation center in Diatagon.
The 401st Infantry Brigade said then that there was no blockade on aid and food and that it was only implementing security measures because of reports that armed individuals had mixed in with the evacuees. — Jonathan de Santos