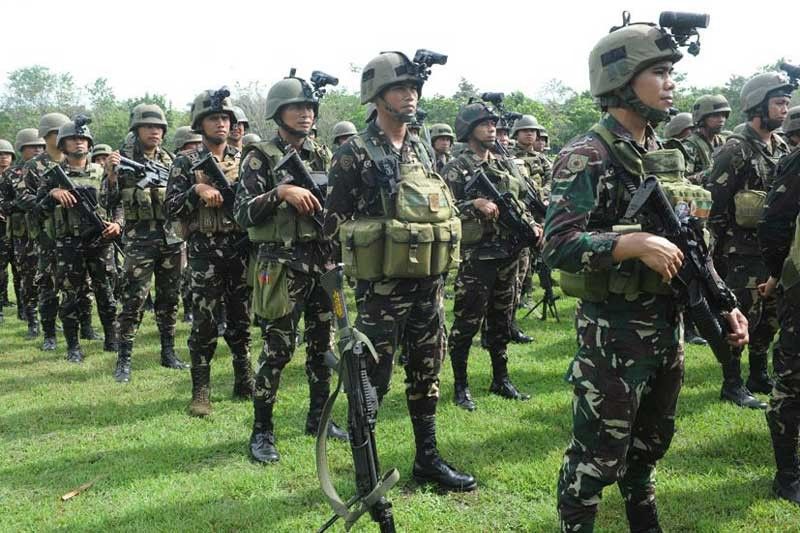 The warring clans disengaged when military and police officials arrived in Maimbung.
Gerry Lee Gorit, file
Troops, police sent to Sulu town as clan feud brings violence
ZAMBOANGA CITY, Philippines — Military and personnel have been deployed to secure Maimbung, Sulu against two warring clans that have figured in a firefight that has left two people dead and 10 wounded.
The military said the firefight between the groups of Maimbung Vice Mayor Mudjasan Pando and Imal Matarol, brother of Maimbung councilor Abubakar Tan, erupted in Barangay Bualo Lipid on Friday night.
Brig. Gen. Cirilito Sobejana, commander of Joint Task Force Sulu, said two people were killed and three others from the warring clans were wounded in the firefight.
At least seven civilians were also wounded in the crossfire, which forced residents to evacuate and seek shelter from the village covered court and a school in neighboring Barangay Matatal.
Killed in the encounter were: Maming Mudjasan, an Army integree and former Moro National Liberation Front commander; and Jubilyn Saddawani. Both were relatives of Vice Mayor Pando.
The military identified the three wounded as MNLF members Makrasil, Abdul Nasser Sansawi and Ansal Jindani.
Wounded in crossfire were Danny Sahaman, Dasma Asaral, Attih Jainulla, Masbol Jainulla, Darsi Guabasi, Dismar Sakib and Fatima Elmi. They were immediately rushed to the Sulu Integrated Provincial Health Office for treatment.
The two sides disengaged when Sobejana, his unit commanders, and Senior Superintendent Mario Buyucan, provincial police chief, arrived in the town.
Troops and police were deployed and a patrol base established in the center of the affected community to prevent more violence, Sobejana said.
"The situation has normalized and we deployed a reasonable number of troops in the area," Sobejana said.
He said MNLF forces at Barangay Bualo Lipid have temporarily relocated to Barangay Kagay in Indanan town and will stay there until the differences of the feuding groups are resolved.