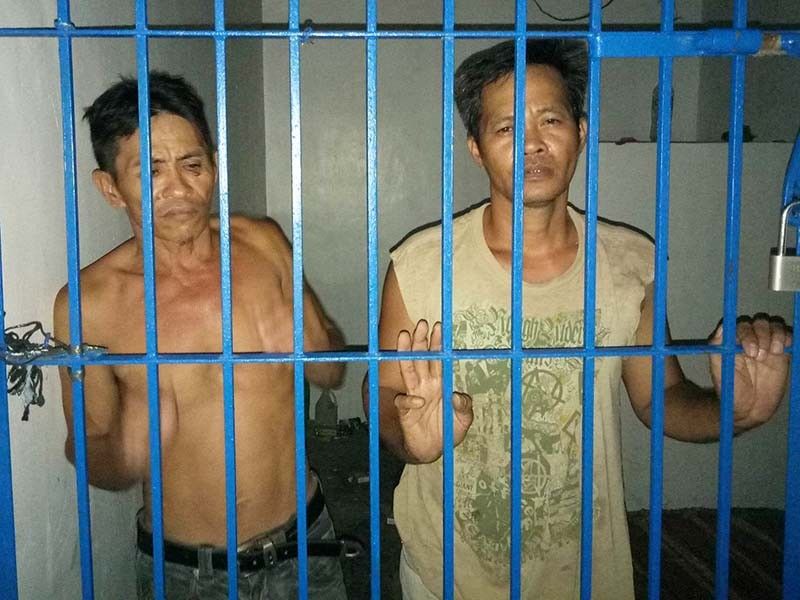 The arrested bombers Esmael Abdulkarim and Boy Kamid are now in the custody of the Shariff Aguak municipal police office.
Philstar,com/John Unson
Vigilant residents foil bomb attack in Maguindanao
John Unson
(Philstar.com) - April 7, 2018 - 3:11pm
MAGUINDANAO, Philippines — A group of vigilant residents in Shariff Aguak shall receive incentives for preventing what could have been a bloody bomb attack in the municipality on Friday night.
Two of the four men who were to carry out the plot were arrested immediately by civilian volunteers led by Shariff Aguak Vice Mayor Hadji Akmad Ampatuan, acting on a tip by watchful constituents.
Esmael Abdulkarim, 44 and his 52-year-old accomplice, Boy Kamid, are now in the custody of the Shariff Aguak municipal police, undergoing tactical questioning on their group affiliation and their real motive for the botched bombing.
Major Gen. Arnel Dela Vega of the Army's 6th Infantry Division said Saturday bomb disposal experts had promptly deactivated the improvised explosive device the two men and their companions laid near a roadside security outpost of volunteer community watchmen helping authorities guard the municipality from Islamic State-Inspired militants.
Shariff Aguak's vice mayor and barangay tanods who cornered the fleeing Abdulkarim and Kamid after a brief chase recovered from them a .45 caliber pistol and a fragmentation grenade.
More than a dozen police and Army personnel have been wounded in recent roadside bombings by the outlawed Bangsamoro Islamic Freedom Fighters in Shariff Aguak and nearby towns in the second district of Maguindanao.
Ampatuan, a first-termer vice mayor, said he will provide the villagers who informed him about the plan to set off an IED in Shariff Aguak with earnest cash incentives as a reward.
"They are not asking for anything in exchange for the good work. What they did was something first ever in the history of this municipality. We have to reciprocate," he said in Filipino on Saturday morning.
Ampatuan declined to identify the informants for security reasons.
Maguindanao Gov. Esmael Mangudadatu, chairman of the inter-agency provincial peace and order council, said he is ready to give monetary incentives to them too.
"That was a noble act that deserves recognition from me too. I am a survivor of several attempts on my life using IED," Mangudadatu said.
He said he wants the now detained Abdulkarim and Kamid prosecuted to the fullest extent of law.
It is fear of getting locked in a rido, which means vendetta feud, that discourages residents of Maguindanao's 36 towns to openly help in government efforts to address the spread of misguided Islamic militancy in conflict flashpoint areas in the province.