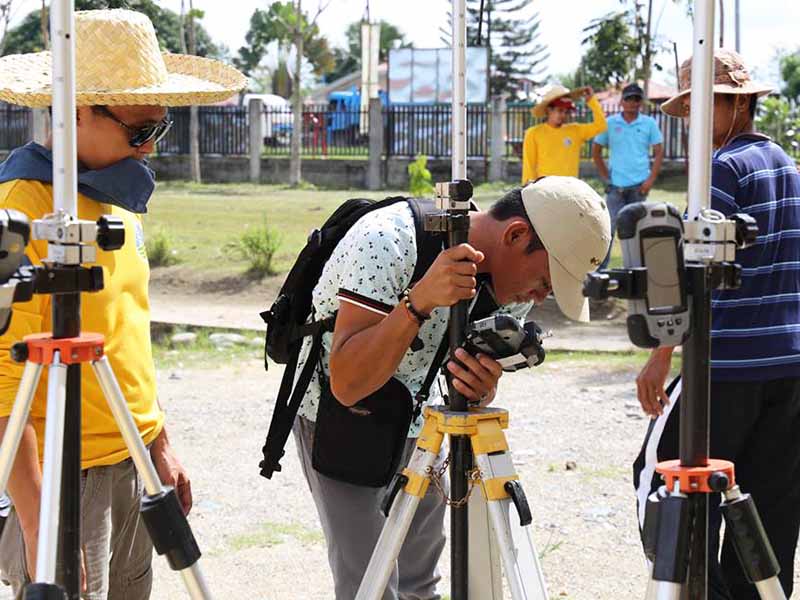 Surveyors prepare their modern surveying devices to be used in the government's free land survey and titling program in Maguindanao province.
Philstar.com/John Unson
Maguindanao launches free titling program to help solve land disputes
John Unson
(Philstar.com) - January 13, 2018 - 2:09pm
MAGUINDANAO, Philippines — Moro families locked in bloody squabbles for control of arable lands in Rajah Buayan town are first to benefit from a new government land titling program.
Hadji Kahal Kedtag, regional secretary of the Department of Environment and Natural Resources-Autonomous Region in Muslim Mindanao, said Saturday the program was launched last week in the town proper of Rajah Buayan in the second district of Maguindanao.
Kedtag said Rajah Buayan Mayor Zamzamin Ampatuan supports the implementation of the program in the municipality, where there are conflicts rooted to land disputes among local clans.
READ: Private surveyors hired to help solve border conflicts in Maguindanao
"This program aims to settle quarrels due to boundaries of farms, misunderstandings over names of land owners on land titles, inheritance claims and about occupants tilling specific areas since birth but do not have land titles," Kedtag said.
Kedtag said the free land titling program of the DENR-ARMM is being implemented under the ministerial control of the office of Gov. Mujiv Hataman, regional chief executive.
The free land titling program for Moro, Lumad and Christian communities in Maguindanao complements the normalization agenda of the ongoing peace overture between Malacañang and the Moro Islamic Liberation Front.
The Hataman-led ARMM inter-agency regional peace and order council is helping push the ongoing peace overture between the national government and the MILF forward.
The peace initiative aims to put a negotiated closure to the now 50-year southern Moro rebellion, partly blamed on dispossession of indigenous communities of ancestral lands.
The extensive free surveying and titling of lands in Rajah Buayan town, located along the 220,000-hectare Liguasan Delta, involves the DENR-ARMM and geodetic engineers from the Sobreviñas Survey and Engineering Services.
Kedtag said the program shall be expanded to other towns in Maguindanao, where there are large government-recognized MILF enclaves now called "peace zones."
"Our marginalized Moro and Lumad sectors shall benefit most from this program," Kedtag said.