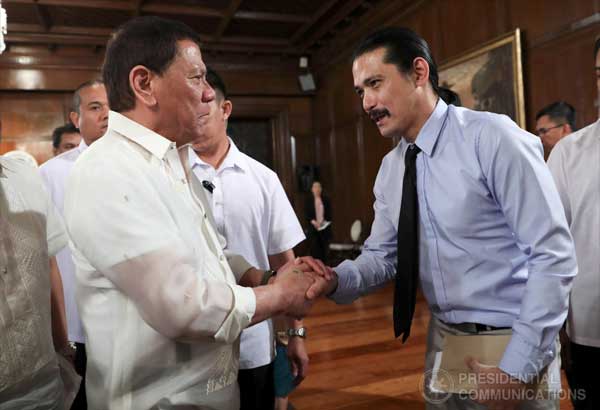 Actor Robin Padilla has donated P5 million to the Department of Social Welfare and Development for psychosocial intervention for children affected by the Marawi crisis. PCOO/Released
Robin Padilla donates P5 M for Marawi kids
MANILA, Philippines - Actor Robin Padilla has donated P5 million to the Department of Social Welfare and Development (DSWD) for psychosocial intervention for children affected by the Marawi crisis.
President Duterte witnessed the signing of the deed of donation and turnover of the check to the DSWD during a Cabinet meeting on Wednesday.
The President also directed concerned government agencies to fast-track preparations for the reconstruction of Marawi.
Duterte met with officials of the Departments of Trade and Industry, Social Welfare and Development and National Defense; Housing and Urban Development Coordinating Council, Housing and Land Use Regulatory Board, National Housing Authority, Local Water Utilities Administration and Home Development Mutual Fund. He urged them to ensure the effective implementation of rehabilitation and recovery plans after the clearing operations by the police and military.
"The President stressed the need to continuously provide displaced families with their most basic needs, such as food and clean water," Malacañang said in a statement.