Marawi under seige; Maute, Abu join forces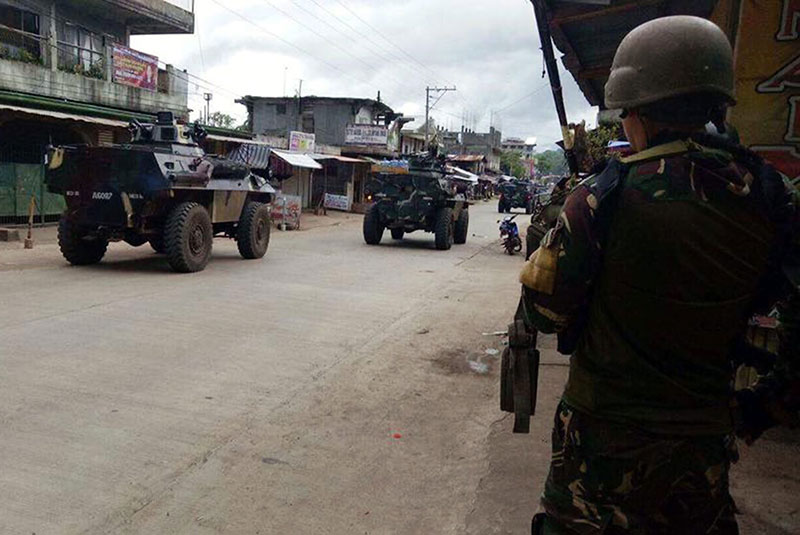 MANILA, Philippines - Marawi City is under siege, prompting the military to place the entire city under red alert last night.
The city also suffered power outages and poor cellular phone signals. All entry and exit points of the city were blocked.
Intermittent bursts of gunfire continued as of last night, with flames and smoke still billowing in some areas in the city as the fighting between government security forces and the Islamic State-inspired Maute group, headed by Abu Sayyaf commander Isnilon Hapilon, turned into street skirmishes.
While there were only 15 Maute fighters, their sympathizers, according to the military, apparently joined them, triggering street fighting that resulted in the closure of the Marawi-Iligan highway. Initial reports said five soldiers were wounded.
The city government advised residents to stay home and keep off the streets.
The firefight started when the Mautes, knowing they had sympathizers in the area, fired at government troops, said Capt. Joan Petinglay, spokesperson for the Western Mindanao Command.
As fighting raged, the terror group's sympathizers launched a diversionary tactic by firing shots in other areas to ease the pressure against the main force of the Maute, whose members took up positions in different areas in Barangay Basak.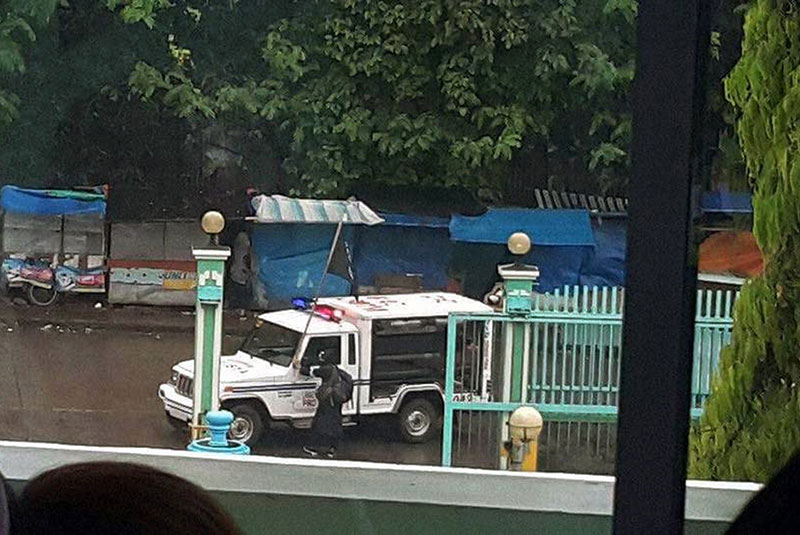 A suspected member of the Maute terror group places a black Islamic State-style flag on a police vehicle outside a hospital in Marawi City, where Maute and Abu Sayyaf bandits under Isnilon Hapilon clashed with government troops yesterday.
CHICO DIMARO USMAN FACEBOOK PHOTO
A report said the city police headquarters was burning last night. The military did not confirm the report.
"There is so much disinformation coming out in social media. Actually it is an operation launched by our forces because of reports that remnants of the Maute group were in the area," Petinglay said.
She belied residents' accounts that around 250 to 300 Mautes were involved in the fighting and that some of them occupied the Amai Pakpak Medical Center and burned the city jail.
Petinglay confirmed that there was a gunshot fired near the hospital, but clarified that the building was neither attacked nor taken over by Maute members.
Meanwhile, AFP spokesman Brig. Gen. Restituto Padilla called on residents to "remain calm and stay in their respective homes or evacuate to safe areas if they still can."
"We also appeal to all our citizens to provide information on enemy locations and their movements so we can swiftly conclude this important security operation," Padilla said.
The security council of the Autonomous Region in Muslim Mindanao (ARMM) condemned the attack.
"We strongly condemn these acts of terror against the people of Marawi City. I swear to take necessary action immediately," ARMM Gov. Mujiv Hataman said.
"Words may seem useless right now, as no words can express how we feel as we share in the fear and anger of our people there in Marawi City. These acts of terror are happening in a historic, predominantly Muslim city. People sowing terror and who say it is being done in the name of Islam should be ashamed of what they are doing," he said.
The attack was launched as President Duterte started his official visit to Russia, accompanied by top security officials including national police chief Ronald dela Rosa. – With John Unson, Ben Serrano