Makati police stops PETA activists dressed as animals
MANILA, Philippines - Animal mascot wearing activists of the "People for the Ethical Treatment of Animals" (PETA) were stopped Wednesday morning by the Makati Police as they tried to enter Ayala Avenue aboard a passenger jeepney.
The activists were on their way to welcome the delegates to the ongoing Asia-Pacific Economic Cooperation (APEC) Summit with their "Jeepney Jamboree of Animals" when they stopped by police officers aboard a motorcycle and a patrol car along Amorsolo Street at around 10:30 a.m.
LIVE UPDATES: APEC 2015 meetings in Manila
Ashley Fruno, PETA senior campaigner for Asia said the police officers were amused seeing the jeepney's six "animal" passengers.
The activists wore an elephant, cow, kangaroo, dog, chick and a pink pig costume as they carried placards printed with "I am not leather," and "Stop Climate Change, Go Vegan" slogans. The slogans were also printed in Vietnamese, Spanish and Chinese.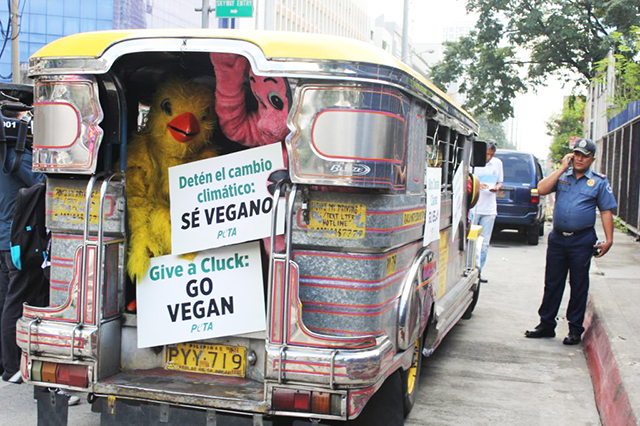 After they were stopped, the police officers told them that they could not enter Ayala Avenue that leads to several hotels where APEC delegates are staying.
"It was a fun and an educational event. We just want to tell the APEC delegates that animal agriculture is one of the major causes of global warming and that it would be best if they would turn vegan (vegetarian)," said Fruno.
"We are not against APEC and we did not even appear threatening in our cute animal costumes. PETA and Pinoy animal lovers are hopeful that animal welfare issues will be on the (APEC) agenda at the meeting and that the leaders will recognize the part that animal agriculture plays in climate change and recommend a vegan diet," added Fruno.
Fruno said the police officers were just doing their job when they were just stopped but not arrested. The Philippine National Police earlier said that protests near the APEC sites or venues would not be allowed.
"I think the police officers were on our side. They just did their job. We were just asked to turn around and we were escorted back to our office in Salcedo (Makati)," said Fruno.
Fruno said that although their "jeepney jamboree" protest was aborted by police Wednesday, PETA is thinking of still pushing through with it.