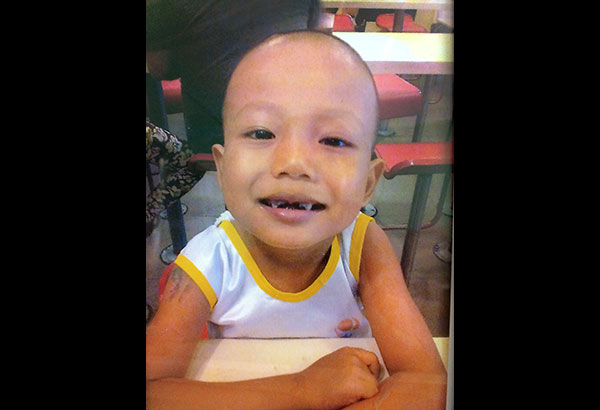 Pasay drug suspect, 5-year-old son shot dead
MANILA, Philippines – The drug war death toll continued to rise as 13 more people, including a drug surrenderee and his five-year-old son, were killed in separate incidents in Metro Manila.
In Pasay City, alleged drug pusher Domingo Manosca, 44, and his son Francisco were shot dead by unidentified assailants at their house along Mahogany street.
Reports said the father and son were sleeping when the assailants knocked on their door at around 4:45 a.m. on Sunday.
When Manosca stood up and peeped through a hole in the wall, the gunmen opened fire, hitting him and his child, who was standing behind him.
Manosca died at the scene from five gunshots to the body.
Francisco died while being treated at the Pasay City General Hospital.
In an interview with The STAR, Manosca's wife, Elizabeth, sought an end to extrajudicial killings, which she said claimed the lives of innocent victims, including her son.
Asked if they would seek justice, Elizabeth said, "It's useless, it would not bring back my son's life."
Manosca, allegedly a known drug pusher in the area, had surrendered to authorities under Oplan Tokhang last month, according to Southern Police District director Chief Superintendent Tomas Apolinario.
Apolinario has ordered an investigation into the killing of the Manoscas.
Police said they would review closed-circuit television cameras in the area for the possible identification of the assailants.
Eleven more suspected drug personalities were killed in separate shootings in the metropolis in the past two days.
In Mandaluyong, Randy Yumang was standing at the corner of San Miguel and Sto. Rosario streets when four unidentified men fired at him, Eastern Police District director Chief Superintendent Romulo Sapitula said.
Yumang, who was on the drug watchlist of Barangay Plainview, died on the spot.
Drug suspect Jeric Amor was slain along Urbano Velasco Avenue in Barangay Pinagbuhatan in Pasig.
Two more alleged drug pushers were gunned down by suspected vigilantes in Marikina City.
Police identified the fatalities as Jaime Peñas and Renato Guno.
Peñas and Guno were on the drug watchlist of Barangay Fortune, probers said.
Michael Miyas, of Barangay Fort Bonifacio in Taguig City, was shot dead by unidentified assailants at 3 a.m. yesterday.
Police said they were investigating if the killing of Miyas was drug-related.
In Makati, drug suspect Joselito Villalon was killed by motorcycle-riding gunmen in Barangay Rizal.
Villalon died at the scene from gunshots to the neck.
Drug suspects Allan de los Santos and Dian Kelvel Marcelo were killed in separate shootings in Pasay City.
De los Santos had turned himself in to police under Oplan Tokhang before he was killed.
Marcelo succumbed to gunshots to the body at the San Juan de Dios Hospital.
Suspected drug users Romel Salvador and his uncle Joseph Salvador were slain in Pateros.
In Manila, an alleged drug pusher was killed by anti-narcotics operatives in a sting along Zamora street in Pandacan.
Randy Balaguer, who was on the drug watchlist, died after he reportedly engaged police in a shootout.
Balaguer died at the scene.
Police said they recovered a .38-caliber revolver, two sachets of shabu and drug paraphernalia from Balaguer. – With Perseus Echeminada, Ghio Ong