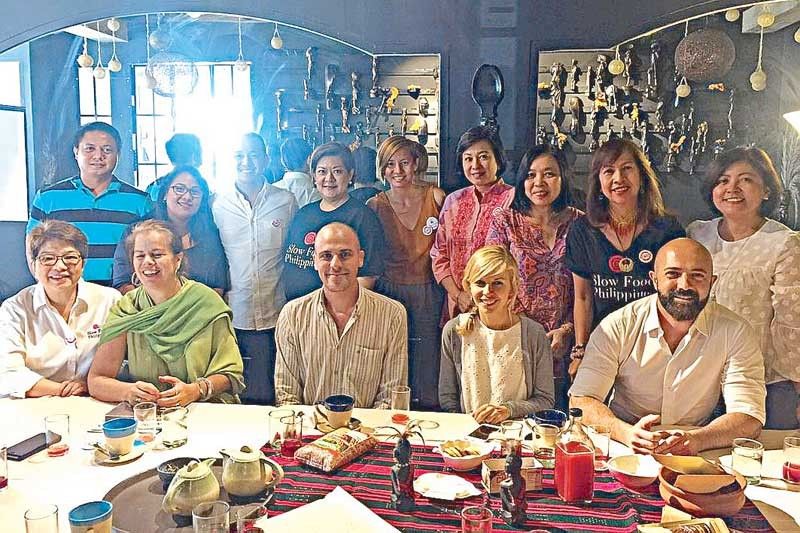 (Seated, from left) Chit Juan, Elena Aniere, Federico Mattel, Michelle Geringer and Giorgio Grussu; (standing, from left) Ron, Ning Carlos, Jam Melchor, Reena Francisco, Paula Aberasturi, the author, Ruth Canlas, Gina Lumauig and Jovy Ganongan.
Slow food, a discovery of the rare
A hike into the rainforest of Mt. Banahaw in Quezon is one of my greatest pleasures in life. It is both meditation and discovery. In my last visit there, it was a trip of discovery upon finding two new rare items.
On a tree, lumped together, were native figs called tigbis. Figs! I only had these dried from the Middle East, or as a jam in small bottles, which I would painstakingly carry back home from my travels. And there was the sampinit, a local raspberry — again, a fruit I had always associated with travels abroad. But there they were before me.
As an advocate of the Slow Food movement in the country, I was excited in that I knew these were two rare finds that could raise up to the Ark of Taste list. This list is a grouping of all the rare small-scale quality productions that belong to the cultures, history and traditions of the entire planet. It is an international catalogue of endangered heritage food that is maintained by the global Slow Food movement. The Ark is designed to preserve at-risk foods that are produced sustainably, are unique in taste and endemic to specific and distinct eco-regions. As we list produce, seeds, grains, etc. in this list, we promote growing and eating of food, which are sustainable and preserving the biodiversity in the human food chain. At present, the Philippines has approximately 62 items in our list!
To further propagate the idea of Slow Food — or the connection among plate, planet, people and culture — we (a small but passionate group around the Philippines) have met up as groups (called Presidia), as farmers, retailers, chefs and home cooks to do what we can to further push the advocacy forward. Chefs use the ingredients that are taken care of by the Presidia, which preserves sustainable agriculture. These are Slow Food projects established to save artisanal food products, native animal breeds, traditional farming and fishing techniques, ecosystems and rural landscapes at risk of extinction. These projects are run by small producers who collaborate in earth markets, trainings and share techniques and knowledge.
During the annual Terra Madre Day celebration, we come together to promote the diversity of food traditions and production. During other events, farmers exchange non-GMO seeds to preserve biodiversity in their farms. We, as retailers, package and sell them. And as advocating foodies, well, we gather and cook in communal celebration of friendship, culture and food cooked the slow way.
Recently, we had one such potluck at Commune Café in Poblacion, Makati to host our Slow Food international friends on their way to visit the Cordilleras. The potluck ended up as a feast for the senses, as we had Tinawon rice (Ifugao), kadios with langka (black-eyed peas with jackfruit), chicken and pork from Bacolod, bukel (white beans) stew with smoked pork, Bringhe (a kind of pancit from Pampanga), adlai (a local grain similar to quinoa), Dinengdeng from Ifugao and yellow cattle salpicao. For drinks we had wild hibiscus tea, roselle jam on ice cream and Benguet Arabica coffee. It was so successful that we asked our host at Commune to offer a Slow Food menu to help share the advocacy to the general public.
Slow Food International's Elena Aniere and Federico Mattei flew in from Italy alongside the UN's Food and Agriculture Organization manager Giorgio Grussu and Michelle Geringer. They were with the Department of Tourism regional director Venus Tan bringing them to the Cordilleras to not only check out the Tinawon rice and rice wines, but to study the route for the Slow Travel experience. Incorporating Slow Food and the joy of travel, the new direction was to link the complete experience of local indigenous food's value chain ingrained in local cultural experiences. Choosing quality over quantity. And experiences over mere sight-seeing, thereby celebrating culture to keep it alive and relevant. It was so nice to see government supporting the movement's direction, which began years back when then Agriculture Undersecretary Berna Romulo Puyat started championing the movement.
The Mountain Project is interesting as this is a new project aligned to Slow Food where specific foods grown or produced in mountains of the world are highlighted with their stories and made premium in the global market. And this is why our friends from Slow Food International were on their way to the Cordilleras to make sure it would be included in the international list of destinations.
Even more exciting is that Slow Food Philippines is growing as the local Ark of Taste ingredients find their way to market and to growing public consumption that in turn inspire farmers to plant and produce them. Now, with the international direction of Slow Food for Slow Travel, a tighter loop of sustainability will happen.
As above so below. As within so without. What you eat is what you are. What we stand for is what we are about. So slow food, slow travel, our communal food gatherings, are all ways we strive to be one with our food choices, our community actions and the planet's needs. *