PCG: China's floating barrier bars Filipino fishers from Bajo de Masinloc
September 24, 2023 | 12:46pm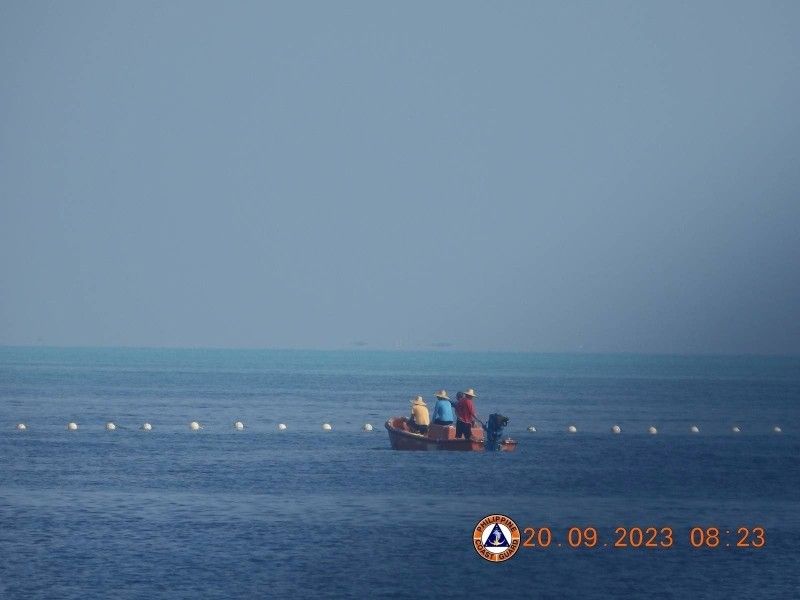 MANILA, Philippines — China has installed a floating barrier in the southern portion of Bajo de Masinloc, preventing Filipino fishers from entering the shoal and engaging in fishing activities, the Philippine Coast Guard said Sunday.
PCG and Bureau of Fisheries and Aquatic Resources personnel on board BRP Datu Bankaw discovered a 300-meter floating barrier during a maritime patrol mission in the vicinity of Bajo de Masinloc, also known as Panatag or Scarborough Shoal, Friday.
Bajo de Masinloc is a traditional fishing ground off the coast of Zambales.
"Three Chinese Coast Guard's rigid hull inflatable boats and Chinese maritime militia's service boat installed the floating barrier upon arrival of the BFAR vessel in the vicinity of the shoal," said Commodore Jay Tarriela, PCG spokesperson for West Philippine Sea matters.
Citing the accounts from Filipino fishers, Tarriela said that the CCG typically deploys floating barriers whenever they observe a significant presence of Filipino fishermen in the area.
There were over 50 Filipino fishing boats in the area at the time of the maritime patrol mission of PCG and BFAR. BFAR provided them with food supplies and fuel subsidies to sustain their operations.
In a briefing aired by CNN Philippines, Tarriela said that while Filipino fishers cannot enter Bajo de Masinloc, they can fish in the immediate vicinity of the shoal.
Fishers' group PAMALAKAYA previously reported that Filipino fishermen have suffered a 70% reduction in income per fishing trip since China increased its presence in the shoal during the Duterte administration.
Tarriela also reported that Chinese Coast Guard ships 3065, 3066, 3105, and 3301 initiated 15 radio challenges "in an attempt to drive away the BFAR vessel" conducting a routine patrol and claimed that its presence violated international and domestic laws.
The Chinese ship moved away after "realizing the presence of media personnel aboard the BFAR vessel," Tarriela said.
'Not drama'
The PCG reported last week that its underwater surveys have shown that the marine ecosystems in Rozul (Iroquois) Reef and Escoda (Sabina) Shoal "appear lifeless, with minimal to no signs of life."
In response, China's foreign ministry denied its involvement in the destruction of coral reefs and urged the Philippines "to stop creating a political drama from a fiction." Beijing also claimed that the grounded BRP Sierra Madre discharges polluted water into the ocean.
"The destruction of corals goes far beyond drama. It is a violent act and a serious crime against humanity," Tarriela said.
"Stop making allegations that BRP Sierra Madre is polluting the water, but blame it to your numerous Chinese maritime militia swarming the Philippines' exclusive economic zone," he added.
Beijing claims the majority of the South China Sea, including parts that Manila calls the West Philippine Sea, despite an arbitration ruling in 2016 declaring this has no legal basis.