Metro air improves as smog, vog subside
September 24, 2023 | 12:00am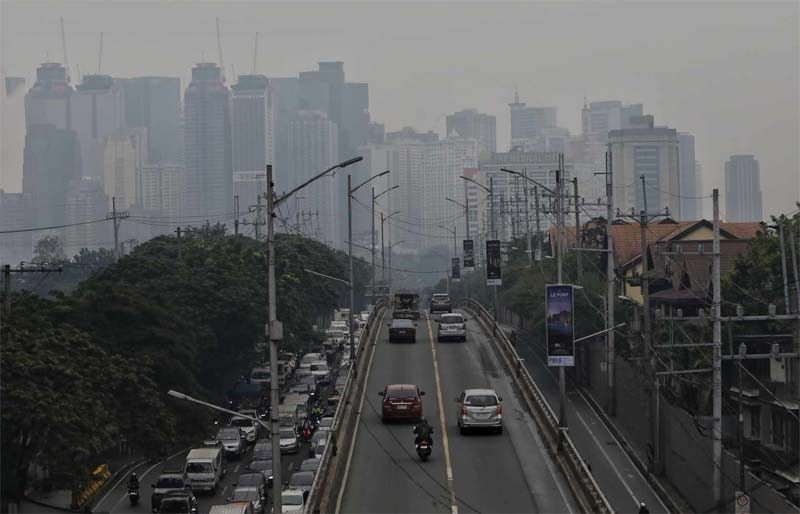 MANILA, Philippines — Air quality in Metro Manila and nearby provinces has returned to normal, as the pollution-related smog in the metropolis as well as the volcanic smog or vog from Taal Volcano have cleared, according to the Department of Environment and Natural Resources (DENR).
The Air Quality Index (AQI), monitored on a 24-hour basis, showed particulate matter (PM) – or fine particles that can enter the deeper part of the lungs and blood – at 2.5 or in "good" quality in Caloocan City, Makati City, Parañaque, Pateros and Batangas.
The cities of Mandaluyong, San Juan and Taguig also recorded improving air quality.
The AQI monitors six criteria pollutants to determine how clean or polluted the air is and measures ground level 24-hour particulate matter if it exceeds the guideline value of 35 micrograms per normal cubic meter (µg/Ncm).
The AQI values in Metro Manila ranged between six and 38, which are considered in the good category.
The higher the AQI means that there is a greater level of air pollution in the area, which reached as high as 217 points in Paranaque City on Friday.
The DENR-Environmental Management Bureau (DENR-EMB) noted that the surface wind direction was toward the west and southwest, away from Manila.
Rains and thunderstorms and the low-pressure area have also contributed to the clearing of the smog.
"Further, scattered rainshowers were also observed which may naturally scrub gasses and particles, resulting in lower pollution concentration," the advisory said.
Only Antipolo City measured at an AQI of 145, which is considered unhealthy especially for sensitive groups, according to DENR-EMB.
The bureau also attributed air pollution in Antipolo to emissions from heavy vehicular traffic, especially during rush hour.
The Philippine Atmospheric Geophysical and Astronomical Services Administration (PAGASA) weather division chief Juanito Galang noted that the thermal inversion condition added to the smog felt on Friday, alongside heavy air pollution.
Vog from Taal volcano cleared yesterday morning from last Friday's almost zero visibility.
Sulfur dioxide flux was monitored at 2,730 tons per day on Friday, with upwelling of hot volcanic fluids in the main crater lake.
Vog recurrence
Philippine Volcanology and Seismology Administration (Phivolcs) director Teresito Bacolcol, in an interview over dzBB, raised the likelihood of vog recurrence as Taal Volcano continues to spew sulfur dioxide emissions, with plumes reaching 1,800 meters high.
Taal Volcano remains under Alert Level 1, which means that phreatic explosions, volcanic earthquakes, minor ashfall and lethal accumulations of volcanic gas may still occur.
Tourists and travelers are still advised to take precautions if they plan to visit tourist attractions around the Taal Volcano, in Metro Manila and Calabarzon. The DOT issued the advisory yesterday through its Disaster Risk Reduction and Management Committee.
The DOT warned that vog from Taal could "cause irritation of the eyes, throat and respiratory tract, especially among children and the elderly."
It advised the traveling public to stay indoors, keep wearing face masks when outdoors and see a medical professional when needed.
It also said the Daang Kastila fissures that make up the Taal Volcano Island Permanent Danger Zone remain closed to the public.
The local governments near the Taal Volcano would also regulate "occupancy and boating on Taal Lake." Flying of aircraft near the volcano has also been banned.
"The health and safety, as well as the comfort and convenience, of our tourists and the traveling public alike are of paramount importance to the DOT at all times," the DOT said.
Standby fund
The national government, for its part, has readied P89 million in standby funds for the people in Calabarzon, especially in Batangas, who might be displaced by the severity of the vog or by Taal Volcano's unrest, the Department of Social Welfare and Development (DSWD) said yesterday.
Speaking during the Saturday News Forum in Quezon City, DSWD spokesman Assistant Secretary Rommel Lopez said the relief assistance includes P5.4 million in quick response funds, as well as P49 million worth of food packs on standby in Calabarzon.
Non-food items valued at P35 million such as family kits, kitchen kits and blankets are also available, Lopez said. He said there are no reports yet of evacuation.
Philippine Coast Guard District in Southern Tagalog has alerted all vessels and watercraft operators of the need to take precautions as several areas in Batangas like Batangas City, Calatagan, Tingloy, San Nicolas, Nasugbu, Lemery, Balayan, Talisay, Lian, Mabini and Bauan were experiencing low to zero visibility, according to area commander Commodore Gerenimo Tuvilla.
Captain Airland Lapitan, Commander of PCG Maritime Safety Services Unit-Southern Luzon, also urged operators of vessels to sail at low speed to avoid accidents, citing low to zero visibility.
"Ensure that all navigation lights are functioning, both during the day and night, to enhance visibility to other vessels," Lapitan said.
Meanwhile, Sen. Francis Tolentino yesterday urged the Department of Health (DOH) to ensure steady supply of face masks in Metro Manila and nearby Calabarzon region to avoid a price hike as smog or vog continues to envelope several areas in both regions.
Tolentino said in an interview over dzRH that there are still several tourists in Tagaytay near the restive Taal Volcano.
DOH regional director for Calabarzon Ariel Valencia assured the senator of prepositioning of supplies of face masks.