Hidden hate and lies: How 'covert' political influencers ran the show of 2022 elections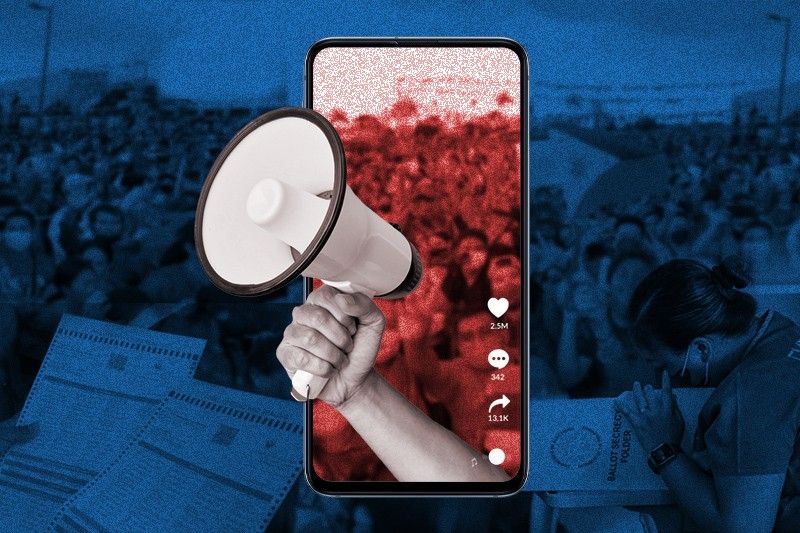 MANILA, Philippines — Content creators engaged in covert political campaigning during the 2022 elections were paid a premium for their unique ability to deploy inflammatory speech to attack candidates, a new study on disinformation has found.
Recently published study "Political Economy of Covert Influence Operations in the 2022 Philippine Elections" estimates that at least P600 million to P1.5 billion were spent on political influencers in the 2022 election for presidential and vice presidential bets.
Researchers' interviews with political influencers and individuals working with them also show that expenses for influence operations are likely left out of candidates' official declared campaign expenses, highlighting how new forms of disinformation escape traditional forms of auditing.
The study was written by Filipino scholars Fatima Gaw, Jon Benedik Bunquin, Samuel Cabbuag, Jose Mari Lanuza, Noreen Sapalo, and Al-Habbyel Yusoph. The research was funded by Internews, an international media development organization, which also supported an earlier study that captured the evolving nature of disinformation and influence operations.
The authors wrote that the study is the first to gather data and estimate the extent of convert influence operations in politics. The study also explores how influencers play a significant role in electoral campaigns for financial and political reasons and the hidden transactions that underscore their work.
The study defines influence operations in the context of the Philippine elections as a "kind of strategic communications that aim to hack attention, mobilize audiences, and influence electoral outcomes."
"Influence operations, as a conceptual anchor, allow us to scrutinize campaign strategies that do not directly deceive through false claims or defy content regulations but nonetheless exploit the same regulatory loopholes while recalling or relying on the same ideas and sensibilities of disinformation," the study stated.
Political vs commercial influencers
Based on the author's interviews with influencers, public relations experts, political consultants, and campaign managers, they found that there were similarities in how commercial and political campaigns work, but the agreements and arrangements are not the same.
For commercial influencers, clients who hire them gauge their success on follower count, engagement metrics like likes and comments, conversion rates (proportion of audiences converted into buyers from engaging with content), among others.
However, this is not necessarily the same for political influencers, who are highly valued for their "performative prowess to attack political rivals," as well as their image, virality, engagement per minute and relatability to target audiences.
The study also found that commissioned political influencers were able to negotiate their rates "based on notoriety alone" and their ability to deploy hate speech to woo voters against a political rival.
"They were able to dictate exorbitant prices because while commercial influencers relied mostly on their social capital to convert sales, political influencers rely on both social capital as well as inflammatory speech and discursive performances to shape political conversations online," the study said.
Unlike commercial influencers who are simply paid to endorse brands, political influencers receive payment for a range of activities, such as amplifying content, disparaging competition, sowing doubt, or spinning narratives.
"Since these outcomes can be done not only with the influencer's follower size but also with their performance, there is more leeway for political influencers to leverage their rates and work arrangements," the study said.
In certain instances, influencers are found endorsing candidates even before political entities reach out to them, according to the study.
"Premiums are offered to those who switch camps or double down during the peak of the campaign season," the study added.
Estimated spending based on model
The study estimated that about 1,425 influencer accounts on YouTube, TikTok, Facebook and Twitter participated in covert political campaigning in the 2022 elections.
This is "based on multiple indicators of deceptive and manipulative strategies such as degree of coordination and antagonistic and conspiratorial content," the authors wrote.
The study also estimated that top candidates spent P600 million to P1.5 billion to deploy influence operations for their electoral campaign, based on data-informed assumptions about the market of political influencers in the 2022 elections and industry rates.
The P600 million figure, however, was not derived from "concrete quantitative data" due to insufficient information. The authors said this must be interpreted "as a result of a what-if (scenario) analysis."
Meanwhile, the P1.5 billion figure was based on a pay-per-post costing exercise that estimated the cost based on quantity of posts and the number of followers.
The study said that these "conservative" estimates do not yet include "platform monetization, which is another revenue stream for influencers engaged in covert political campaigning."
Undisclosed campaign spending
The study also provided a "work-in-progress estimation" of the extent to which paying political influencers to boost electoral campaigns escapes electoral transparency rules.
A campaign manager during the 2022 polls admitted to the authors of the study that their actual spending exceeded declared amounts.
"Since regulations are weak, porous, and exploited by politicians, there is space for discreet influence operations in campaign budgets," the study stated.
The government's commitment to transparency is "superficial," the authors said, due to the redacted portions of media entities' summary report of advertising contracts (SAC) they obtained for the research.
The study also found that compared to commercial influencers, political influencer contracts are less standardized and "often lacking an official written contract or Non-Disclosure Agreement."
"With this kind of policy environment, it becomes understandable how certain influencers get paid P3 million ($53,932) for a single short video—there is no mechanism to demand transparency either from the influencer or the campaign team," the study stated.
The authors also said that based on the factors supporting hidden influence operations and findings from their interviews and research, it appears that campaign overspending persists unchecked — a substantial portion of which is funneled into undisclosed influence operations.
The researchers recommended the expansion of the focus from disinformation to influence operations and call for measures of transparency and accountability from the government, public relations industry and other key stakeholders.
The authors recommended that the government expand the scope of SOCE to include a "broader range of non-advertising expenses," including the hiring of discreet influencers to support candidates.
The study also proposed for the government to employ "stronger mechanisms" to make the political influencers register as independent contractors and pay taxes, which would make their identities — and their work — known.