Super typhoon to bring strong winds, heavy rains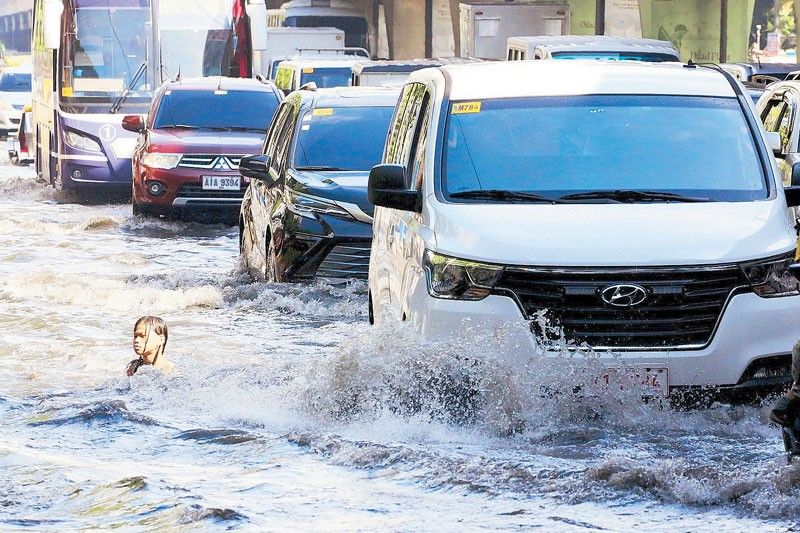 MANILA, Philippines — Super Typhoon Betty (international name Mawar) was forecast to enter the Philippine Area of Responsibility (PAR) late last night and is expected to bring gale-force winds and heavy rains over parts of the country in the coming days.
Although the Philippine Atmospheric, Geophysical and Astronomical Services Administration (PAGASA) does not forecast Betty to make landfall, it warned that the typhoon's rainbands and the southwest monsoon will affect many parts of the country.
Betty is carrying maximum sustained winds of 215 kilometers per hour and could intensify to reach 220 kph at its peak within the next few days.
Its gustiness may reach 265 kph as it moves westward at 20 kph.
As of 5 p.m. yesterday, Betty was located at 1,725 kilometers east of Central Luzon.
PAGASA said Betty may weaken due to unfavorable conditions as it passes over the Philippine Sea but might maintain its category as a super typhoon until Monday.
Betty's massive outer rainbands, which currently has a radius of 500 kilometers, may reach Extreme Northern Luzon and bring heavy rains and winds over Cagayan Valley, including the northern portions of Aurora, Babuyan islands and Batanes starting Sunday night.
Tropical cyclone wind signals may be hoisted as early as Sunday during Betty's passage over PAR. Wind signals could reach signal number 3 in Batanes in the coming days.
PAGASA said the super typhoon might trigger monsoon rains over portions of central and southern Luzon, as well as the Western sections of the Visayas and Mindanao. Moderate to heavy rainfall are expected over these areas starting Tuesday as Mawar edges closer to the country.
But the forecasted heavy rainfall would not cause the opening of dam gates in parts of the country, it also said.
Rainfall in Metro Manila could range between 50 to 100 milliliters come Tuesday.
PAGASA forecasters warned that there are dangers of flashfloods, especially as drainage and creeks could be inundated from the previous rains the past couple of days.
While Super Typhoon Yolanda was a much stronger cyclone with strength reaching over 220 kph, PAGASA said "Betty should not be underestimated."
In Cavite province, at least two persons died and three others were injured in two separate incidents after they were struck by lightning during a heavy downpour in General Trias City on Thursday.
According to police reports, the first incident occurred in Barangay Santiago and involved victims Edison Hachero and Jovic Gubat, who were standing on a road when lightning struck them. Hachero was pronounced dead at the hospital.
In Barangay Pasong Camachille II, a 10-year-old boy died and two other children were also struck by lightning while they were playing in an open field Thursday evening.
In Ilocos Norte province, Governor Matthew Marcos Manotoc ordered the Task Group Ilocos Norte to coordinate with barangay officials in all coastal villages to prevent fishermen from fishing and the villagers from swimming.
He also placed the entire province under full alert to prepare for the possible effects of Betty.
In the Visayas and Mindanao, some ferry services were already ordered by the Philippine Ports Authority to halt their scheduled trips in light of the super typhoon. The affected routes include Cebu-Calbayog and Calbayog-Cebu, Padre Burgos in Leyte to Lipata, Surigao City and vice versa.
Classes in some areas were suspended yesterday due to the rainy weather caused by localized thunderstorms.
Among the local government units that suspended in-person classes in all levels were Marikina; Calamba City in Laguna; San Mariano and Echague in Isabela; Macabebe in Pampanga; Sta. Ana in Cagayan; Roxas in Palawan; Carcar City, Talisay City and the municipalities of Alcoy, Argao, San Fernando, Consolacion, Liloan and Minglanilla – all in Cebu and Hinigaran in Negros Occidental.
Suspended up to high school were classes in Naga City in Cebu and the municipality of Rizal in Laguna. Some areas such as Marikina, Minglanilla and Sta. Ana already suspended classes until today. — Emmanuel Tupas, Jun Elias, Art Dumlao, Michael Punongbayan, Ghio Ong, Janvic Mate