Manila to Caloocan in 5 minutes: Marcos opens NLEX Connector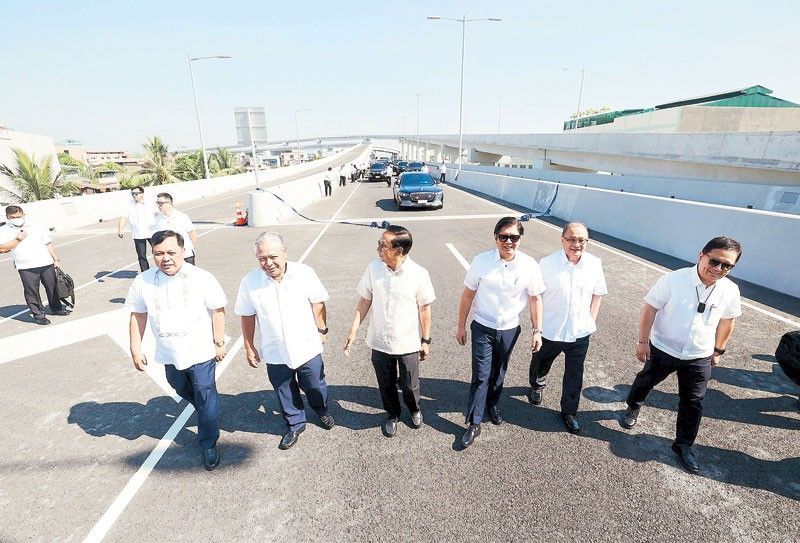 MANILA, Philippines — President Marcos inaugurated yesterday the first phase of the North Luzon Expressway (NLEX) Connector, which is expected to reduce travel time between Caloocan and Manila to five minutes.
The P23-billion NLEX Connector, run by Metro Pacific Tollways Corp. (MPTC) subsidiary NLEX Corp., stretches eight kilometers from Caloocan to the Polytechnic University of the Philippines in Sta. Mesa, Manila.
The Caloocan-España section is a five-kilometer elevated expressway, which passes through C3 Road/5th Avenue, Blumentritt and España in Sampaloc, Manila.
The España-Magsaysay section, on the other hand, is 42 percent finished and targeted for completion by June.
"This road project will form an integral part of the Luzon's spine expressway network, which in turn is a component of the Philippine high standard highway network. Once completed, this connector shall provide another alternate route that will reduce travel time for our motorists," Marcos said at the inauguration of the Caloocan-España section.
"We looked at each other when it was mentioned that Manila-Caloocan will be five minutes. In our entire life, we have never experienced that. Maybe our dream will already come true," the President said partly in Filipino.
Joining Marcos at the event were Transportation Secretary Jaime Bautista, Public Works Secretary Manuel Bonoan, Finance Secretary Benjamin Diokno, MPTC chairman Manny V. Pangilinan, NLEX Corp. president Luigi Bautista and Metro Manila mayors including Quezon City Mayor Joy Belmonte and Manila Mayor Honey Lacuna, among others.
Marcos said the government aims to build more highly interconnected transportation networks that will sustain economic growth in the country.
He also called on the Department of Transportation (DOTr) and its private partners to finish road projects as scheduled.
"So we will not stop here, and we will continue to develop a highly interconnected road network that will facilitate our country's rapid, inclusive and sustained economic growth," the President said.
Once completed, the NLEX Connector will reduce travel time from South Luzon Expressway (SLEX)-Alabang to NLEX-Balintawak from two hours to 20 minutes. This will benefit 35,000 motorists daily.
Under the "Build, Better, More" development agenda, Marcos said his administration would continue to build more roads and bridges in strategic areas as it pushes for greater interconnectivity of major roads and expressways.
He called on the DOTr and private contractor NLEX Corp. to work closely with their partners in accomplishing the government's objective of improving the country's road infrastructure.
"Try very hard, as we all do, to stay within the target timeframe – although your success rate in this regard is exemplary – avoid unnecessary delays and finish the project as scheduled, so that the Filipino people will be able to reap the benefits as soon as possible," he said.
"Ultimately, the positive effects of this project will speed up mobility and transactions, and will spur economic productivity of the country," Marcos pointed out.
According to the President, the NLEX Connector project will finally connect NLEX with the SLEX, contributing to the ease of movement of cargo and goods from north to south and vice versa.
In his message, Pangilinan said the new tollway is expected to open more business opportunities in the areas it traverses.
Apart from easing traffic congestion, the NLEX connector will also bring down the cost of transport of goods, he said.
NLEX Corp. president and general manager J. Luigi Bautista told reporters that traffic volume in NLEX and in Subic-Clark-Tarlac Expressway (SCTEX) is expected to surpass Christmas levels during Lent.
"Last December we reached around 350,000 [motorists] per day, NLEX and SCTEX combined. We expect the same or it might be a little bit higher. Our December was around 10 percent to 15 percent higher on a yearly basis, so it could be around that number," Bautista said.
He also said NLEX Corp. hopes to start the civil works for NLEX Segment 8.2 within the year. The Department of Public Works and Highways has secured 70 percent of the right-of-way for the project and NLEX Corp. will hit the ground running as soon as it hits 90 percent.
NLEX Segment 8.2 is designed to extend NLEX by eight kilometers from Mindanao Ave. up to Congressional Avenue. The project is estimated to benefit about 45,000 motorists a day, as it will cut travel time between Mindanao Ave. and Commonwealth Ave. to 10 minutes. — Elijah Felice Rosales