Palace officials, employees join nationwide quake drill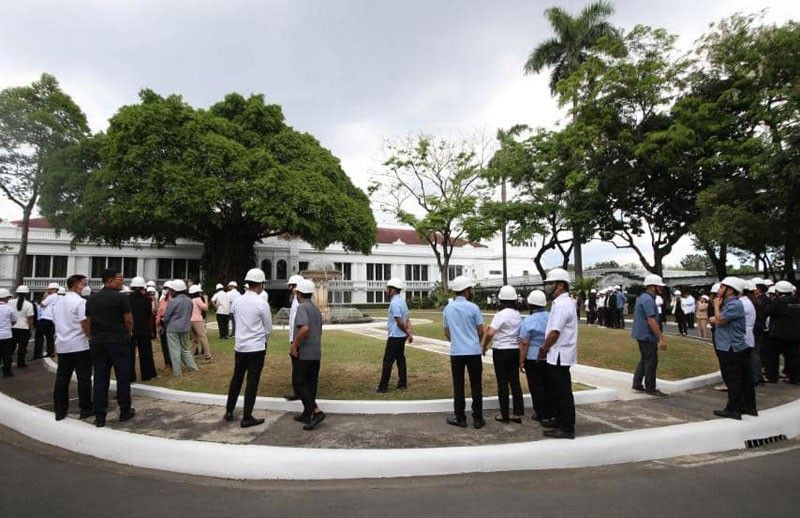 MANILA, Philippines — Malacañang officials and employees led by President Marcos participated yesterday in the first quarter nationwide earthquake drill organized by the National Disaster Risk Reduction and Management Council.
Media pool photos showed Marcos and other Palace officials wearing a white hard hat and covering their heads after leaving their offices to proceed to an open space.
Among those who were present during the drill were Special Assistant to the President Antonio Lagdameo Jr., National Security Adviser Eduardo Año, Interior Secretary Benhur Abalos, Defense Senior Undersecretary Carlito Galvez Jr. and Senior Deputy Executive Secretary Hubert Guevara.
Palace employees were also seen performing the duck, cover and hold during the drill.
The Office of the President, Office of the Executive Secretary and the Presidential Security Group joined the drill, which was intended to prepare Filipinos for the "big one."
Meanwhile, the National Disaster Risk Reduction and Management Council (NDRRMC) conducted a Mustering of Humanitarian Assistance and Disaster Response Capability Resources activity in Camp Aguinaldo yesterday to showcase the government's search and rescue (SAR) capabilities in the event of a magnitude 7.2 earthquake.
The SAR teams of the Philippine National Police, Philippine Coast Guard, Philippine Army, Philippine Air Force, Bureau of Fire Protection, Metropolitan Manila Development Authority-Public Safety Division, Department of Health and the Office of Civil Defense were assembled and showcased at the camp grandstand.
Acting Defense Undersecretary Angelito de Leon, Civil Defense Administrator Ariel Nepomuceno, Civil Defense Deputy Administrator Bernardo Rafaelito Alejandro IV, Bureau of Fire Protection Chief Supt. Romel Tradio and Armed Forces of the Philippines vice chief of staff Vice Adm. Rommel Anthony Reyes graced the event.
"Today's mustering and simulation activities fulfill our commitment to the Filipino people to ensure preparedness and optimum performance in the conduct of search and rescue operations," De Leon said.
The NDRRMC said the activity forms part of the Nationwide Simultaneous Earthquake Drill that was also held at 2 p.m. yesterday followed by a functional exercise focusing on the magnitude 7.2 earthquake scenario.
The exercise seeks to test the capabilities of the member agencies in responding to the impacts of a devastating earthquake and the existing Harmonized Contingency Plan in Greater Metro Manila as well as identify possible gaps and recommend needed enhancements to current plans, policies and procedures for earthquake response. – Michael Punongbayan