Philippines sending rescue teams to Turkey
February 8, 2023 | 12:00am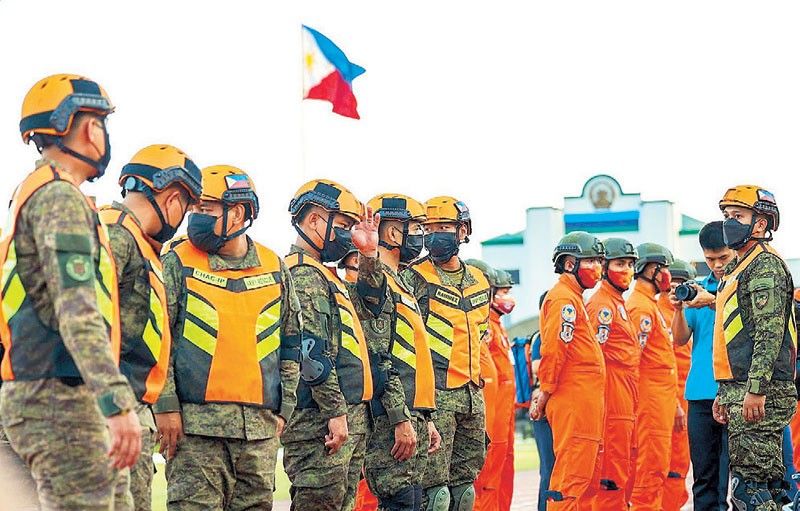 MANILA, Philippines — The Philippines will send an 85-member team to earthquake-ravaged Turkey to help in search and rescue operations and in providing relief assistance to survivors, President Marcos said yesterday.
A magnitude 7.8 earthquake hit Turkey and neighboring Syria on Monday, killing more than 5,000 people and destroying houses and buildings. Scores remain missing and are feared dead.
Marcos said the Philippine contingent departs for Turkey today.
"We have organized a group of about 85 personnel together with some goods… We are looking for blankets, winter clothing, because of course their homes were destroyed...They're exposed so they need all of these things," Marcos said in an interview after attending the Bureau of Internal Revenue's national tax campaign kickoff in Pasay City.
"So we are organizing it and I already have the assurance also of the Turkish (Airlines) that they will be the ones to bring our people and our equipment and our goods to, I suppose, to Ankara first and then to be distributed properly in Turkey," he said.
Marcos said the government would also send engineers and health workers and provide other necessary assistance to the victims of the quake.
"We will send engineers, health workers and of course the goods that we feel that they will need," the President said.
The contingent will be coming from the Office of Civil Defense (OCD), Department of Health, Philippine Army, Philippine Air Force and the Metro Manila Development Authority, among other agencies.
The Turkish embassy in Manila earlier sought assistance in the form of emergency medical and urban search and rescue teams.
Marcos on Monday extended his condolences and offered assistance to Turkey and Syria.
"Our thoughts and prayers go to the peoples and governments of Türkiye and Syria following the strong earthquake that has claimed many lives and caused massive destruction to their countries," the President said in a post on Twitter.
"The Philippines is ready to help in whatever way it can in responding to this disaster," he said.
Reports said Monday's quake was Turkey's most severe earthquake since 1999.
Ready
Earlier yesterday, the OCD said it is now preparing to send search and rescue teams to Turkey.
OCD administrator Undersecretary Ariel Nepomuceno said other member agencies of the National Disaster Risk Reduction and Management Council (NDRRMC) are prepared to extend necessary assistance.
Nepomuceno said the OCD is now coordinating with concerned agencies and mustering manpower and equipment for possible deployment to Turkey.
He said the OCD "commiserates and expresses our condolences to the Republic of Türkiye following the tragic earthquake that resulted to unfortunate number of casualties."
"The OCD extends our heartfelt sympathies to all the victims and affected families of the 7.8 magnitude earthquake that hit southern Türkiye just this afternoon," Nepomuceno said in a statement issued late Monday.
He noted that the Philippine Institute of Volcanology and Seismology (PHIVOLCS) has assured the public that the earthquake would have no effect on the Philippines.
"The earthquake in Turkey will not affect us as the active fault that caused the magnitude 7.8 earthquake is too far away and not connected to our active faults," Secretary of Science and Technology Renato Solidum Jr. explained.
Nepomuceno nevertheless cautioned that a powerful earthquake with the same magnitude may also happen in the Philippines.
"It is best for us to remain prepared, alert and well informed in case a similar unfortunate event may happen in our country," Nepomuceno said.
"Again, the Republic of the Philippines is one with the whole international community in extending its sympathies and condolences to the Republic of Türkiye. Our prayers are with those who are still missing as a result of this tragic event," he said.
No Pinoys injured
Meanwhile, the Department of Foreign Affairs (DFA) said no Filipino in Syria has been reported injured or killed in the earthquake.
"The Philippine embassy in Damascus reported that leaders of the Filipino community have been contacted and they confirmed that no Filipino was injured as a result of the earthquake in regions including those that were greatly affected," said DFA spokesperson Ma. Teresita Daza.
According to the DFA, there are around 60 Filipinos in earthquake-affected areas in Syria, including Aleppo, Latakia, Tartous and Hama.
Foreign Affairs Secretary Enrique Manalo offered his condolences to the families of the earthquake victims.
"I offer my condolences to the people of Türkiye & Syria for the tragic loss of lives & catastrophic damage caused by yesterday's quake. PH Embassies in d affected countries are monitoring situation & we are coordinating w/ them on the condition of Filipinos in their jurisdictions," Manalo said in a Twitter post.
The Office of the Presidential Adviser on Peace, Reconciliation and Unity (OPAPRU) also relayed its sympathies and condolences to Turkey.
"On behalf of the Office of the Presidential Adviser on Peace, Reconciliation and Unity (OPAPRU) His Excellency, President Ferdinand 'Bongbong' Marcos Jr., and the Filipino people, I convey our deepest sympathies to the citizens of Türkiye and Syria who fell victim to the 7.8 magnitude earthquake that hit yesterday, February 6, 2023," Defense Secretary Carlito Galvez Jr. said.
"We are deeply saddened by this tragedy that has claimed the lives of thousands in the affected countries. Our prayers go out to the bereaved families, as well as those who are still waiting to be rescued and recovering in hospitals," Galvez said.
Galvez said that as members of the Organization of Islamic Cooperation (OIC), Türkiye and Syria have supported the Philippine government in its pursuit of a just and lasting peace for the nation, particularly in helping push forward the Bangsamoro peace process.
"The Filipino nation is ready to assist the governments of Türkiye and Syria in whatever way possible. We shall continue to pray for the safety and protection of their people, as we stand united with other countries during this most difficult time," Galvez said. – Jose Rodel Clapano, Pia Lee Brago