DOH confirms local transmission of new Omicron strains
October 22, 2022 | 12:00am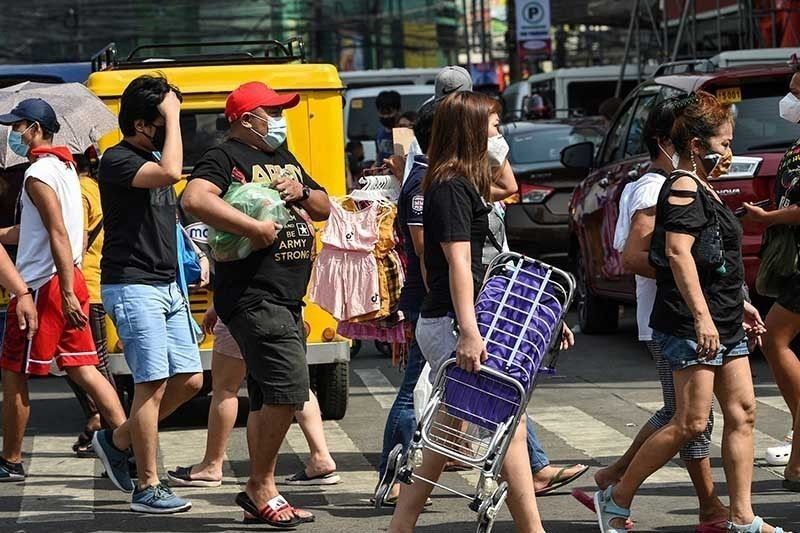 MANILA, Philippines — Local transmission of the new COVID-19 Omicron subvariants XBB and XBC was confirmed yesterday by the Department of Health (DOH), citing how the cases have spread through several regions.
"Definitely, there is local transmission because all of these are local cases. This means we can't associate or link them to travels outside of the country or those with exposure to someone who had recently traveled outside of the Philippines," Dr. Alethea de Guzman, DOH Epidemiology Bureau director, told a media forum.
In addition, data support that there is localized community transmission for the new variants of concern.
"As to the XBB subvariant, several of the cases were found in Region 6 (Western Visayas) and these can't be linked to each one, meaning they have no connection as to the time or place – that is why we are saying that there is localized community transmission," she said.
For XBC, there is initial evidence to support localized community transmission for Regions 11 (Davao) and 12 (Soccsksargen), said De Guzman.
"We have detected several cases there and just like with XBB in Region 6, they are not linked with each other but in the other regions," she said.
"We can't say yet if it is a nationwide or wide-scale community transmission. But whether there is evidence or not of a large-scale community transmission, our actions would always be with the assumption that there is already community transmission taking place, that is why we enhance our response activities from the national down to the local levels," she explained further.
De Guzman also said the transmissions are still localized. "It doesn't cover the whole country yet. We can't declare that there is community transmission nationwide but only in selected regions," she said.
Local transmission is a situation in which cases are still linked to one another and onward transmission is established.?On the other hand, community transmission is a scenario whereby epidemiologists can no longer detect the source of the infection or establish links among cases.?Earlier, the DOH announced that a total of 274 new cases of the Omicron XBC and XBB subvariants have been detected in the country.?DOH officer-in-charge Maria Rosario Vergeire said 193 cases of XBC were detected in 11 regions.
"These are in Cagayan Valley, Western Visayas, Central Visayas, Davao Region, Soccsksargen, Calabarzon, Mimaropa, Bangsamoro Autonomous Region in Muslim Mindanao, Caraga, Cordillera Administrative Region and the National Capital Region," Vergeire said.
As to the 81 cases of the Omicron XBB subvariant, these were found in two regions – Western Visayas and Davao.
Solante: No need to panic
Meanwhile, an infectious diseases expert advised the public not to panic over the new XBB and XBC cases since the country has already proven its capability to handle these variants of concern.
"First, this is not something to panic about. We've been through a lot of these variants of concern. The government is on top of the situation," Dr. Rontgene Solante told "The Chiefs" on Cignal TV's One News Thursday night.
"We have already experienced the most (frightful) nightmare among the variants of concern. That's the Delta. Why? Because it's the one that caused a lot of people to go to the hospital so I don't see something of a nightmare in these (new) variants," Solante said.
He added, "If we are able to go through the BA.5, then I don't expect that we can't get through with the XBB or the XBC."
Solante stressed a medical protocol is in place in the event of a COVID-19 infection even if it were subvariant XBB or XBC.
"The usual recommendation is when you have the infection, you isolate yourself. If you are in the vulnerable population, you get your medication, your anti-viral agents and monitor for severity," he said.
"The data is telling us that this is highly infectious which is expected because the more mutations, the more it will not be detected by our antibody or eradicated by the antibody but the important part there is vaccines work in protecting us against severe infections, but not anymore against getting the infection," he added.
Solante also emphasized that getting booster shots and wearing face masks are equally important defenses, but infections are still expected within the population as the virus mutates.
"That's expected when you have a boostered population and you have a highly mutated virus, then you cannot really prevent infection," he said.
As to deaths from XBC, Solante said that's still within the allowed mortality rate and is the same even with other variants of concern.
"Let's take a look at what are these mortalities. Are those without vaccination? Do they belong to the vulnerable population? So again, attrition rates in terms of higher rates for severity are with this population group whether it's XBC, XBB or even BA.5. More or less, the risk is the same," he explained.
Solante added: "But we really have to monitor because the XBC is a recombination of Delta and BA.2. When you have that recombination, you know that Delta has a higher virulence. I am not saying this XBC will have higher virulence because as we look at some of these variants as they evolve, their only main advantage is that they are highly transmissible and not much causing severe infection so we need to look at and monitor the events following the detection of XBC."
It remains to be seen how big a threat these new variants of concern would be on populations as bivalent boosters are already being rolled out in most countries.
"I hope that (bivalent vaccines) will really help but I think a lot of us here agree that mitigating policies should continue to be in place, wearing your face masks, availability of the anti-viral agents and of course, early detection for those in the vulnerable population," said Solante.
Vaccine price hike
Solante, also a member of the Vaccine Expert Panel, said that a price increase in COVID-19 vaccines is to be expected once these become commercially available in the country.
There are reports that Pfizer Inc. is expected to hike the price of its COVID-19 vaccine once the United States government's current purchase program expires.
"Definitely Philippines will also be affected by any price increase of their vaccines, more so if it's the bivalent vaccine," Solante said in a Viber message.
He said that a similar situation can happen in the country wherein price hikes in vaccines are possible once made commercially available and no longer given away for free.
As for bivalent vaccines, Solante said, "If there is no agreement yet signed by both parties, then whatever prevailing prices will be applied."
He said there are only a few pharmaceutical companies abroad capable of producing the bivalent vaccines, so priority will be given to countries which have already secured agreements as to these types of vaccines.?
Last Tuesday, the DOH said it will be pursuing discussions with Pfizer and Moderna concerning the purchase of bivalent vaccines.
The agency said it targets the bivalent vaccines to arrive in the country by first quarter of 2023.
The bivalent COVID-19 vaccines include a component of the original virus strain and a component of the Omicron variant to provide better protection against COVID-19.