Rice imports not needed after Karding onslaught
September 29, 2022 | 12:00am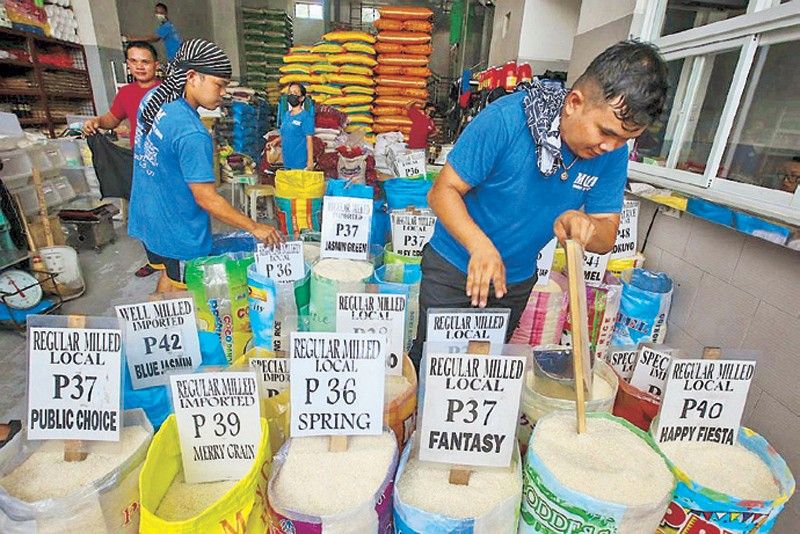 MANILA, Philippines — The Philippines will not be importing rice since it has enough buffer stock despite the massive agricultural devastation caused recently by Super Typhoon Karding.
The country is "buffer stock sufficient even after Karding," Senior Undersecretary Domingo Panganiban of the Department of Agriculture (DA) told The STAR yesterday.
On that premise, he made a pronouncement before President Marcos, concurrent DA secretary, that there will be no rice importation.
The DA's Disaster Risk Reduction and Management Operations Center reported that damage to agriculture in the aftermath of Karding has reached P1.97 billion.
The data took into account the losses incurred by 88,520 farmers and fishermen in Regions 1 (Ilocos), 3 (Central Luzon), 4A (Calabarzon), 5 (Bicol) and the Cordillera Administrative Region (CAR).
Rice accounted for the bulk of damage at 81.57 percent, which translates to 145,229 hectares of farmlands ravaged by the typhoon and a volume loss of 105,154 metric tons (MT) valued at P1.61 billion.
At present, the country is projected to have a year-end stock of rice covering 60-70 days, the Federation of Free Farmers (FFF) said.
But to be comfortable for next year, a 100-day buffer stock would be optimal ahead of the dry planting season, FFF chairman Leonardo Montemayor, a former DA secretary, told The STAR in an earlier interview.
Surge in rice prices
For his part, Albay Rep. Joey Salceda urged government to consider making advance orders of imported rice in anticipation of a surge in prices.
Speaking at yesterdays Kapihan sa Manila Bay weekly media forum, Salceda said the drought in China, particularly in the Yangze River area, could pull global prices of rice up.
"China does not want to share the water from the Yangze River to Vietnam. When the impact of this is felt, the rise in the price will not be less the P3 to P6," he said in Filipino.
While China is the world s top producer of rice, it is also the grainss biggest consumer so it is expected to get its supply from Vietnam.
Citing a global study, the economist-lawmaker said the wordss prices of rice are expected to increase by four percent by the end of 2022 and by 9.3 percent by next year also spartly due to climate changep as evidenced by the drought and extreme rainfall.
"But the biggest effect of climate change is not only the rise of water in the ocean but fewer but stronger typhoons," he said.
Damage report
A marked increase in the damage to agriculture was reported by the DA yesterday. "The increase in overall damage and losses is due to additional reports on rice, corn, high value crops, livestock and fisheries in all affected regions," it said in a statement.
High value crops accounted for 13.76 of the damage with 1,131 hectares affected, resulting in a volume loss of 7,471 MT valued at P271.6 million.
In addition, P41.8 million worth of fisheries were also damaged by the typhoon covering fisheries produce, fishing boats and gear.
The DA also reported that 44,492 heads of livestock and poultry worth P7.3 million were also part of the damage.
1,731 hectares of corn were also affected by the typhoon, resulting in a volume loss of 1,800 MT valued at P43.1 million.
Assistance available
The DA said various forms of assistance are available for distribution to affected farmers and fishers.
This includes P170.34 million worth of rice seeds, P23.16 million worth of corn seeds and P13.55 million worth of assorted vegetable seeds.
It said P2.45 million worth of animal heads, drugs and biologics for livestock and poultry, as well as fingerlings and fishing paraphernalia to affected fisherfolk from Bureau of Fisheries and Aquatic Resources (BFAR) are also available for affected farmers.
Also part of the assistance is the Survival and Recovery (SURE) Loan Program from the Agricultural Credit Policy Council (ACPC) with loanable amount of up to P25,000 payable in three years at zero interest.
The DA said P500 million worth of Quick Response Fund (QRF) is also available for the rehabilitation of affected areas.
It added that mobile KADIWA centers for rolling out in areas affected by Karding are also available to stabilize prices and supply of agri-fishery commodities.
The destruction wrought by Karding on agriculture in Pampanga alone resulted in losses amounting to more than P213 million as of yesterday.
To be exact, the Office of the Provincial Agriculturist (OPA) reported a total of 4,168.9 hectares of farmlands in Pampanga hit by the typhoon, destroying P212,297,829.45 worth of rice crops and P1.446 million worth of various vegetables.
Aside from Central Luzon, damage to agriculture and infrastructure in Aurora province reached at least P52.25 million and P130.28 million, respectively.
Data from eight agricultural towns of the province showed that the most damaged produce was rice at P57,885,667, followed by high-value crops amounting to P36,395,834; corn, P3,043,273 and fisheries at P32,960,000.
'Increase palay procurement fund'
Another farmers' group, the Kilusang Magbubukid ng Pilipinas (KMP), is urging government to increase the fund for the National Food Authority (NFA)'s procurement of palay or unhusked rice from local farmers instead of resorting to importation.
In a statement yesterday, the KMP proposed for the NFA to have a buffer stocking fund increase from the current P7 billion to P79.8 billion.
Under the KMP's proposal, the budget will cover the purchase of at least 20 percent of the estimated 19.96 million MT or 3.99 million MT of palay from local farmers at P20 per kilo.
We need to hike the local palay procurement to reach at least 20 percent. Doing this will boost the local rice industry, and aid Filipino rice farmers,W KMP chairman emeritus Rafael Mariano said.
The demand to increase the NFA budget for local palay procurement is just and very doable if only the government and the economic managers will choose to boost support for the local rice industry instead of the default solution of importing rice,T Mariano said.
He stressed that the NFA must also regain the upper hand in the buying and selling of rice to influence rice retail prices, which he claimed are now heavily manipulated by rice traders and importers.
The KMP also warned against the peril of importing rice amid the plunging Philippine peso. "Importing more volume of rice at this period of the Philippine peso's free fall would be detrimental to the economy," it said.
Mariano said assistance should be given to farmers affected by the typhoon to be able to strengthen local production, reiterating calls for the P15,000 production subsidy for typhoon-ravaged farmers and fisherfolk.
The KMP said it will also lobby for the review and repeal of Republic Act 11203 (Rice Tariffication Law) and the inclusion of the P15,000 production subsidy for 9.7 million farmers and fisherfolk in the proposed 2023 national budget. — Sheila Crisostomo, Ric Sapnu, Catherine Talavera