Wearing of PPEs no longer required for traveling OFWs
September 25, 2022 | 12:00am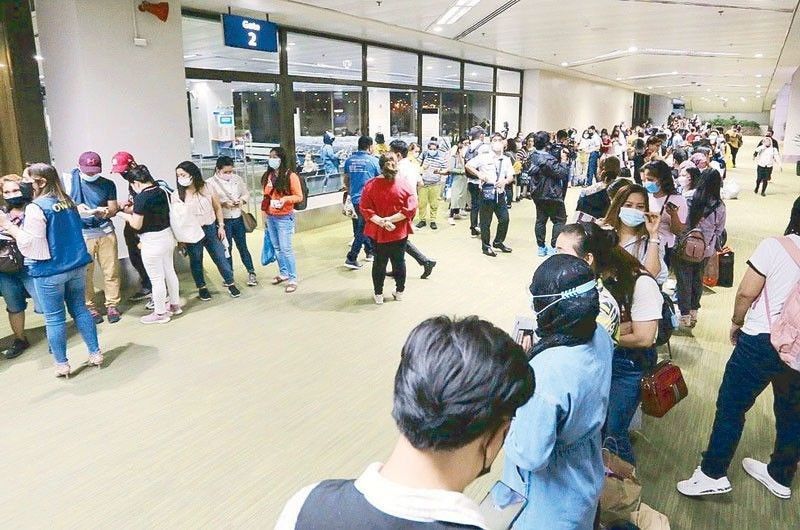 MANILA, Philippines — The Philippine Overseas Employment Administration (POEA) has issued an advisory against requirements of certain agencies for overseas Filipino workers (OFWs) to wear full personal protective equipment (PPE) while traveling to their country of destination.
The advisory, issued by POEA officer-in-charge Bernard Olalia last Friday, was in compliance with a directive from Department of Migrant Workers (DMW) Secretary Susan Ople.
Ople, who is in New York as part of the presidential delegation to the United Nations General Assembly, said the wearing of PPEs is not sanctioned by the department and the POEA.
"I agree with the sentiments of Sen. Pia Cayetano and other legislators that the PPE requirement for departing OFWs is outdated, misguided and oppressive. I regret not having issued this order much earlier to spare our OFWs the discomfort of going to the airport in full PPE attire," she said in a statement.
The DMW thanked Cayetano for keenly observing and pointing out in her recent remarks at the Senate the wearing of PPEs by a group of OFWs waiting for their flights at one of the airport terminals.
In the POEA Advisory No. 62 Series of 2022, Olalia reminded recruitment agencies not to make the wearing of PPEs a requirement for OFWs as they travel "whether in Philippine airports or in the countries of destination."
"Asking our OFWs to wear PPEs at this time is like asking surfers to wear ballgowns – it's cumbersome, awkward and extremely peculiar," Ople added.
It was learned that a manning agency's Japanese principal had required the wearing of PPEs and masks for Filipino crew bound for Japan since the COVID-19 virus is still prevalent in that country.
A Chinese shipping vessel also requires its local manning agency to supply PPEs to embarking crew to prevent infection during travel, with the cost of the PPEs shouldered by the employer.
But Ople said: "The DMW firmly believes that having vaccines plus booster shots and wearing face masks provide sufficient protection to our overseas workers. Until otherwise recommended by our health officials, the POEA advisory against mandatory wearing of PPEs for our OFWs by their respective recruitment and manning agencies shall remain in force."