Marcos Jr.'s foreign policy statements enough, reflect trust in Cabinet — analysts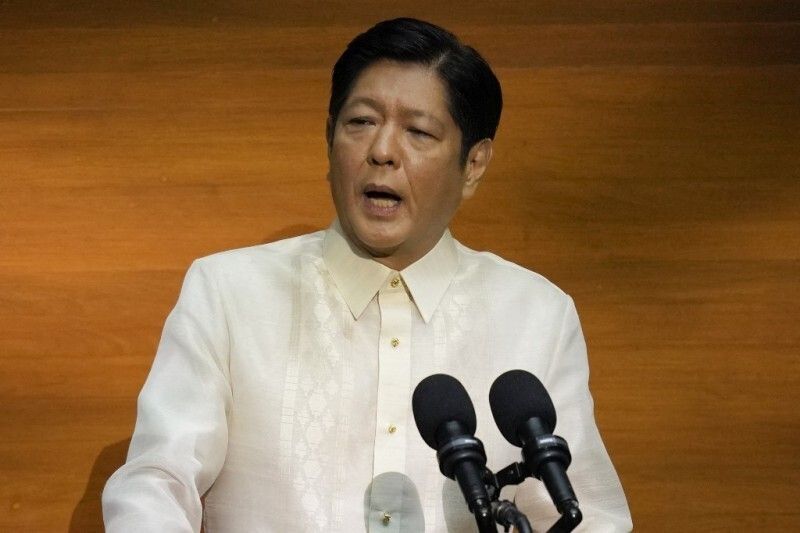 MANILA, Philippines (Updated 2:01 p.m., July 26) — President Ferdinand Marcos Jr. again emphasized during his first State of the Nation Address on Monday that the country will be pursuing an "independent foreign policy" under his watch.
While he did not give details on how this will be done in the context of the West Philippine Sea (WPS) issue, analysts said that his statement on standing "firm" on the country's independent foreign policy with its "national interest as primordial guide" is enough.
"I will not preside over any process that will abandon even a square inch of territory of the Republic of the Philippines to any foreign power," Marcos Jr. said in his address.
"With respect to our place in the community of nations, the Philippines shall continue to be a friend to all. And an enemy to none."
He also plans to promote multi-faceted relations with the country's partners. The president said that collaboration with other countries is needed in times of crisis, such as the pandemic.
'Enough'
University of the Philippines' Institute for Maritime Affairs and Law of the Sea Director Jay Batongbacal said that the "soft signal and the strong response of the legislature is enough for now." Marcos Jr.'s statements on foreign policy were lauded by those in the audience.
"He tried to communicate firmness of position and certainty of intention, and also expressed gratitude for expressions of international support from friends, partners, and allies in the international community," Batongbacal told Philstar.com in a text message.
"This still leaves much room for more careful and deliberate decisions on the WPS."
Meanwhile, Victor Andres "Dindo" Manhit, political analyst and president at ADR Institute, said Marcos Jr. echoed what they called a "limited balancing of relations with other states."
Trust in Cabinet
Manhit also said that the chief executive not mentioning the maritime dispute "reflects that he is one with his own cabinet secretaries."
"It also strengthens appointments or the choices that he made vis-à-vis Department of Foreign Affairs Secretary Enrique Manalo and Department of National Defense acting secretary Jose Faustino Jr., because both of them have came out with strong statements," he told Philstar.com in a phone call.
On the sixth anniversary of the 2016 Hague ruling, the Philippines through the DFA said it "firmly rejects attempts to undermine [the award], even erase it from law, history, and our memories."
It invalidated China's claims over the South China Sea and provided that some of the parts covered the West Philippine Sea.
China has continuously ignored the ruling, with Chinese Foreign Ministry Spokesperson Wang Wenbin saying that it "seriously violates international law."
The Philippines has filed over 200 diplomatic protests against Beijing over its refusal to recognize the tribunal award.
However, with the maritime dispute unmentioned, Manhit said it gives the new administration an opportunity to broaden the country's foreign policy, taking into account other countries that also believe in an international rules-based order.
"We really have to look at [the] State of the Nation Address as broad directions of the president and now, we are at the next stage, [observing] how will they execute, what are the stance that they will make, what are specific policies they will raise moving forward," Manhit said.
Policy clarity needed for loan proposals
However, Infrawatch PH Convenor Terry Ridon said that Marcos Jr. should have also been more specific in laying out how the country will deal with China on the ongoing and future development loans.
"This will determine whether new Chinese loans will be subject to competitive and concessional interest rates, and whether Chinese laborers will continue to be used in place of Filipino workers in several projects," Ridon said in a statement sent to reporters on Monday.
"This will also determine whether the new President will continue his predecessor's unpatriotic surrender of West Philippine Sea interests in exchange for the promise of development loans from China."
READ: Things Marcos left out in his first SONA
Marcos Jr. previously said that he wants to work in other areas of cooperation with China, such as in the culture and education fronts as well as the military.
He also signaled that he would prefer working with the private sector for infrastructure projects and said that the government plans to maintain a budget of 5% to 6% of the GDP for it.
"The planned expansion of infrastructure projects, I believe, would be possible if we continue to encourage the participation of the private sector in the development of our programs," Marcos Jr. said on Monday.
Infrastructure spending
The government recently cancelled its applications for a Chinese loan to fund three infrastructure projects, which includes the P50-billion Subic-Clark Railway Project, P83-billion Mindanao Railway Phase 1, and P142-billion Philippine National Railways Bicol Package 1.
Former Finance Secretary Carlo Dominguez III reportedly warned Transport Undersecretary Cesar Chavez that Beijing would ask for over 3% interest for the loans.
READ: China wants 3% interest on Philippines railway projects loan
The Chinese Embassy in Manila recently said that the two countries "have been negotiating technical issues and made progressive progress to move the projects forward."
In the previous administration, China was one of the key partners for its "Build, build, build" infrastructure projects with 17 already completed and over 20 in the pipeline.
READ: Talks over infrastructure projects ongoing, Chinese Embassy says
"Policy clarity on Malacanang's current relationship with Beijing is essential to determine whether the President will accept new development loan proposals from China, after years of delay in the last administration," Ridon said. — with a report from Franco Luna