Comelec eyes isolation polling place for COVID-19 symptomatic voters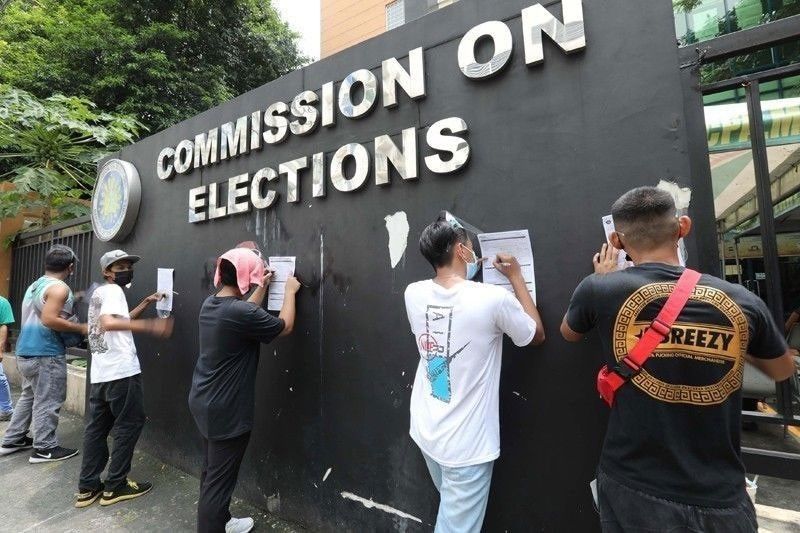 MANILA, Philippines — The Commission on Elections is eyeing the establishment of isolation polling places for voters who will exhibit COVID-19 symptoms on election day on May 9, Comelec Commissioner Aimee Torrefranca-Neri said yesterday.
In a joint press conference with officials from the Department of the Interior and Local Government (DILG) and Philippine National Police (PNP) at Camp Crame, Neri said putting up isolation polling centers is one of the options they are considering to ensure the safety of the public from COVID-19.
The Comelec is also planning to create its own medical advisory board to provide additional support in revisiting COVID-19 guidelines.
Neri said they would also partner with health and medical groups to set up medical desks that will respond to health-related issues of voters, especially those belonging to the vulnerable sector.
"These are the plans in the pipeline for Comelec in COVID proofing our 2022 national and local elections," she said.
With around 67.5 million voters expected to troop to polling centers, Neri said election day has the potential to become a super spreader event.
Citing data from the Department of Health, Neri said COVID-19 cases surged to 214,838 in the first week of January from 125,000 last December.
"The Comelec must be fully prepared on the prevention of COVID-19 transmission during the upcoming elections," she said.
Difficulty
The government is having difficulty pursuing politicians for violating COVID-19 minimum public health standards, Interior Secretary Eduardo Año admitted yesterday in a press conference at Camp Crame.
Asked why attendees at political activities are the ones sanctioned by the police instead of the politicians themselves, Año remarked in Filipino: "You know, if we make that a general rule that candidates would be accountable, there would be no more candidates left in the Philippines because its campaign period now that is why we go to specifics."
"If there are violators, we get them. If there are specific violations committed by candidates, then we investigate or prosecute him," Año explained.
The DILG chief said investigating politicians is a challenge. "Even if you investigate the candidate, the candidate would just say I went there with all the preparations ready, why would you charge me," Año said.
However, under the doctrine of command responsibility, organizers of political activities could also be charged.
He added that they are also being cautious, as they do not want to be used as a tool of candidates who are out to prosecute their political opponents.
PNP deputy chief for operations Lt. Gen. Ferdinand Divina said there are at least 4,083 violators of minimum public health standards such as not wearing face masks and mass gatherings nationwide from April 1 to 4.