Lacson launches presidential campaign in hometown Imus, Cavite
February 8, 2022 | 11:14am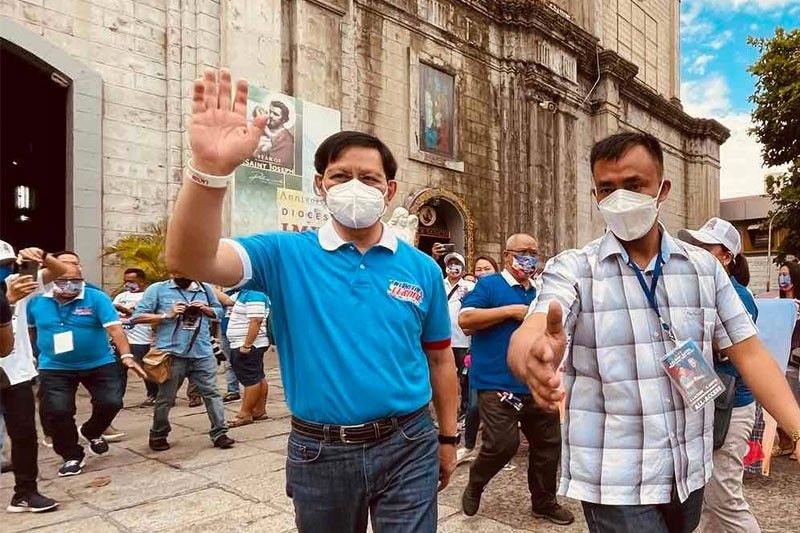 MANILA, Philippines — Longtime public servant Panfilo "Ping" Lacson, who is vying for the highest position in the land, officially launched his presidential bid in his hometown Imus, Cavite on Tuesday evening.
Lacson, who is the standard bearer of Partido Reporma, has been a public servant for over forty years. A senator on his third term, he chairs his chamber's national defense and security; and accounts committees.
Before his proclamation rally at Imus Grandstand, he attended a mass at Imus Cathedral with Senate President Vicente "Tito" Sotto III, his running mate.
Lacson is vocal about his track record as a public official, including the time he served as the Philippine National Police (PNP) chief from 1999 to 2001 when he instituted reforms that led to the elimination of "kotong cops" and "kotong culture" in the police force; and fought corruption.
He said his anti-corruption crusade has continued on even when he became senator.
As a member of the upper house, he was able to stop the misuse of P300 billion worth of public funds, following scrutiny of the yearly budget, among other accomplishments, according to his camp.
Maria Ela Atienza, a political science professor from the University of the Philippines Diliman, said Lacson's impressive public record in the executive and legislative branches will be helpful in fulfilling his presidential duties, if he wins.
"However, much of his work focused on peace and order and anti-corruption. If ever he wins, he needs to get a team or cabinet with experience in other areas of government service," she told Philstar.com over Viber on Tuesday.
First act as president
If elected, Lacson said his first presidential act is to forgo his rights to bank secrecy but said he will not force other government officials to follow suit. For him, this is how he will set the tone in "establishing a clean government."
The Secrecy of Bank Deposits Law of 1955 states that all deposits with banks and banking institutions, including government-issued bond investments, are confidential and may not be examined, inquired or looked into by anyone without the depositor's written permission, and in cases of impeachment, bribery or dereliction of duty on the part of public officials.
READ: Lacson to waive bank secrecy rights if elected president
Atienza, whose areas of interest include local politics, said if Lacson really wants to set a good example by waiving his bank secrecy rights, he should sign an executive order which would compel top government officials to do the same and practice accountability in other ways as well.
In his first 100 days as president, Lacson wants to undertake what he calls a massive internal cleansing of the government which will see the removal of "misfits and corrupt government officials"- similar to the reforms he implemented when he was PNP chief.
Lacson and his running mate Vicente "Tito" Sotto III are pushing good governance driven by a "concrete, implementable and future-proof strategy."
Lacson's chances
In a recent presidential poll by Pulse Asia, Lacson ranked fifth among the aspirants, but has expressed hope that things will change in the run-up to elections.
READ: After placing 5th in presidential poll, Lacson believes there is still a chance of winning
For Atienza, having a long career in public service and an anti-corruption advocacy, alone, are not enough in increasing his chances of winning.
"He...has to combine this with a popular or relatable personality with strong presence in the grassroots and localities. These may be his weakness, given that the country does not have strong political parties and the president and vice president are not voted as a team or tandem," Atienza said.
While some voters might like him for his peace and order as well as anti-corruption positions, others associate him with supporting many of the programs of President Duterte that appears to be against human rights," she added.
She also noted that he has a record for being a fugitive for some time during the administration of former president Gloria Macapagal-Arroyo.
In 2010, Lacson admitted that he left the country to escape "harassment" from the Justice department, following reports that he would be arrested for his alleged involvement in the double-murder case of publicist Salvador "Bubby" Dacer and his driver Emmanuel Corbito.
Last month, Lacson denied anew that he was guilty of having a hand in the Dacer-Corbito slay case and Kuratong Baleleng massacre- which refers to the summary execution of 11 members of the Kuratong Baleleng robbery group, citing the weakness of the evidence against him.
READ: Lacson denies anew hand in Kuratong Baleleng, Dacer-Corbito slay cases
As It Happens
LATEST UPDATE: May 7, 2022 - 10:39pm
The campaign season for the 2022 elections officially starts on February 8 until May 7. Bookmark this page for updates. Photo courtesy of The STAR/Miguel de Guzman
May 7, 2022 - 10:39pm
In his final political rally, Sen. Manny Pacquiao, known for his rags-to-riches story, once again says that his presidential bid is the "revolution of the poor." He made knocking out poverty and corruption the key themes of his campaign. — Gaea Katreena Cabico
May 7, 2022 - 9:53pm
The local rescue team and organizers say the crowd at presidential candidate Leni Robredo's miting de avance in Makati City has reached 780,000 as of 9 p.m.
May 7, 2022 - 8:52pm
The host announces that as of 8:15 p.m., the crowd at Vice President Leni Robredo's miting de avance in Makati City has reached 750,000. — Xave Gregorio
May 7, 2022 - 7:57pm
Presidential candidate Isko Moreno takes the stage for the first time tonight. Like most of his speeches, he starts his miting de avance recounting his childhood growing up in Tondo. — Franco Luna
May 7, 2022 - 6:54pm
The host announces that the crowd at the miting de avance of Vice President Leni has swelled to 450,000 — her biggest crowd ever. — Xave Gregorio