House probe sought on restrictions for unvaccinated
January 21, 2022 | 9:59am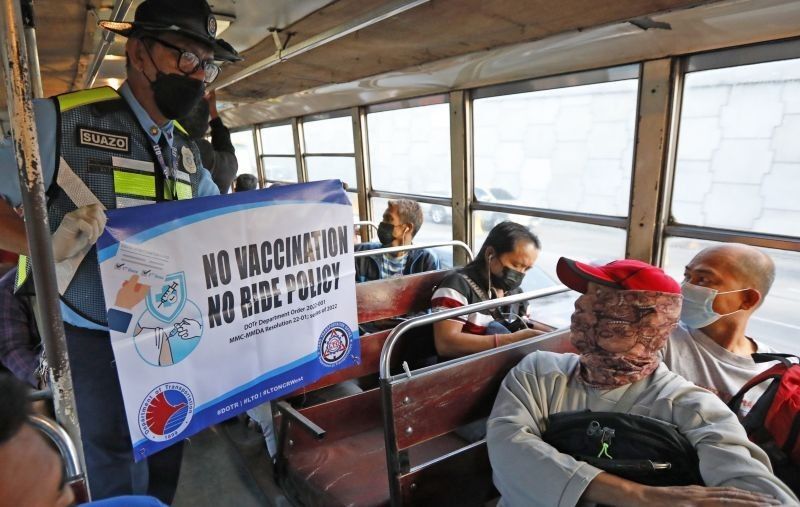 MANILA, Philippines — The Makabayan bloc is urging the House of Representatives to conduct an inquiry into the restrictions imposed on the unvaccinated as they raise concerns that these curbs could be violative of human rights.
The six-member bloc filed on Thursday House Resolution No. 2460 which calls on the House's human rights panel to conduct an inquiry on the effects of the restrictions on the unvaccinated, including barring them from going out of their homes and from taking public transportation.
READ: Makabayan bloc pushes for congressional inquiry into the restrictions imposed by the government's pandemic task force on the unvaccinated @PhilstarNews pic.twitter.com/g7L81NdFf9

— Xave Gregorio (@XaveGregorio) January 21, 2022
"While vaccinating the people could be important in the fight against the pandemic, Congress should take the side of the people against policies that curtail constitutional rights, [are] discriminatory and unnecessar[ily] burden the workers and other poor people especially at this time of pandemic and severe hardship," the Makabayan bloc said in the resolution.
The group, composed of Reps. Ferdinand Gaite, Carlos Zarate, Eufemia Cullamat, France Castro, Arlene Brosas and Sarah Elago, raised that this is not the first time that the government used "threats and police power" to enforce pandemic rules.
They pointed out that President Rodrigo Duterte has threatened quarantine protocol violators, people without or with improperly worn face masks, officials who fail to enforce a ban on mass gatherings and people who refuse to get vaccinated with arrest.
READ: Arrest the unvaccinated? That may be unconstitutional, CHR says
"Such militaristic approach to the pandemic ha[s] failed to alleviate the suffering of the ordinary people or improve the situation of the health workers and the capacity of the healthcare system amid the repeated surge in COVID-19 cases," they said.
Throughout the pandemic, the Duterte administration has heavily relied on the police and the military to enforce curbs while public health interventions such as free mass testing and improved contact tracing have been dismissed as impractical, even as new infections surge to record highs.
The Makabayan bloc, an informal grouping which is part of the minority bloc in the House, has filed several resolutions urging it to conduct investigations into policies set by the Duterte administration, but these calls have largely been ignored by the chamber dominated by allies of the president.