Persons wearing masks improperly face arrest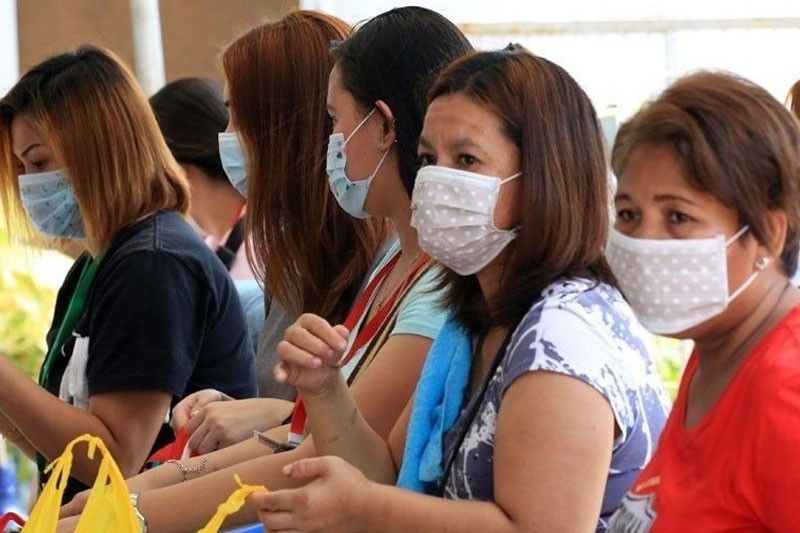 MANILA, Philippines — President Duterte has ordered the police to detain and investigate persons caught not wearing their face masks properly as he reminded the public to follow health protocols to curb the spread of COVID-19.
During his public address on Wednesday, Duterte said Filipinos should comply with the safety measures set by the government, noting that many people have died or have been hospitalized because of the pandemic.
"If you really have a brain, if you are thinking, you should follow (the safety measures). If you are a thinking person, you should follow the government. It's not for us. It's in the interest of the nation to ensure that you do not get infected and you do not pass the virus to others," Duterte said.
"With regard to the face mask, others are just wearing it for compliance. Others are wearing it but their noses are exposed. My directive for the police is to arrest and detain those who are not wearing their masks properly in order to protect the public, investigate them why they are doing it," he added.
Duterte said the wearing of face masks is a "stupid requirement" during ordinary times but is a "critical need" during the pandemic.
Presidential spokesman Harry Roque said Duterte also wants the public to wear face shields, observe curfew hours and comply with measures intended to slow the transmission of COVID-19.
"The arrests should be in line with an ordinance or existing laws. If there is no ordinance, the Revised Penal Code states that persons can be detained for a maximum of 12 hours and if no cases are filed, they should be released," Roque said at a press briefing.
Roque disputed claims that the President's directive is harsh.
"Certainly not harsh because before you can ask them to render community service, you have to apprehend them first. And that's what the President says, apprehend the violators of minimum health standards. That's not yet a punishment," Roque said.
Crackdown on violators
The Department of the Interior and Local Government will crack down again on violators of minimum health standards following President Duterte's directive to arrest persons caught not wearing face masks in public, DILG Secretary Eduardo Año said.
Año said there is a need to instill discipline among the people amid the rising cases of COVID-19.
"Dati namang ginagawa 'yan kaya lang nagluwag ng konti dahil pinapaalalahanan na lang pero ngayon utos ng Pangulo 'yan maghighigpit tayo. Minimum health standards kasi ang pagususuot ng mask. Ewan ko ba bakit simplemg pagsusuoot ng mask eh hindi magawa ng mga kababayan natin," he told reporters, explaining that wearing of face mask is an old ordinance but is now being strictly enforced, at the same time wondering why people can't comply with a simple protocol.
The DILG will task local government units (LGUs) to strictly implement ordinances that sanction violators of minimum health standards.
Año said law enforcers would issue initial warnings but will arrest non-compliant individuals.
DILG spokesman Jonathan Malaya said they would meet with the Philippine National Police (PNP) and LGUs to determine the parameters of the presidential directive.
Malaya said LGUs negligent in enforcing minimum health standards would be subpoenaed by the DILG and filed with administrative charges.
The Department of Justice and DILG will draft the guidelines on the arrest and detention of people caught not wearing face masks, DOJ Secretary Menardo Guevarra said.
Outgoing national police chief Gen. Debold Sinas said the PNP has been enforcing minimum public health protocols such as the proper wearing of face masks based on laws, local ordinances and provisions of Republic Act 11332 or the Mandatory Reporting of Notifiable Diseases and Health Events of Public Health Concern Act.
Arrest order prone to abuse – CHR
The Commission on Human Rights (CHR) yesterday expressed concern over President Duterte's directive to arrest those not properly wearing face masks in public, saying the lack of clear guidelines makes it prone to abuse.
CHR spokesperson Jacqueline de Guia echoed the need for everyone to observe health protocols during the pandemic, but noted the need for reasonable and humane disciplinary measures for violators.
"In the absence of clear guidelines, we are concerned that such directive may be prone to excessive discretion and abuse," De Guia said, citing the rise of human rights violations arising from violations of health protocols.
"We note that local governments have passed ordinances penalizing the act of not wearing face masks in public. However, first time offenders are often reprimanded, fined or asked to perform community service," she added.
Rep. Arlene Brosas of women's group Gabriela said the President's order to arrest quarantine violators would result in more human rights violations.
Human rights advocate group Karapatan slammed the order of President Duterte to arrest quarantine violators, including those improperly wearing their face masks.
"This policy of mass arrests of alleged violators of quarantine protocols is ineffective, aside from a form of disproportionate use of force during a public health crisis that affects mainly the poor population," Karapatan secretary general Cristina Palabay said in a statement.
Palabay said such directive "runs counter to the purpose of quarantine protocols, which is to protect and uphold people's health."
"Overcongestion and inhumane conditions in detention cells pose risks to the health of prisoners and detaining quarantine violators in these cramped facilities where physical distancing is impossible to observe would only facilitate the rapid spread of COVID-19," she said. — Romina Cabrera, Evelyn Macairan, Emmanuel Tupas, Janvic Mateo, Elizabeth Marcelo, Delon Porcalla