Moreno supporters hold caravan
October 25, 2021 | 12:00am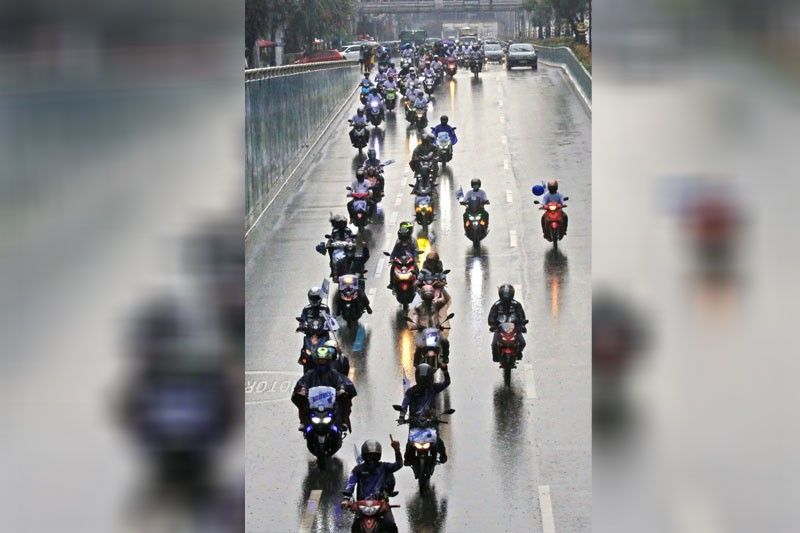 MANILA, Philippines — Supporters of Manila Mayor Isko Moreno held a motorcade yesterday to greet the Aksyon Demokratiko standard bearer on his 47th birthday.
At least 1,000 vehicles and 100 cars joined the surprise birthday motorcade for Moreno and his running mate Dr. Willie Ong, who has the same birthday as the mayor.
The motorcade went around Quezon City, Manila and Caloocan, according to a statement from Moreno's camp.
The so-called "Blue Wave Caravan" coincided with Moreno's 47th birthday and Ong's 58th.
Moreno's supporters held the caravan a day after those of Vice President Leni Robredo and running mate Sen. Kiko Pangilinan held the same initiative.
While Robredo's caravan was held around the country, Moreno's was held just within Metro Manila.
'Focus on COVID, not colors'
Meanwhile, Pangilinan urged candidates to focus on solving hunger and joblessness brought by the pandemic in the upcoming elections and not political colors.
"Our problem is not color, our problem is COVID. Unless we contain COVID and manage it with interventions, everything else will remain stagnant," Pangilinan said, in response to a question on Robredo's use of pink instead of the Liberal Party's yellow.
In an online media interview, the aspiring vice president stressed that efficient COVID response would be key to addressing hunger and joblessness, given the worst economic contraction in 40 years.
According to a July 2021 Social Weather Stations survey, some 4.2 million Filipinos experienced hunger in May 2021. Some 16.8 percent families experienced hunger or "involuntary hunger" at least once in the past three months.
Recent data also show that unemployment ballooned to almost 3.9 million in August – almost a million more than the previous record of 3.07 million in July, according to the Philippine Statistics Authority.
Pangilinan stressed that hunger and joblessness are issues of food security that require strengthening support for the agriculture sector.
The senator is the principal author of the Sagip Saka Act of 2019 that allows farmers to directly sell their produce to national and local government units and agencies without the need for public bidding nor involvement of a middleman.
Asked about interventions within the first 100 days should the Robredo-Pangilinan tandem get elected, Pangilinan said "we have to manage COVID correctly, address contact tracing, have better vaccine rollout and root out corruption."