Philippines ups COVID-19 vaccination goal to 1.5 million jabs per day
October 20, 2021 | 3:16pm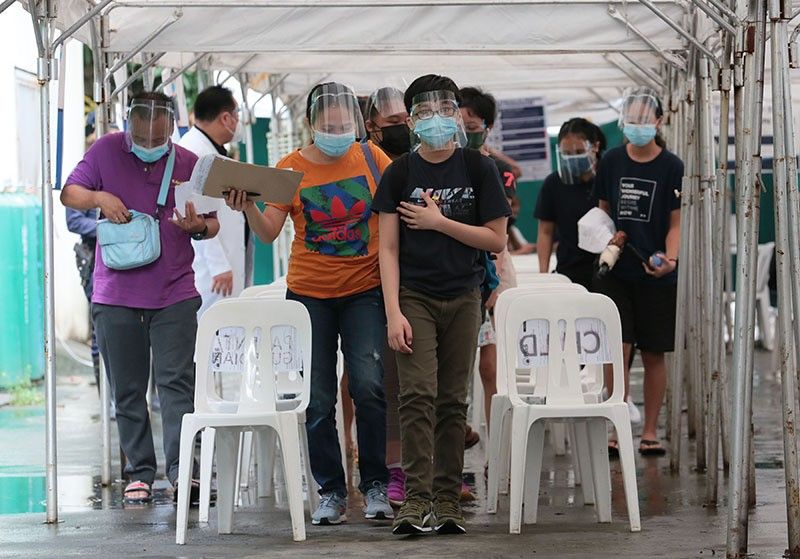 MANILA, Philippines — The government has increased its target number of COVID-19 vaccinations to 1.5 million per day, the official leading the inoculation efforts said.
In the taped meeting of the pandemic task force aired late Tuesday night, vaccine czar Carlito Galvez Jr. said the move is "in order to achieve a happy Christmas this year."
"We are ramping up the vaccination of students, teachers, tourism personnel, overseas Filipino workers, and seafarers," Galvez added.
Official data showed the country averaged 405,588 doses of COVID-19 jabs administered in the last seven days.
This means authorities would have to more than triple the current rate to achieve the targeted 1.5 million per day.
Per figures presented by Galvez, there are now 24.49 million Filipinos complete with their COVID-19 shots.
That translates to 31.76% of the target population of 77.13 million. Some 28.28 million, meanwhile, have received a first dose.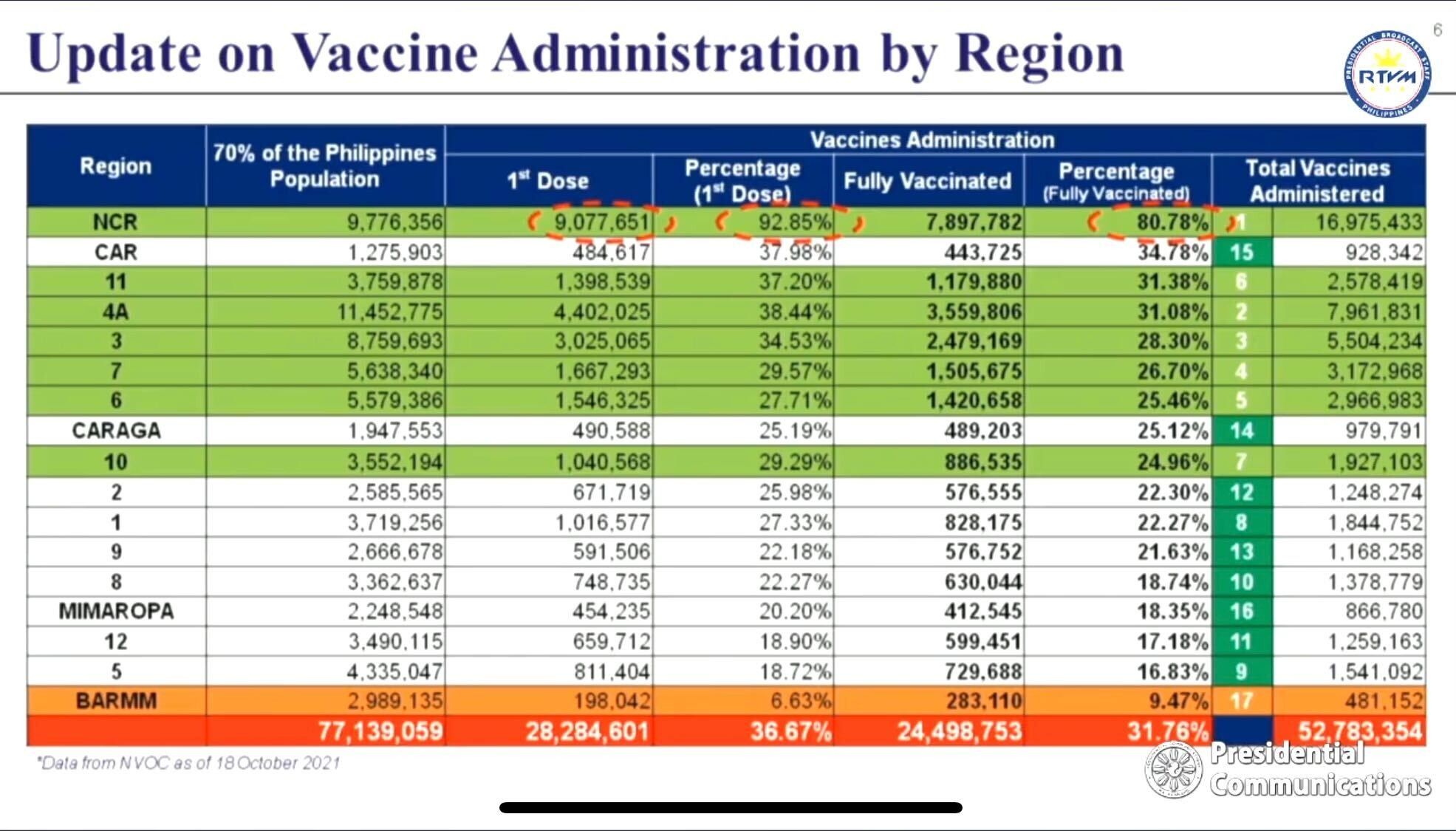 The National Capital Region has the most number of fully vaccinated at 7.89 million, or 80.78% of the goal of 9.77 million.
Calabarzon follows at 3.55 million, Central Luzon at 2.47 million, and Central Visayas at 1.50 million.
Regions with the lowest figure on individuals with complete shots are: Mimaropa at 412,545, Cordillera Administrative Region at 443,725, and Caraga at 489,203.
The vaccine czar said government would inoculate more of those willing to get the jabs.
While inoculations were also opened for the general public and for adolescents this month, Galvez added they would still focus on getting the shots to the most vulnerable, or senior citizens and other priority sectors. — Christian Deiparine
As It Happens
LATEST UPDATE: November 12, 2021 - 11:01am
A new thread on the Philippines' vaccination program in 2021 in the government's revised objective to reach "population protection." (Main image: The STAR/Michael Varcas, file)
November 12, 2021 - 11:01am
Starting December 1, the vaccination of employees required to work on-site will be mandatory in the public and private sector in areas with sufficient COVID-19 jabs supply.
"However, eligible employees who remain to be unvaccinated may not be terminated but they shall be required to undergo regular RT-PCR testing, or antigen tests, at their own expense," Malacañang says.
November 3, 2021 - 10:11am
The Philippine government is targeting to administer at least 15 million doses of COVID-19 vaccines before the end of November, vaccine czar Carlito Galvez Jr. says.
The government aims to achieve 1 million to 1.5 million jabs per day starting November 20.
To achieve this, Galvez says about 4,000 to 5,000 vaccination sites would be activated, including malls, universities, schools, gyms, camps and function halls of different government agencies.
October 27, 2021 - 10:56am
The Philippine government will start the full rollout of COVID-19 vaccination among minors aged 12 to 17 on November 5.
Health Undersecretary Maria Rosario Vergeire says the guidelines are being drafted.
October 25, 2021 - 9:02am
The Health Technology Assessment Council of the Department of Health recommends the rollout of COVID-19 vaccine booster shots for healthcare workers by fourth quarter of this year.
The council also recommends rolling out booster shots among eligible priority groups by next year.
HTAC says the recommendations are offered "in consideration of sufficient vaccine supply and acceptable coverage for primary vaccination."
October 8, 2021 - 10:00am
Another 2.1 million doses of Moderna and more than 661,100 doses of Astrazeneca COVID-19 vaccines arrive at NAIA Terminal 1 on Friday morning.
The Moderna vaccines are procured by the government while the Astrazeneca jabs were bought by the private sector.