Jab sites allowed to operate until nighttime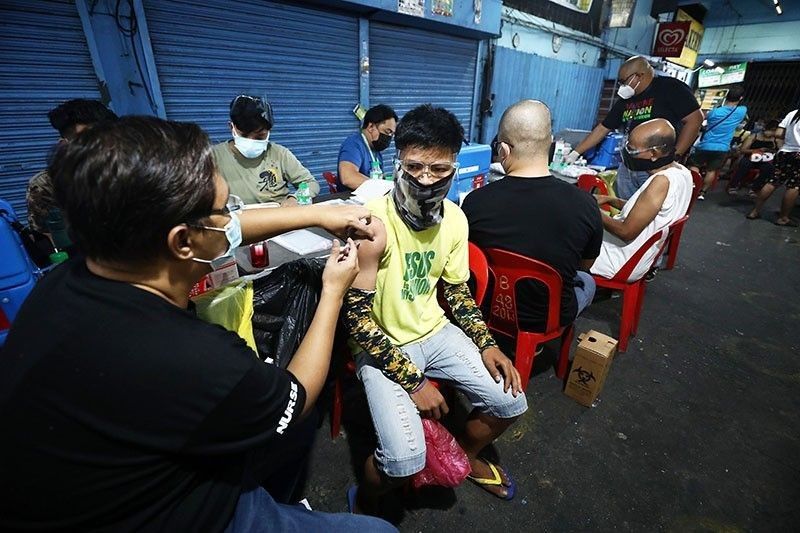 MANILA, Philippines — The government will allow vaccination sites in Metro Manila to operate until nighttime during the implementation of enhanced community quarantine (ECQ), the Department of the Interior and Local Government (DILG) said yesterday, stressing that the measure is needed to reach the target 250,000 daily vaccinations in the region amid the threat posed by the COVID-19 Delta variant.
Interior Secretary Eduardo Año said with a minimum of four million vaccine shots being targeted for injection during the two-week ECQ, local governments and other institutions running vaccination sites would be allowed to operate "overtime."
"We need to finish the minimum of four million, and maybe our LGUs will need to go overtime. We met with Metro Manila mayors recently and they committed," Año said in an interview aired over dzBB.
The interior secretary said the government might open more vaccination sites if needed.
Since vaccination operations will be extended, Año said more police officers will be sent to vaccination sites in Metro Manila for peacekeeping and health protocol enforcement during the two-week ECQ.
Aside from vaccination sites, more cops are also expected in public spaces such as markets, grocery shops, aid distribution points and others.
Meanwhile, the Philippine National Police (PNP) said its Medical Reserve Force has been ordered to stand by for assistance in vaccination sites in Metro Manila during the ECQ.
"The PNP's Medical Reserve Force will be on standby in case they will be tapped in the vaccination process during the two-week ECQ; 250,000 people per day is a big number, that's why the PNP will help ensure that the vaccinations in Metro Manila would be orderly, quick and safe," PNP chief Gen. Guillermo Eleazar said on Sunday.
Metro Manila police have also been ordered to prepare the deployment of more cops, as well as to coordinate with local government officials to discuss the vaccination process during the ECQ.
The region will be under ECQ beginning Aug. 6 and will end on the 20th, a move that the government saw fit to prevent the spread of the Delta variant.
Authorized persons only
Only workers and consumers would be allowed to enter Metro Manila during the strict implementation of border control which started yesterday, the PNP said, ordering police officers to ensure the free movement of vehicles carrying essential goods and authorized persons.
Eleazar said authorized workers are those whose companies, businesses or industries have been allowed to operate during tECQ, while consumers are those allowed to head outdoors to avail of services of these businesses.
Eleazar explained that police would only allow these authorized persons to pass upon the presentation of their IATF IDs issued by regulatory agencies, valid IDs or pertinent documents issued by companies.
The strict border control measures in Cavite, Bulacan, Laguna and Rizal began at 12 a.m. yesterday to sift through those entering Metro Manila.
"We are also asking for the cooperation of our citizens, whose sacrifices are needed to control the virus," Eleazar said.
PNP spokesman Brig. Gen. Ronaldo Olay, meanwhile, assured the public that human rights would be respected at border control points in the provinces surrounding Metro Manila.
Aside from workers and consumers, Olay said those scheduled to get vaccinated would also be treated as authorized persons by presenting vaccination cards or vaccination schedules.
The DILG reminded the public that those found to be unauthorized persons outside of residence would be denied passage and would be asked to return to their homes.
"The implementation of strict border controls for people entering and leaving the NCR Plus bubble is critical to stopping the spread of the Delta variant," Año said.
Meanwhile, Philippine Airlines, Cebu Pacific and the Air Asia cancelled more than 300 domestic flights since July 30 up to Aug. 5, but PAL and CEB extended their cancelled flights from Aug. 6 to 20, 2021 mostly coming from the Ninoy Aquino Domestic Terminals bound for Caticlan, Busuanga, Puerto Princesa, Cebu, Davao, Cagayan de Oro, Roxas City, Tagbilaran, Tacloban, Dipolog, Dumaguete, Kalibo, Bacolod, Siargao, San Jose and their turnaround flights. There are also flights coming from Cebu and Davao bound for Caticlan, Siargao, Cagayan de Oro and Boracay and turnaround flights.
PAL cancelled more than 200 domestic flights, CEB cancelled more than 100 and Air Asia 39 domestic flights. – Rudy Santos