Sputnik doses arrive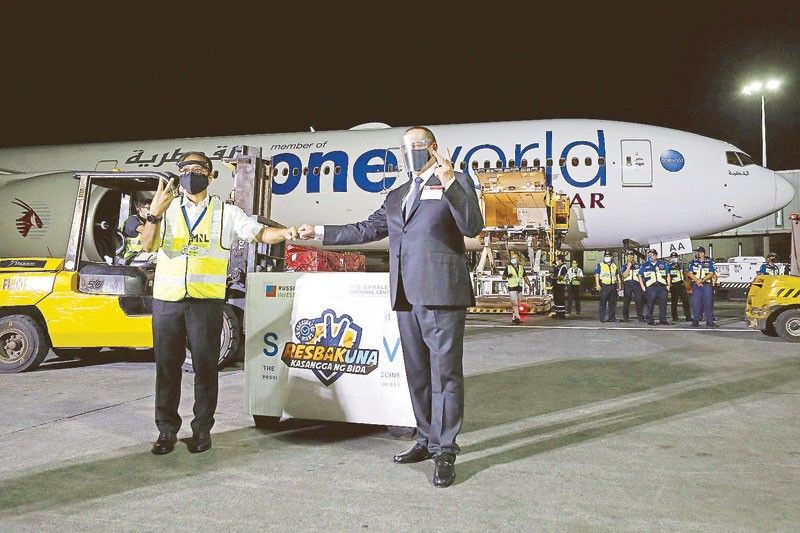 MANILA, Philippines — After some delays, 132,200 doses of Sputnik V vaccines finally arrived at the Ninoy Aquino International Airport (NAIA) Terminal 3 on board a Qatar Airways flight from Russia via Doha on Friday.
The shipment from Russia's Gamaleya Research Institute was welcomed at NAIA by vaccine czar Carlito Galvez Jr., along with Russian Ambassador to the Philippines Marat Pavlov, and immediately transported to the PharmaServ Express cold storage in Marikina City.
An additional 37,800 doses of Sputnik V vaccine would have arrived yesterday evening at the NAIA Terminal 3 from Russia, via Dubai, on board an Etihad Airways flight.
Bureau of Customs-NAIA (BOC-NAIA) district collector Mimel Talusan said that the One Stop Shop of the bureau pre-cleared the delivery of Sputnik V vaccines, after DOH and FDA representatives presented documents.
Also on Friday, the BOC-NAIA cleared another batch of AstraZeneca COVID-19 vaccines, with 1,124,100 doses donated by the Japanese government, and another two million doses from the COVAX Facility in Sweden that arrived Friday afternoon on board an Etihad Airways flight via Dubai. All were pre-cleared last July 7.
For the first half of 2021, the BOC-NAIA has cleared 12 million doses of Sinovac, 2.556 million doses of AstraZeneca, 2,478,060 doses of Pfizer, 249,600 doses of Moderna and 180,000 doses of Sputnik V, Talusan said.
The BOC reported yesterday that it has cleared a total of 20,537,360 COVID-19 vaccine doses delivered in the country. – Robertzon Ramirez