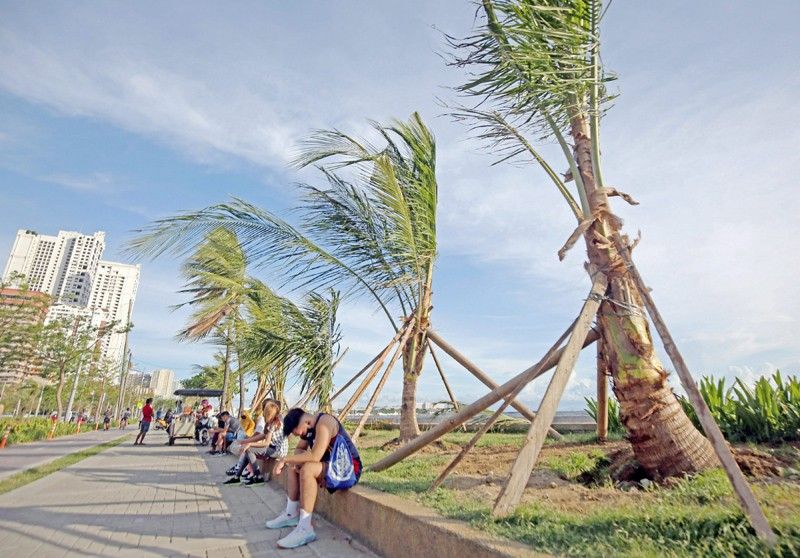 Joggers rest near coconut palm trees at the Baywalk on Roxas Boulevard yesterday. The DENR recently planted adult coconut palm trees to complete the beach makeover of the Manila Bay coastline.
Krizjohn Rosales
After white sand, Baywalk gets coconut palm tree makeover
MANILA, Philippines — Matured coconut palm trees about three to four meters high are being planted along the Manila Baywalk as part of the Department of Environment and Natural Resources (DENR)'s effort to rehabilitate Manila Bay.
DENR Secretary Roy Cimatu, who led the initial planting of 10 coconut palms last Wednesday, said the target is to plant around 60 matured coconut palms to complement the DENR's beach nourishment project.
"So we will undertake coconut planting as part of our restoration and continuing rehabilitation of Manila Bay," said Cimatu, noting that the aim is to bring back the "tropical aura" along Roxas Boulevard.
Based on the assessment conducted by the DENR field office in the National Capital Region (NCR), coconut palms were previously planted in the area but were cut down due to over maturity.
"These coconut trees or palms will add to the aesthetic value of the area because they will give an otherwise plain landscape a distinctly tropical aura, the way this area was years ago," said Cimatu.
The DENR chief added: "It will not only beautify the baywalk portion of the Manila Bay coastline. It will also serve as a living reminder of how much the coconut tree has contributed to our way of life."
The maintenance of the project will be monitored by the DENR-NCR in collaboration with the Parks Development Office of Manila.