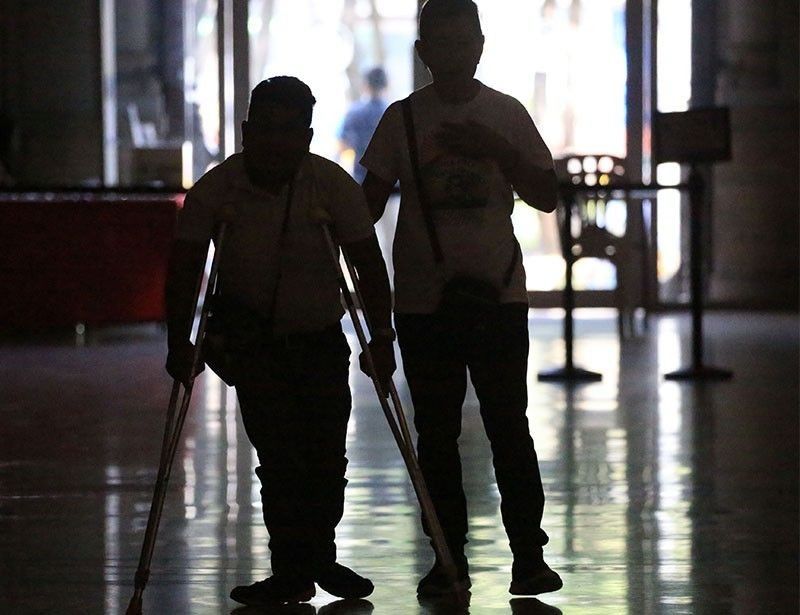 File photo shows a PWD in crutches. For many PWDs, mobility is the main problem holding them back.
The STAR/Edd Gumban
Guidelines for PWD, senior online discounts not drafted after all
MANILA, Philippines (Updated: June 9, 11:50 a.m.) — After it claimed guidelines were already drafted, the Department of Social Welfare and Development was tasked to lead the drafting of a joint administrative order for online discounts for persons with disabilities and senior citizens.
In a statement sent to reporters, the Anti-Red Tape Authority said that the DSWD was put in charge of consolidating comments of concerned agencies on the JAO on or before June 15 for a scheduled consultation meeting with stakeholders before end-June.
According to the ARTA, it "was agreed that the DSWD will lead the drafting of a Joint Administrative Order" at an inter-agency meeting on June 3 discussing complaints filed against the DSWD and the Department of Trade and Industry.
The department earlier claimed in a letter acquired by Philstar.com that the "departments have already formulated the appropriate guidelines."
At the same meeting, the ARTA said, the DTI for its part "made it clear" that senior citizens and PWDs should still be able to avail of their discounts when buying necessities and prime commodities online.
In response to e-mailed questions, Social Welfare Spokesperson Irene Dumlao told Philstar.com that the joint administrative order "is not yet final and will be subject to stakeholder's consultation to be facilitated by the Department of Trade and Industry before approval of the signatory agencies."
READ: Rules on online discounts for PWDs, seniors still pending months after request
LOOK: Department of Social Welfare and Development says the DSWD and the DTI have "already formulated the appropriate guidelines" allowing persons with disabilities and senior citizens to avail of discounts in online purchases @PhilstarNews

Story to follow. pic.twitter.com/eLl8vYdWwG

— Franco Luna (@francoIuna) May 31, 2021
'Not yet final'
Dumlao said that the draft of the JAO—entitled Guidelines on the Provision of the Statutory Benefits and Privileges of the Senior Citizens and Persons With Disabilities on Their Purchases Through Online (E-commerce) and Phone Call/SMS—included a provision for penalties against online sellers that do not comply.
"It is hoped that the statutory privileges granted to senior citizens and persons with disabilities will be respected by all establishments, business owners, and individual sellers, including those not registered with the DTI and BIR," she said.
Asked for a timetable on the guidelines, Dumlao deferred to the DTI "since it is the appropriate agency that has jurisdiction to issue policies involving business entities." She opted not to answer further questions.
But when asked the same, DTI Undersecretary for Consumer Protection Ruth Castillo said in a text message: "DSWD will still have to do public consultation. It is part of the timeline." She did not disclose the timeframe, but earlier said that both departments were "still working on it."
Philstar.com also reached out to Trade Secretary Ramon Lopez for comment. This story will be updated with his response.
"The JAO is still a draft and will still be presented to our principals for further comments as well as our respective Legal Offices, and then will go through stakeholder consultation. After the public consultation, the draft will be finalized," Dumlao said.
According to the spokesperson, the draft Joint Administrative Order is set to go through consultation with the following government agencies:
Department of Social Welfare and Development
Department of Trade and Industry
Bureau of Internal Revenue
National Commission of Senior Citizens
National Commission on Disability Affairs
Department of Health
Department of the Interior and Local Government
The Anti-Red Tape Authority was created by virtue of Republic Act No. 11032 to "promote accountable, transparent governance by cutting excessive bureaucracy and enhancing the local business environment."
Still pending months after request
Calls for implementing guidelines resounded as early as October 2020, when consumer group Laban Konsyumer, Inc. wrote the DSWD and DTI asking for guidelines allowing the two sectors to avail of their discounts and benefits in e-commerce purchases.
The same group filed a complaint in March before the Anti-Red Tape Authority over the 'inaction' of both departments.
Dumlao in her email confirmed that the department "received a letter from the" ARTA calling for a meeting to discuss the issue on June 3.
LKI in its earlier letter said that most senior citizens and PWDs have turned to online shopping amid the COVID-19 pandemic so they can safely purchase food, medicine, and other necessities.
However, they are not able to claim the privileges granted by law because most merchants do not know how to grant them their discounts over the internet.