Senators seen to extend Bayanihan 2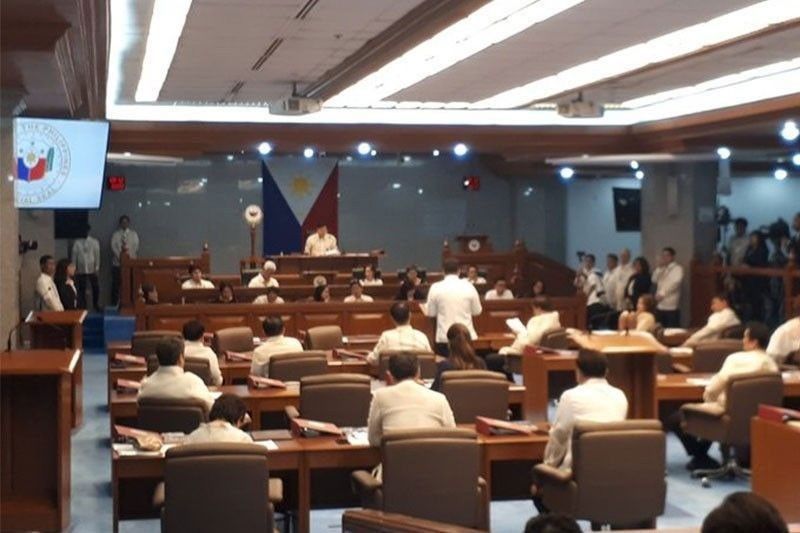 MANILA, Philippines — Senators are likely going to push for the second extension of Republic Act 11494 or the Bayanihan to Recover as One Act until the end of the year, instead of passing another emergency spending bill as about half of the funding for the law remains undisbursed, Senate President Vicente Sotto III said yesterday.
Sotto made the observation as members of the House of Representatives are prodding the Senate to pass the proposed Bayanihan to Arise as One Act or Bayanihan 3, which needs to be funded by nearly half a trillion pesos.
There is a similar measure in the Senate but it remains pending in the committee on finance, chaired by Sen. Sonny Angara, amid concerns from senators on how to fund the new bill and guarantee fast disbursement, given the failure of government agencies to quickly release monies from the Bayanihan to Heal as One Act (Republic Act 11469) and Bayanihan 2 to beneficiaries.
"I think we will elect to extend Bayanihan 2 to December 2021, instead of it expiring in June," Sotto told "The Source" on CNN Philippines. "Let's extend Bayanihan 2 before we indulge in Bayanihan 3."
He said 70 percent of Bayanihan 2 has been funded but only half has been actually released, so it would not be prudent to pass Bayanihan 3 when government agencies could not even complete the release of financial assistance to beneficiaries under RA 11494, especially that there are no clear sources of funding.
Bayanihan 2, like its predecessor RA 11469, granted President Duterte emergency authority to realign and scrape up funds to finance the government's health and economic response to the COVID-19 pandemic.
Among the reported slow or uncompleted releases under RA 11494 are aid and benefits for students, public utility vehicle drivers and health workers stricken with COVID-19.
Angara earlier reported that some P20 billion for various aid programs for distressed sectors and businesses were granted under Bayanihan 2, less than a month before it expires.
He said the Departments of Education, Transportation, Agriculture, Health and the Small Business Corporation (SB Corp) have failed to obligate and/or disburse nearly P20 billion from their respective funding provided by Bayanihan 2.
Agencies are required to make regular reports to the Senate and House of Representatives on the disbursement of funds.
Angara said the findings were just initial figures of some agencies as the panel continues to review the reports.
He said concerned government agencies cannot cite lack of time as the reason for their failure to release funds to beneficiaries as Congress already extended the law.
He added that the country is in a state of emergency due to the pandemic so concerned agencies must work faster than usual in performing their duties.
The DepEd was allocated P4 billion for its digital and distance learning, including the provision of P400-million monthly internet allowance and computer tablets for teachers.
Of the amount, only P2.506 billion or 62.6 percent were "obligated," of which P32 million were actually disbursed, showing that the DepEd has a disbursement rate of a dismal 1.28 percent as of May 7, the senator said.
The agency has also failed to release a single centavo of the P300 million for allowances and subsidies for qualified students allocated by another provision in the law, Angara said.
He said the DA has some P1.5 billion in assistance to farmers that it has not yet obligated, while the DOTr has yet to release some P6 billion to P7 billion to drivers of PUVs.
He stressed that the DOTr's excuse that some PUV drivers lack documentation and other requirements was not acceptable, given that the beneficiaries are not expected at the outset to be able to comply with them.
SB Corp., under the Department of Trade and Industry, has yet to disburse P1 billion for micro, small and medium enterprises (MSMEs), he said.
The DOH has P9 billion in unobligated Bayanihan 2 funds, he added.
Apart from Bayanihan 2, the committee is also monitoring the performance of agencies on their disbursements of certain provisions of the 2020 national budget that were also extended to June 30 and the implementation of the P4.5-trillion General Appropriations Act of 2021.