COVID-19 beds at PGH in 90% occupancy rate, hospital spokesperson says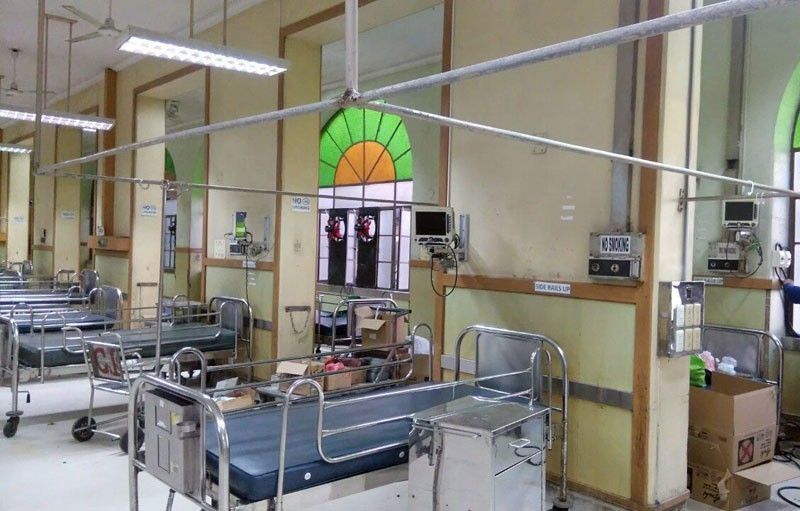 MANILA, Philippines — Hospital bed capacity for COVID-19 positive patients at the Philippine General Hospital is currently at 90%, its spokesman said Tuesday.
Dr. Jonas Del Rosario, in an interview with TeleRadyo, said 234 out of 250 COVID-19 beds are occupied by COVID-19 patients. "That's more than 90% occupancy," he pointed out.
He added that PGH's Intensive Care Unit and Emergency Room are also full. The hospital's charity ward also has 80 patients on its waitlist, as he also noted that the number of oxygen ports in beds also pose a limitation to the hospital.
Del Rosario said they noted a "trending down," with having 216 out of the 250 beds occupied, but numbers again went up in the last three days.
"We were surprised it's at 234 again. We thought it will continue," he added in Filipino.
Del Rosario said if it will be based on current PGH's numbers, they would recommend an extension of the modified enhanced community quarantine hoisted over Metro Manila and other provinces with high number of infections.
"But from now until mid-May, let us look into data again. There may be a huge decrease," he added.
Metro Manila, Bulacan, Cavite, Laguna and Rizal will remain under MECQ status until May 14. Santiago City in Isabela province, as well as Quirino and Abra provinces will be under MECQ until end of May.
Health authorities on Monday logged 7,255 new infections, pushing national coronavirus caseload to 1,062,225. — Kristine Joy Patag
As It Happens
LATEST UPDATE: January 16, 2022 - 10:25am
Follow this thread for updates on COVID-19 risk levels, safety measures, and data from Metro Manila's local government units.
Photo: The STAR/Michael Varcas
January 13, 2022 - 9:57am
The LRTA says it will implement the "no vaccination, no ride/no entry" policy starting January 17.
Only vaccinated passengers will be allowed to ride the LRT-2 and will be required to show proof of vaccination.
January 13, 2022
January 12, 2022 - 10:47am
The Department of Transportation has issued an order barring unvaccinated people from using public transportation in Metro Manila while the capital region is under Alert Level 3.
"All concerned attached agencies and sectoral offices of DOTr are directed to ensure that operators of public transportation shall allow access or issue tickets only to 'fully vaccinated persons' as evidenced by a physical or digital copies of an LGU (local government unit)-issued vaccine card, or any IATF-prescribed document, with a valid government issued ID with picture and address," it says.
January 6, 2022 - 4:29pm
Tourism Secretary Bernadette Romulo-Puyat says she's in isolation following a recent exposure to a COVID-19 positive individual.
January 5, 2022 - 12:43pm
The government must ensure supply of basic medicines like paracetamol amid reports of people having trouble getting access to them, Akbayan party-list says Wednesda
"A shortage of paracetamol is another bitter pill that must not be swallowed by the public," Dr. RJ Naguit, second nominee of the party-list, says in a release.
The government has played down the reported shortage, saying supplies are adequate according to its monitoring. It said only specific brands of paracetamol are out of stock at pharmacies.
"For the last two years, the people have been swallowing too many bitter pills in the form of strict lockdowns, lack of mass testing, and inadequate ayuda. And after all our sacrifices, what do we get? We are entering the third year of the pandemic with hardly any paracetamol pills to swallow," Naguit says, adding failure to ensure steady stocks of basic medicines would lower confidence in government.