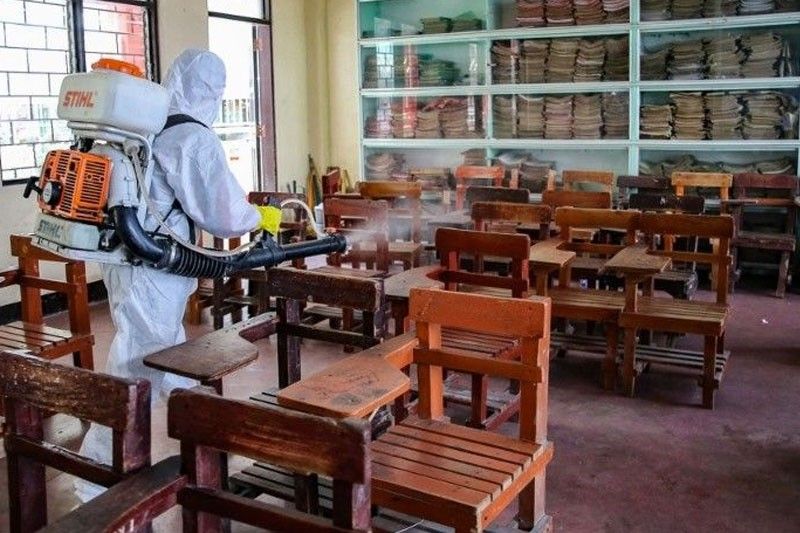 Briones said they have no problem with schools being used in health-related activities, provided certain conditions are met.
The STAR/Edd Gumban, file
DepEd sets conditions on use of public schools as COVID-19 centers
Janvic Mateo
(The Philippine Star) - April 14, 2021 - 12:00am
MANILA, Philippines — Public elementary and high schools should be used as isolation and vaccination centers only as a last resort, Education Secretary Leonor Briones said yesterday.
Briones said they have no problem with schools being used in health-related activities, provided certain conditions are met.
"First, we have a policy that the use of schools during disasters should be the last resort," she said in Filipino, citing their primary purpose of being used for educational activities.
"Secondly, the classrooms that should be used must be appropriate as isolation centers. These should comply with the requirements of the Department of Health on what an isolation center should be," Briones added.
She said schools being used as isolation or vaccination centers must be managed by local government units and activities would not be done simultaneously in one school.
"For example, if a school is already an isolation center, it should not be used as a vaccination center as well," she said.
The Department of Education (DepEd) said education-related activities such as the distribution of modules should not be conducted in schools being used for health-related reasons.
DepEd Undersecretary for administration Alain del Pascua said 1,212 schools are currently being used as quarantine facilities, 422 of them in Eastern Visayas.
The data on the number of schools being used as vaccination centers have yet to be released.
Aside from classrooms, Briones said other school facilities such as gymnasiums and campus grounds are also being used for health-related activities.
School opening
During the Laging Handa press briefing, Briones said the DepEd was preparing for different scenarios for the next school year.
"We plan for all possibilities," she said when asked if the DepEd is ready to continue with the blended learning setup should face-to-face classes remain suspended due to prolonged pandemic.
"There are several variables that we cannot predict, that's why our planning is based on different assumptions," she added.
Data showed that over 2.6 million students have signed up during the early registration for kindergarten and Grades 1, 7 and 11.
Most of the registrants are incoming Grade 1 students with 1.07 million; followed by kindergarten with 586,184; Grade 7 with 583,468 and Grade 11 with 441,016.
Incoming students for Grades 2-6, 8-10 and 12 no longer need to sign up for early registration.
Briones said the DepEd is also preparing for a "higher level of dependency on technology," adding they do not want to encourage the widespread use of printed learning materials due to its impact on the environment.
She said they have started distributing gadgets to students in remote areas.
On calls for academic break, DepEd Undersecretary for curriculum and instruction Diosdado San Antonio said they are implementing an "academic ease" to address concerns of heavy academic load among students.
"What we need is to be more considerate to our students," he said, adding that there is no need to fully stop the classes.
Overtime pay
Members of the Alliance of Concerned Teachers (ACT) yesterday mobilized outside the DepEd central office in Pasig City to call for fair compensation, given the longer school year for workers in the basic education sector.
The group urged the agency to give teachers service credits and 25 percent overtime pay, noting that the current school calendar necessitates them to render 77 days more working days than the mandated 220 days in a school year.
Public school teachers started working in June 2020 to prepare for the shift to distance learning, which will last until July this year.
ACT said the setup, which includes Saturday classes, deprives teachers of their proportional vacation pay – the only leave benefits accorded to them.
"Our teachers have always given too much despite their circumstances, and they only ask for what is due them. They have received little to no support from the government for all their efforts since the start of the pandemic," ACT secretary general Raymond Basilio said.